Facebook Interest To Target Cat Lovers On Facebook Ads – AdTargeting
Domestic cats are the most popular pets in the world, and more and more people are now starting to raise pets. At the same time, more and more advertisers began to focus on pet lovers. Because the pet market has vast space, but how to accurately target the audience to the cat lovers?
Because for pet products, accurate audience targeting means more clicks and higher ROI. At the same time, this can effectively reduce advertising costs and reduce unnecessary waste of advertising costs. The advertisement mainly wants to accurately target the cat lover audience, first of all, we must understand the master.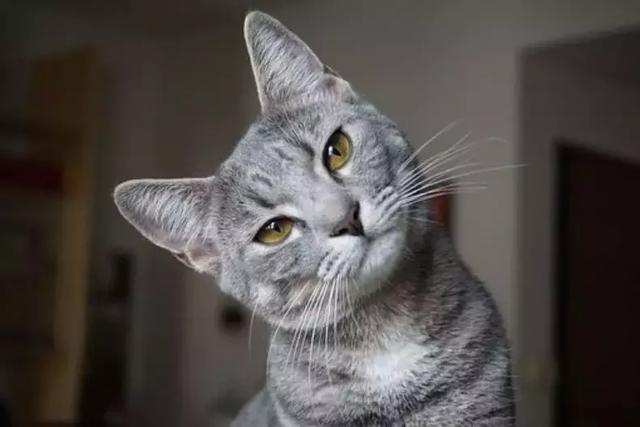 Cat lover characteristics
Cat knowledge learning: There are many ways to learn cat knowledge, there are some documents on the official website, and many cat lovers have accumulated experience. Before raising a cat, the cat lover must first make a good understanding, determine the favorite breed and style, choose a trusted and experienced website to learn, and try to learn more and ask more questions. Continuous improvement in practice and learning can take many detours.
Daily sharing of cats: More than 80% of cat lovers consider cats as children and family members. This means that cats play an increasingly important role in people's lives.
Purchase of cat supplies: There are many essential items for cats. In order to give cats a healthy and comfortable growth environment, the doctor recommends that the lovers prepare the following items before taking the cat home: two cat bowls (for water and food, respectively) ); choose the right cat food according to the age of the cat; cat potty of the right size; cat litter with less dust; nail clippers, combs, toys and cat scratching boards for cats, etc.
Pet hospital: When keeping cats, a place that cat lovers often have contact with is the pet hospital. This is inevitable. Whether the cat is sick or vaccinated, you need to go to the pet hospital.
The above are several cat-related matters that cat lovers will pay attention to, and are also the characteristics of cat lovers. When we locate cat lovers, we can start from the characteristics of cat lovers.
Method of targeting the cat lovers
1. Core audience targeting
country
Advertisers can use the map to locate the country of the audience, or they can enter the name of the country or city where they are located.
The gender and age of the cat lover audience
Gender: Male and Female
Age: 18-34 years old
Interest
Tool: AdTargeting
AdTargeting is a Facebook interest targeting tool. Here, you can find thousands of related keywords of interest and classify them. In Facebook ad audience targeting, countries such as countries and age filters target a wide range of audiences, and choosing the right keywords of interest can help advertisers target audiences more accurately.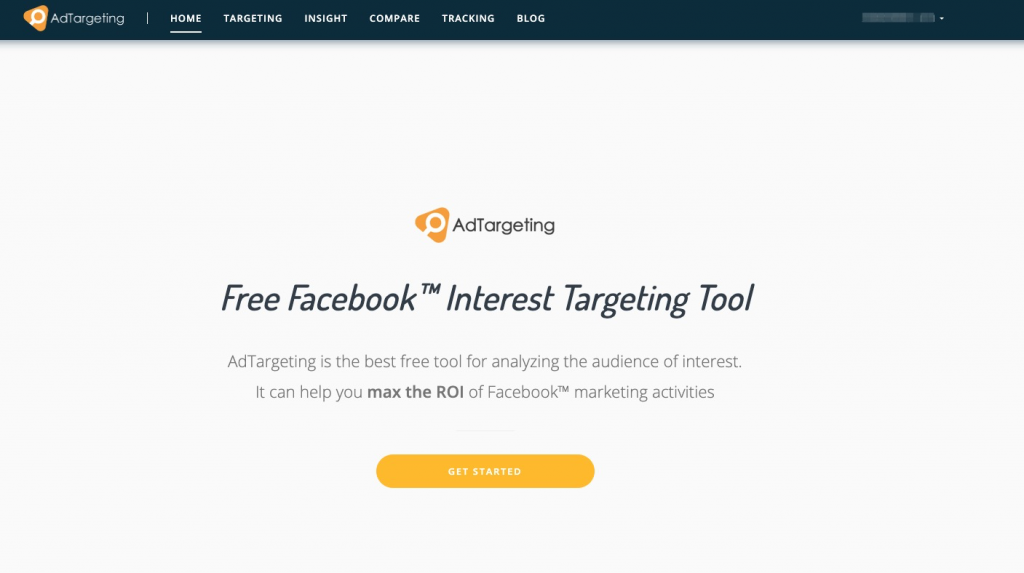 In Facebook Ad Manager, Facebook will provide 25 related interest keywords, most advertisers will choose from these 25 interests, so these keywords target audiences with a high degree of overlap, resulting in high advertising bid costs. After using AdTargeting, there are thousands of related interest words for you to choose from, so that you can accurately target the audience, so that you can avoid the keywords that everyone chooses at the same time and reduce advertising costs.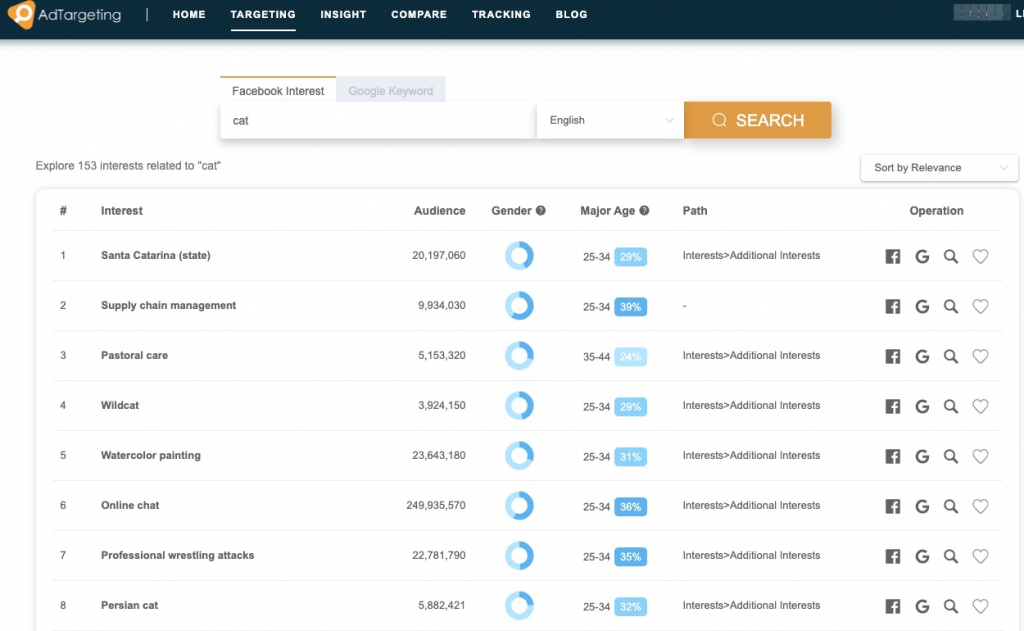 Open the AdTargeting page: https://adtargeting.io/interest-targeting, I enter the interest word "cat" here, and get hundreds of keywords related to cats. I classified the keywords according to the characteristics of the cat lovers and got the following results.
1.The specific classification of cats:
| | |
| --- | --- |
| Interest Keywords | Audience |
| Persian cat | 5,882,421 People |
| List of cat breeds | 1,269,280 People |
| Wildcat | 3,924,150 People |
| Oriental Shorthair | 79,350 People |
| Himalayan cat | 144,940 People |
| Tonkinese cat | 45,790 People |
| Siamese cat | 3,784,950 People |
2. The cat lovers shares the cat's content:
| | |
| --- | --- |
| Interest Keywords | Audience |
| Maru (cat) | 14,819,560 People |
| Cats (musical) | 5,610,180 People |
3. Cat lovers's purchase behavior:
| | |
| --- | --- |
| Interest Keywords | Audience |
| We Love Cats | 2,531,060 People |
| Cat play and toys | 4,908,530 People |
| Cat café | 2,601,720 People |
| Pet food | 94,141,135 People |
| Cat food | 33,715,963 People |
| PetSmart | 17,045,879 People |
| | |
| --- | --- |
| Interest Keywords | Audience |
| Nestlé Purina PetCare | 31,817,180 People |
2. Target fans of competitors
To accurately target Facebook audiences, it is a good way to target competitor fans. Because the audience of competitors is also our potential customers, they are customers in need.
Therefore, it is an effective positioning method to target the audience of competitors. Before targeting competitors, we need to find as many competitors' Facebook Pages as possible.
1. Find your competitors. How to find Use Google or Facebook to find.
Here is an example, for example, you sell cat food. Your search for Cat Food on Google or Facebook. Get the top brand sites. Generally, the top few sites are old sites with very high weights. They have loyal fans with high popularity, and then find Facebook pages of these brands.
2. Open Audience Insight in the upper right corner of Facebook Ad Manager and enter the audience analysis tool. In the Interest column, fill in the appropriate keywords to locate the competitor's Facebook Page. Usually, we have 2 methods.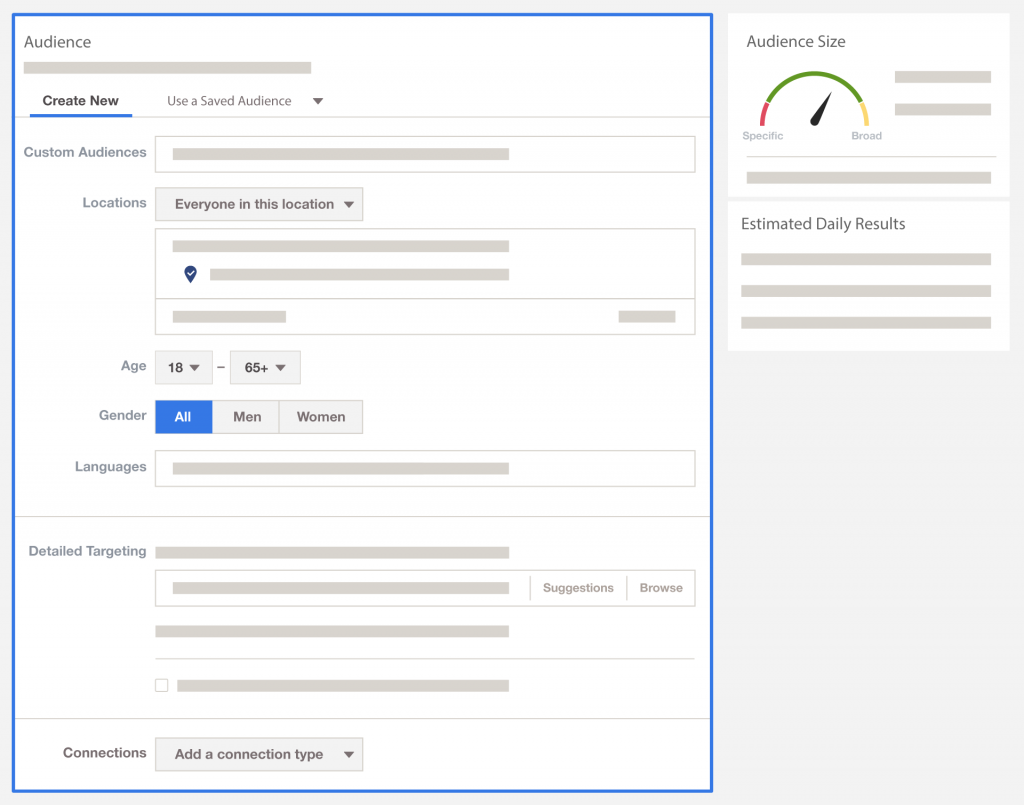 (1)Competitor's interest brand words
One method is to directly enter the competitor's brand words. You can use AdTargeting to analyze the competitor's brand keywords. Here, you can also see detailed audience data for competitors' brand terms.
If the competitor's brand word doesn't exist, you can also target competitors' fans with appropriate keywords of interest.
(2)Facebook Page interest keywords with high affinity
Another method is to locate competitors' Facebook Pages with relevant interest words.
In Facebook ads, each interest keyword will have a matching Facebook Page, and the higher the degree of matching of interest and Facebook Page, the higher its affinity value.
How to find interest keywords that match Facebook Page?
AdTargeting!
AdTargeting is not just an interest search tool, it is also an interest analysis tool. Open AdTargeting, search for any interest, and click on any keyword of interest, you can analyze the audience of that interest.
For example: I analyze the interest word "Persian cat". On Adtargeting, we can see that the Facebook Page that best matches the Persian cat is IHeartCatscom, and their affinity is 43.82X. This is an e-commerce website related to cat lovers.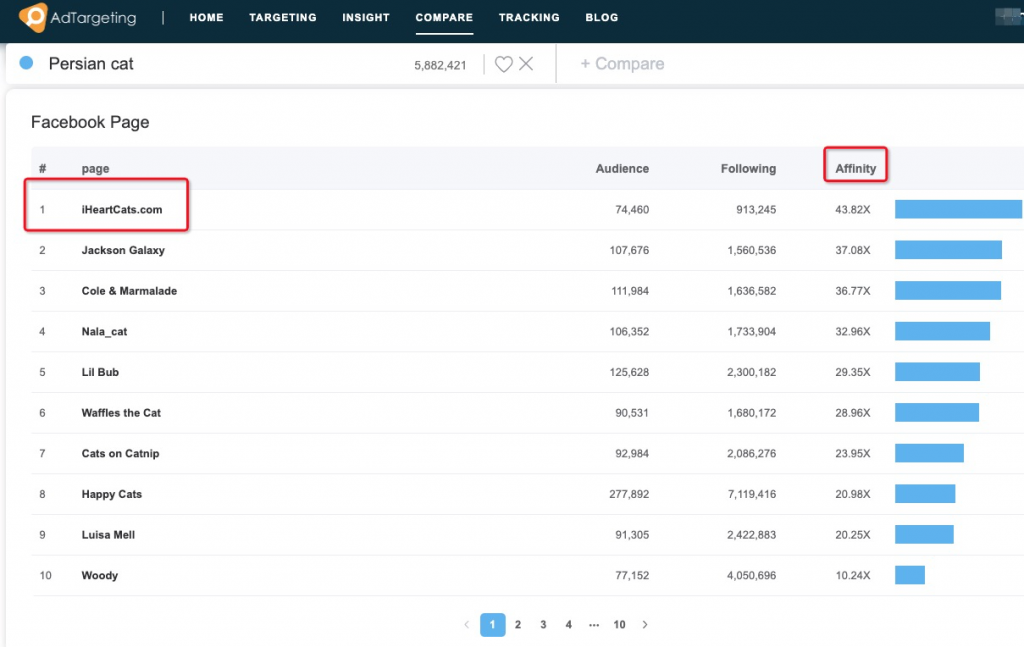 If you want to create a new Facebook audience, the above methods can help you position more accurately. And AdTargeting is a useful tool to help you. If you are interested, you can join the advertising FB group to participate in the discussion.