Before You Start AdTargeting
You should have basic knowledge of target audience and already have worked with Facebook adsmanager in the past.
Guide For Beginners
1.Explore Facebook Interests And Google Keywords At TARGETING
10 languages support. English in default.
Search for Facebook Interest and Google keyword by audience volume, CPC (only available for Google Keywords), and PD (only available for Google Keywords).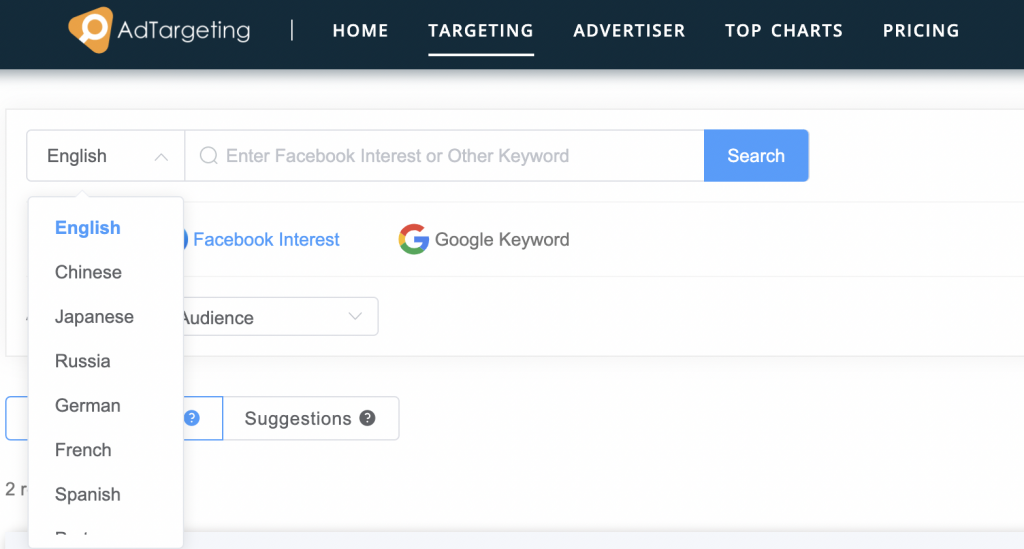 AdTargeting will show a list of 500 results at most that are highly related to the word(s) you put in the search box. Click Suggestions to find more related interests/keywords.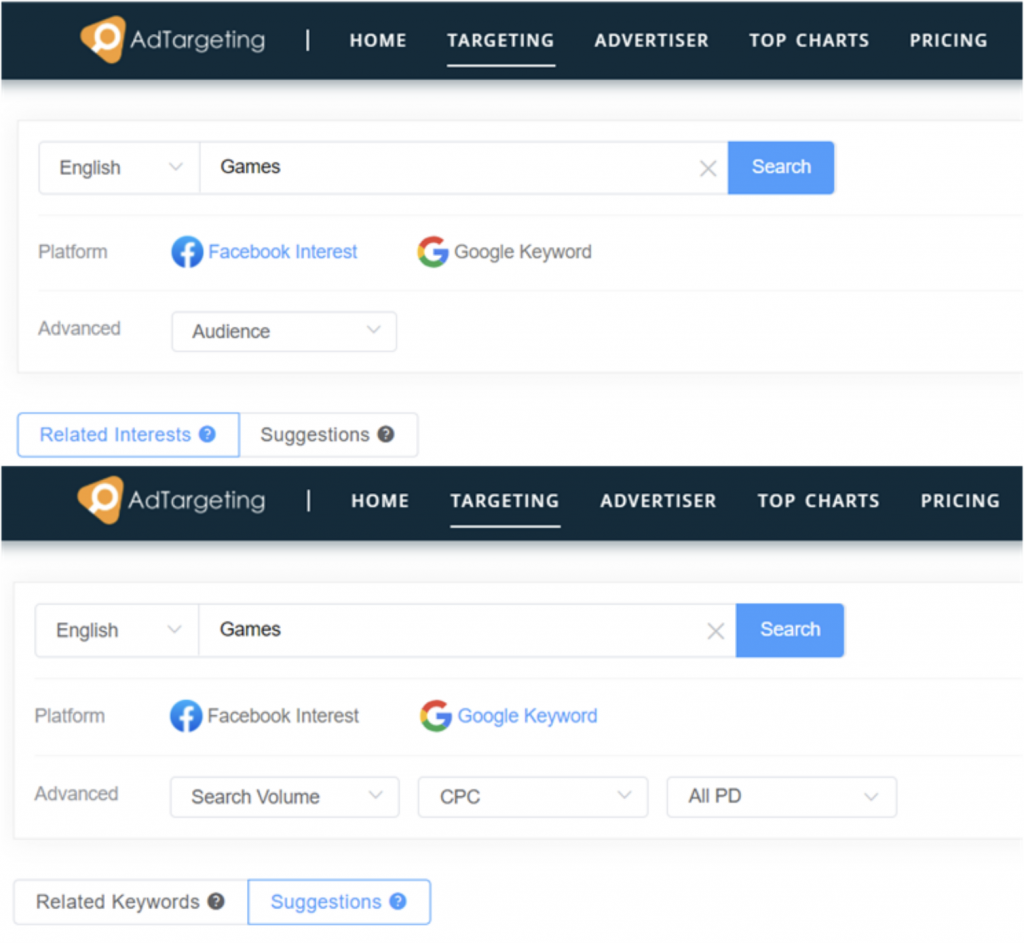 For each interest or keyword, you can get basic information such as its audience volume, gender ratio of audience, age range, and path.
By clicking the "magnifier" icon, you can directly search this interest/keyword by Facebook, Google, and AdTargeting.

Find advertisers that have the keyword within their names by clicking the last icon.
Clicking any part of the same row to view detailed analysis. You will see the Age and Gender, Relationship Status, Educations, Job Title, Device, Location and Top Country of people who have shown interests to this keyword.
On this page, you can compare the demographic data of two words by adding another to +Compare.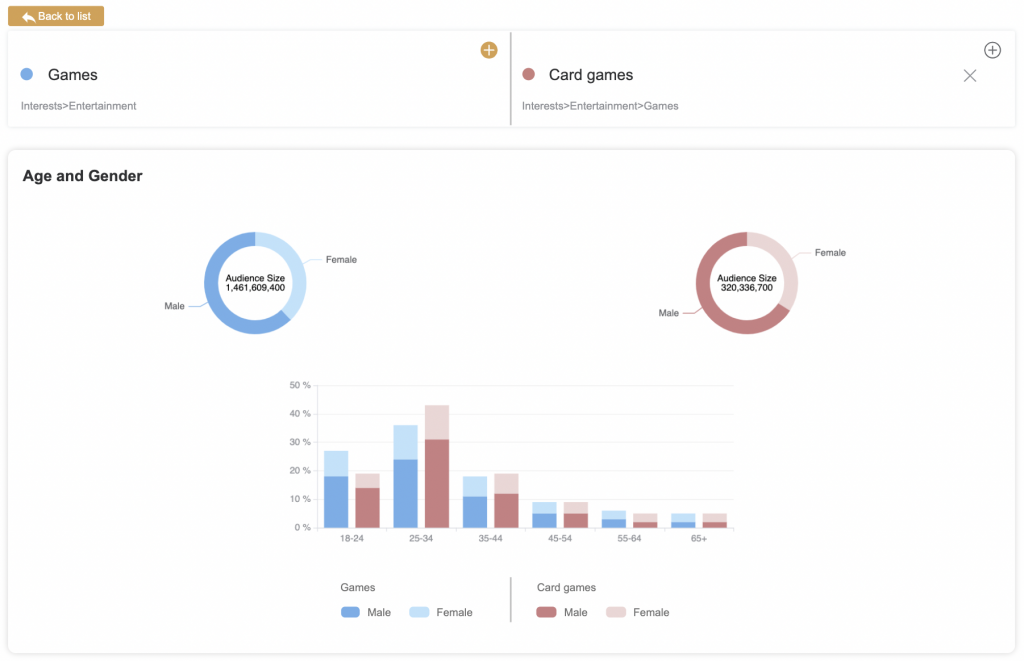 2.Search Facebook Pages By Any Keywords
Enter any keyword at ADVERTISER, and get basic information, including Like, Ads, Duration, Advertising trend and related products.

You can click into any row to get more information about this advertiser:
The Advertising trend represents the trend of the number of ads placed on this page in a given time period (in last 30 days, last 90 days, last 180 days, last 1 year, or all time).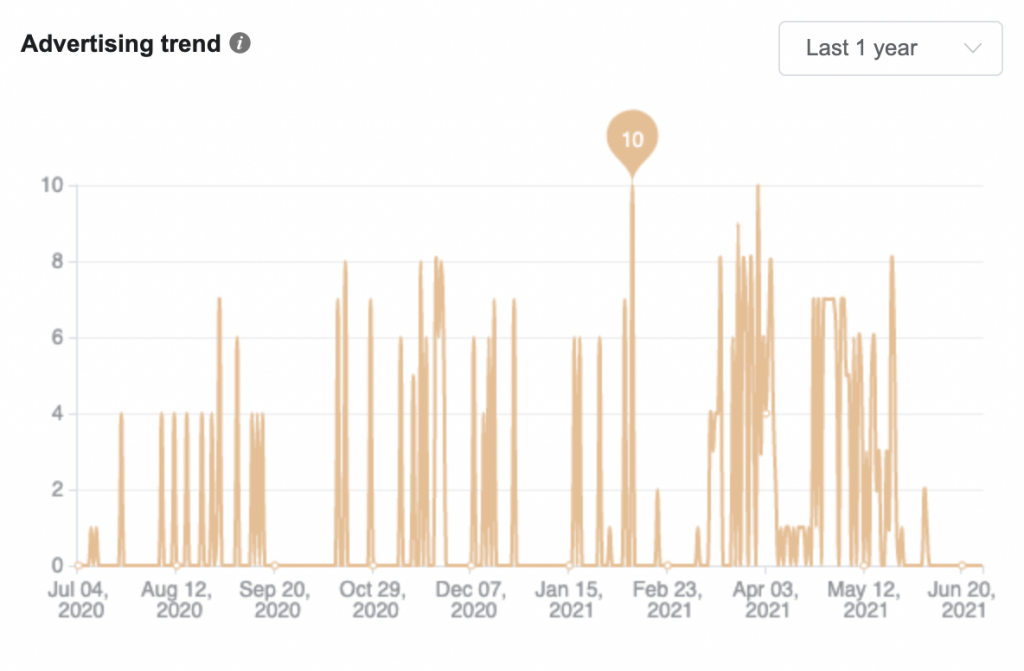 The size represents the frequency of words used on this page.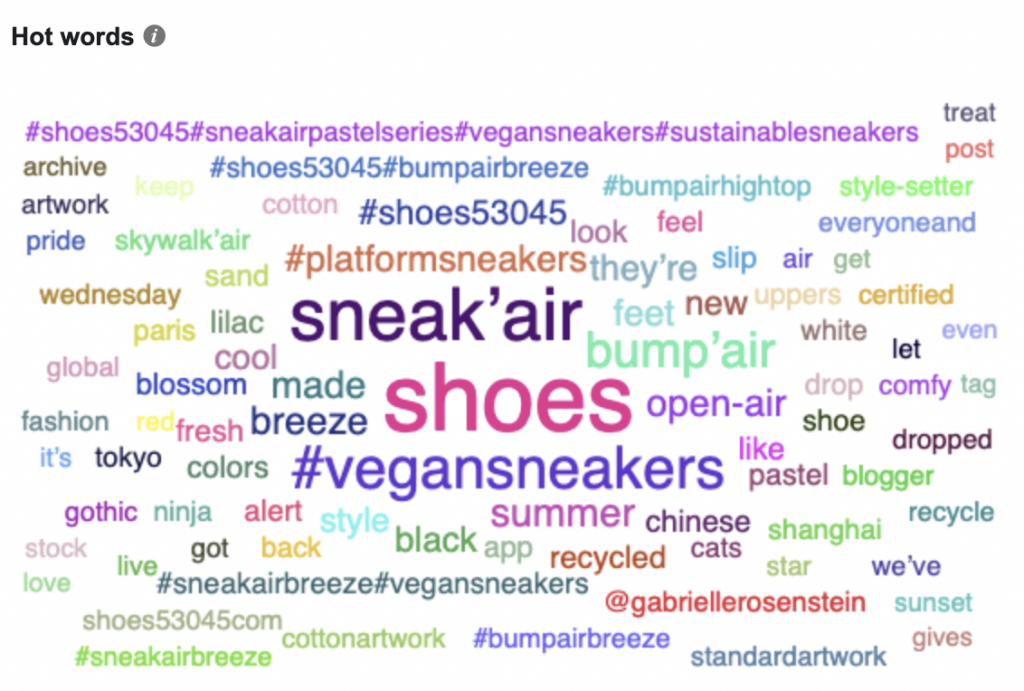 We also offer charts of Geographic, Platforms, and Creative Types scales in different time period.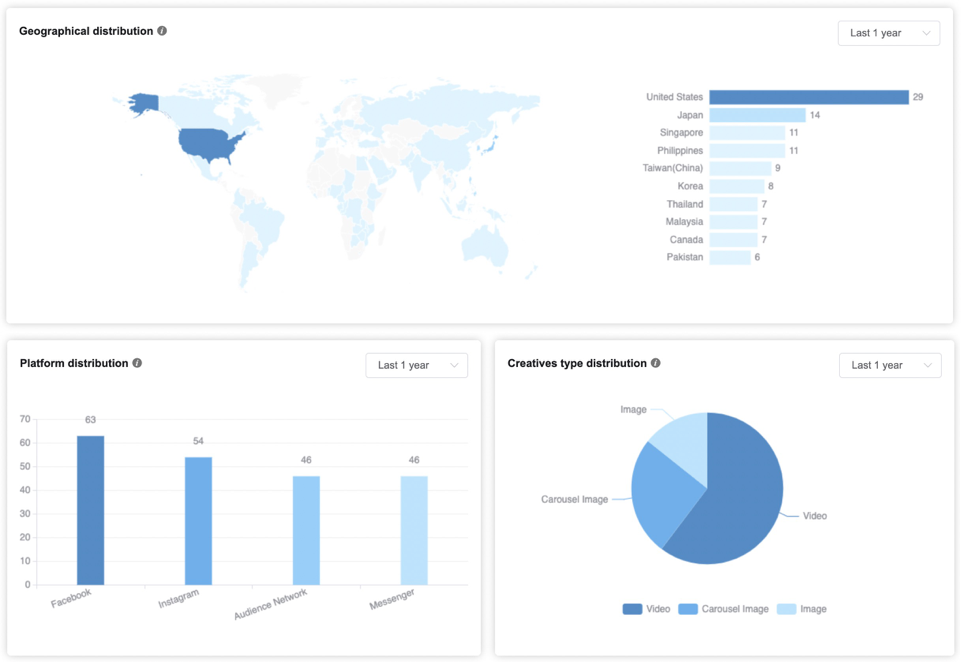 Scroll down the bottom of the page to get insights of ad. For instance, you will know which platforms are mostly used by the advertisers to publish ads. It's simple to tell when an ad started running, its ID, duration, the text of the creative, on which platforms they are running, how many ads are using this creative and text, and more. You can even click on the CTA button to visit its landing page!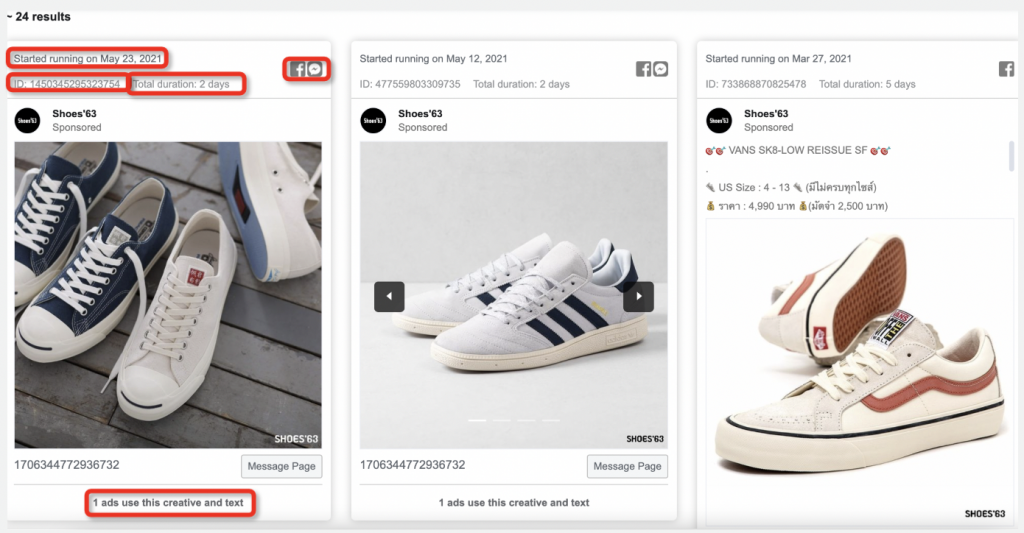 3.Obtain Advanced TOP CHARTS
There are charts of 7 Facebook and 22 Google categories, sorted by the audience volume, in 5 different languages.
Please note that only Elite-plan users can access TOP CHARTS. Go to the PRICING page to know more about the Elite Plan.
4.A Little Practice
Many people are wondering whether their "makeup brush" Facebook ads are targeting the right audience. AdTargeting has the answer.
Simply search "makeup brush" on the HOME, you'll get a list of related interests and suggestions.
You can tell from the interest details that this interest has 32,119,583 audiences on Facebook, 88.9%of which are female. The age range of the "makeup brush" audience is between 18-34, accounting for 56%. Most of them are married or single. The majority of the "makeup brush" audience has a college degree.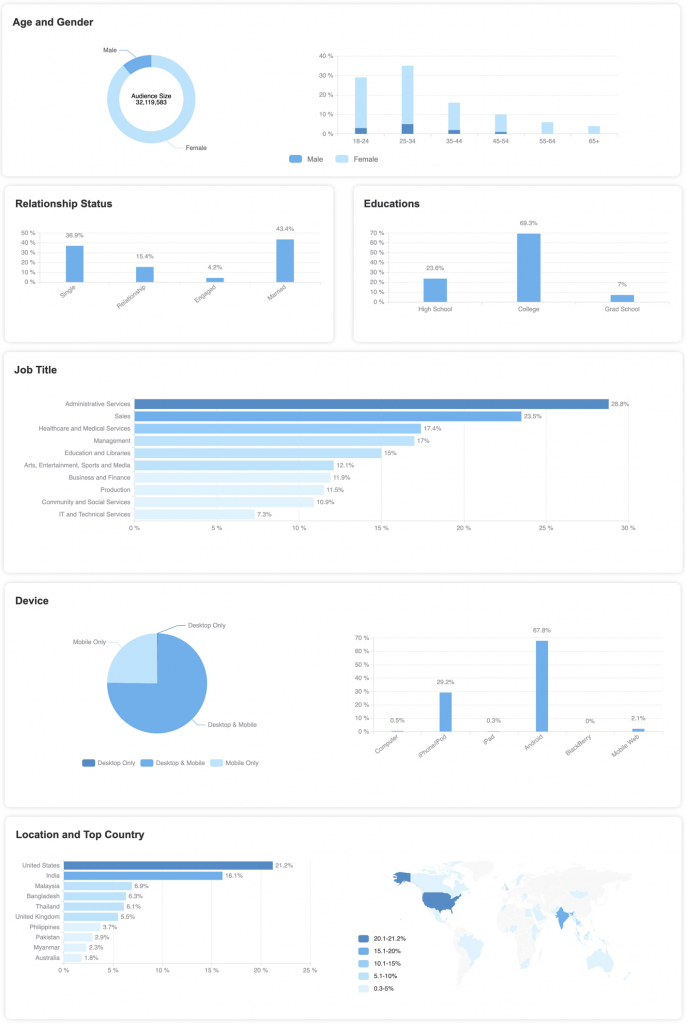 After analyzing the audience, you can also find other most related interests (along with their audience size and path) to "makeup brush" in "Suggestions" that might inspire you.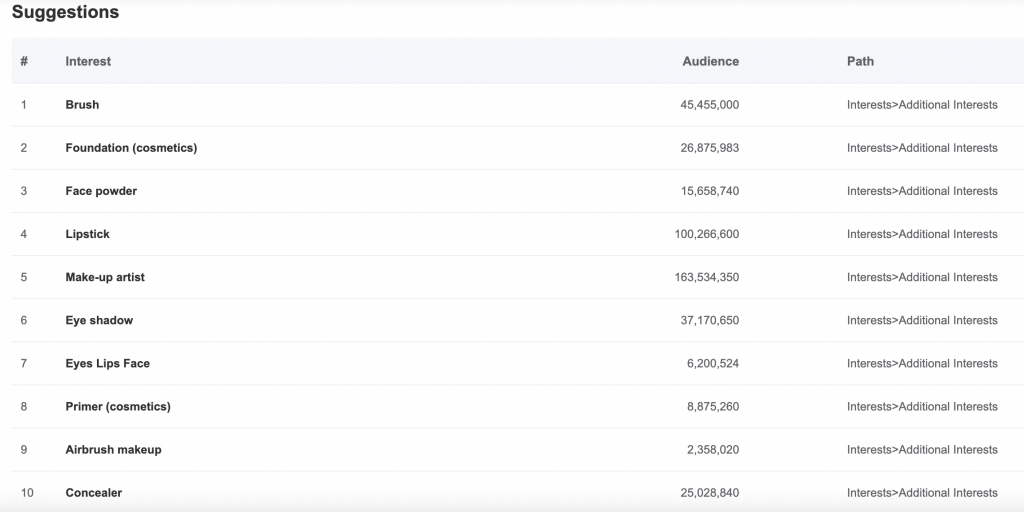 Grab audiences from your competitors by targeting competitors' audiences with "Facebook Pages" in AdTargeting. The higher an affinity scores, the more related a Facebook Page is to your audience. As well, you can search by Facebook pages on "ADVERTISER" to obtain more information about this advertiser.
Questions / Feedback / Bugs
If you have any questions about AdTargeting, feel free to contact us. service@edm.adtargeting.io