#1 Free Google Ads Targeting Tool
Get the search volume,Google CPC and Paid difficulty of keywords
Choose the best Keyword for your Google Ads Targeting
AdTargeting help you to optimize google ads and improve ROAS
---
AdTargeting's 4 services for Google Ad targeting
---
Keyword Explorer and Domain Analysis
Keywords are much important for google ads targeting. By searching keyword or domain in AdTargeting, you can find a large number of relevant keywords for your google ads targeting or website TDK.
Search Volume and Trend
By analyzing the history of keywords' search volume and trend, you can predict the google search performance of keywords in the future and choose the potential-hot keywords for your google ads targeting.
Google CPC and Paid difficult
AdTargeting provides search popularity, google CPC and other google ads cost indicators of each keyword. It can help you better judge the effectiveness of keyword advertising.
Top countries of searching
View the search volume distribution of keywords in different countries to help you better understand the geographic performance of Google keywords.
How to do Google ads targeting with AdTargeting?
---
Analysis Google keywords based on search volume,Google CPC, paid difficult to save your Google ads cost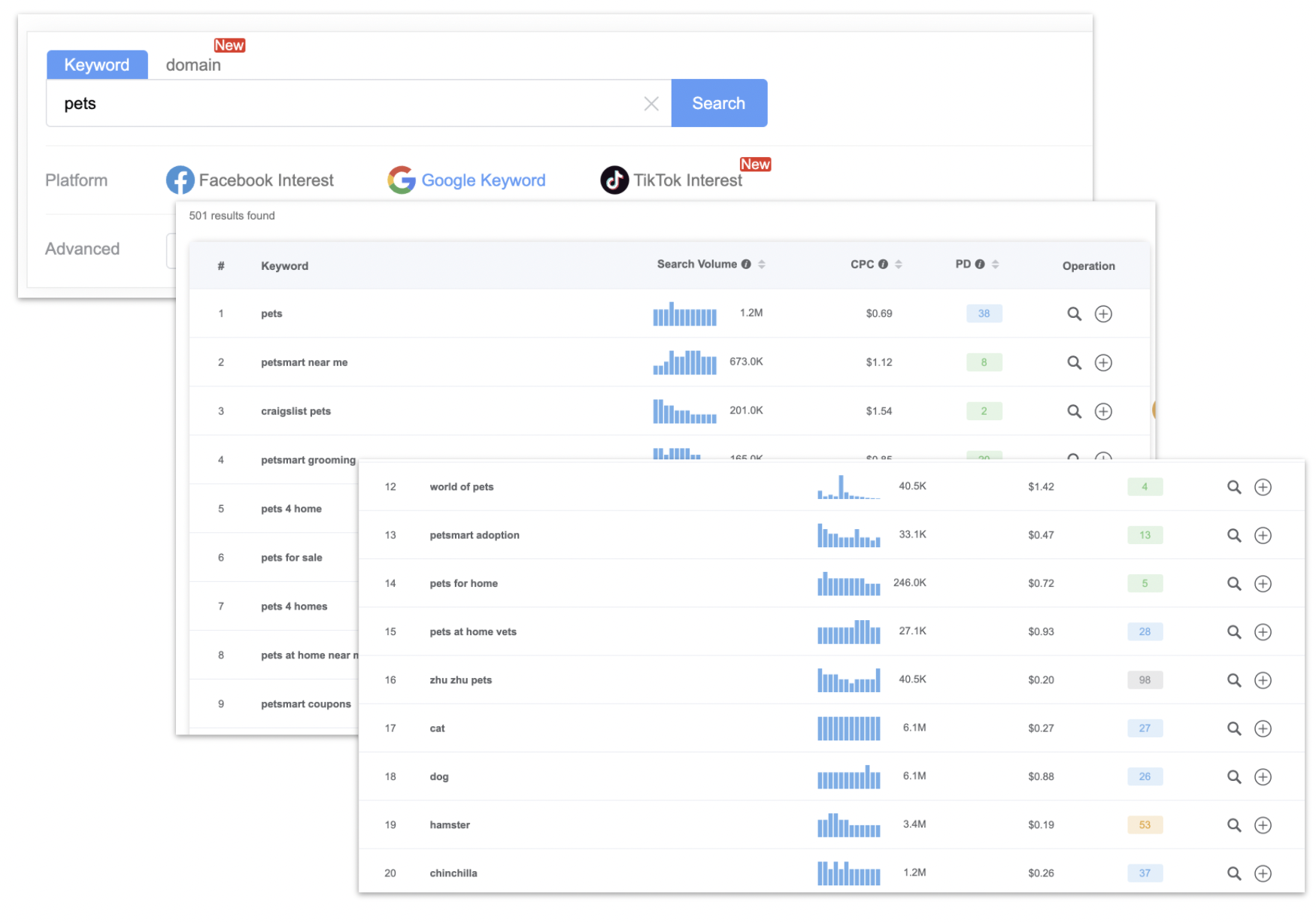 01
Get massive google ads keyword by one search
Search by keyword, to obtain massive related google keywords which contain infomation about search Volume,Google CPC, PD which are necessary for keywords researching.
02
Optimize your domain keywords to get more traffic
You can query the keywords of your website or competing sites, optimize TDK, and increase your site traffic.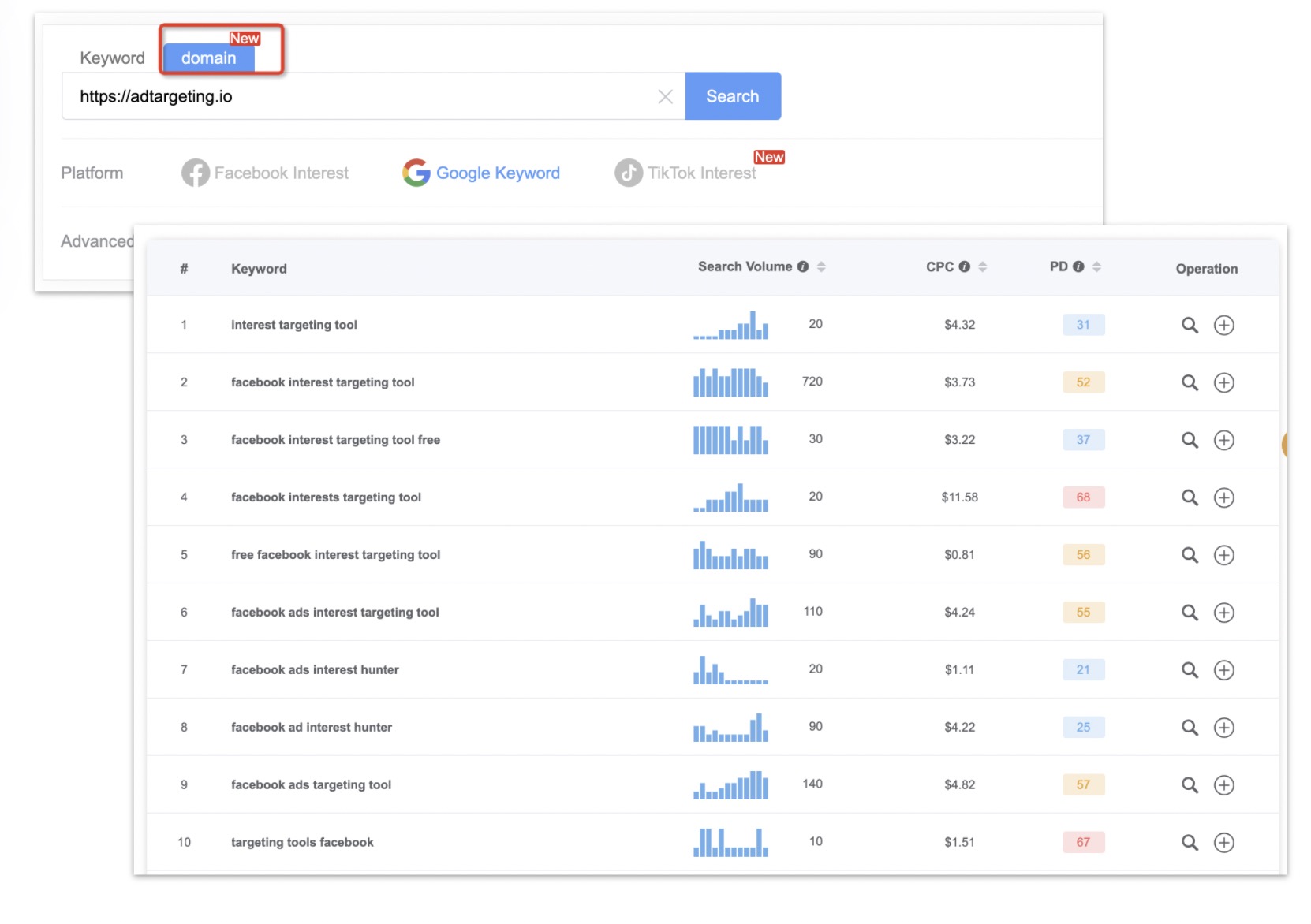 FAQ about Google Ads targeting
---
Want to Get the best Google Ads Targeting tool?
What our customers say?
---
Join thousands of satisfied customers using our product.
This tool helps me create more cost-effective and more focused Facebook Ads. Without it, I would spend much more on leads and get fewer conversions.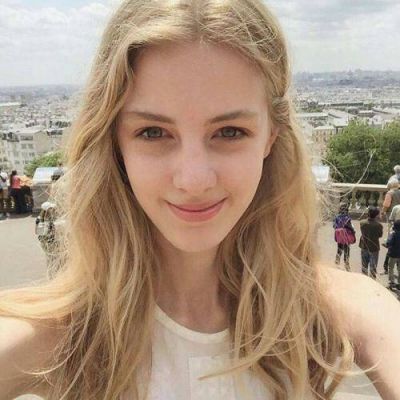 I strongly recommend AdTargeting, a necessary tool for Facebook or Google advertisers and marketers. It has a larget number of Interest suggestions that help me a lot in ad targeting.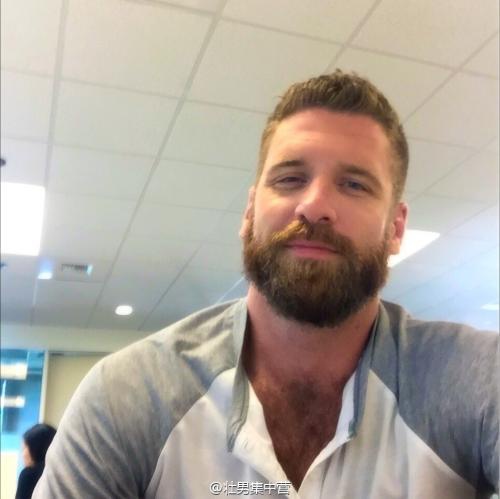 I have use it over one years, it is helpful for my ads targeting. You can find a lot of hidden Interest and view the audience details to make better decisions about advertising.