Facebook Marketing for Lawyers: A Simple Guide
In the world of social media, lawyer advertising and marketing may not be as conspicuous as advertising and marketing in other fields, but don't ignore this approach!
In the information society, online marketing has inevitably become a major trend, and Facebook, as a social media giant, certainly has an influence that cannot be ignored. Nowadays, companies in both B2B and B2C industries can advertise their industries or services on Facebook, even in areas that aren't exciting from a client's point of view, and still have amazing success. So, of course, Facebook marketing for lawyers can work too.
Benefits to run Facebook ads for lawyers:
Advertise quickly
If you have ever advertised on TV or advertised in newspapers, you will definitely think it takes a long time. In short, it may take at least a few days to prepare for all traditional media advertising from the beginning of preparation to the official launch of the advertisement. But Facebook can complete the setup in just a few minutes. Even if you want to choose the right picture or take themed photos, Facebook is still much faster than other ads.
This can effectively save time and energy, especially for industries where "time is everything", because sometimes time is money. This is the case with Facebook ads for lawyers. If you start Facebook advertising marketing earlier, you may be able to gain the favor of customers one step earlier than your competitors.
Control your budget
Someone may be confused? If Facebook ads can be implemented so quickly, does that mean more money on advertising? This is definitely not. In fact, Facebook advertising costs can be controlled, which means that you can control your advertising budget. This has advantages over traditional media advertising, because other advertising cycles are longer, delivery factors are more uncontrollable, and losses cannot be stopped in time. These problems can be solved in Facebook advertising.
Basically, you can set your own budget as needed, and you can also turn ads on and off as often as you want. You can adjust your budget or bids at any time in the Facebook Ads management tool. You can even set a spending limit for your Facebook account. You only need to set a maximum budget amount. Once you reach this limit, all ads will be automatically suspended.
AdCostly is one of the best Facebook ads cost analysis tool which provide CPC, CPM, CTR and CPA benchmarks for Facebook advertising to help you better adjust your Facebook ads cost.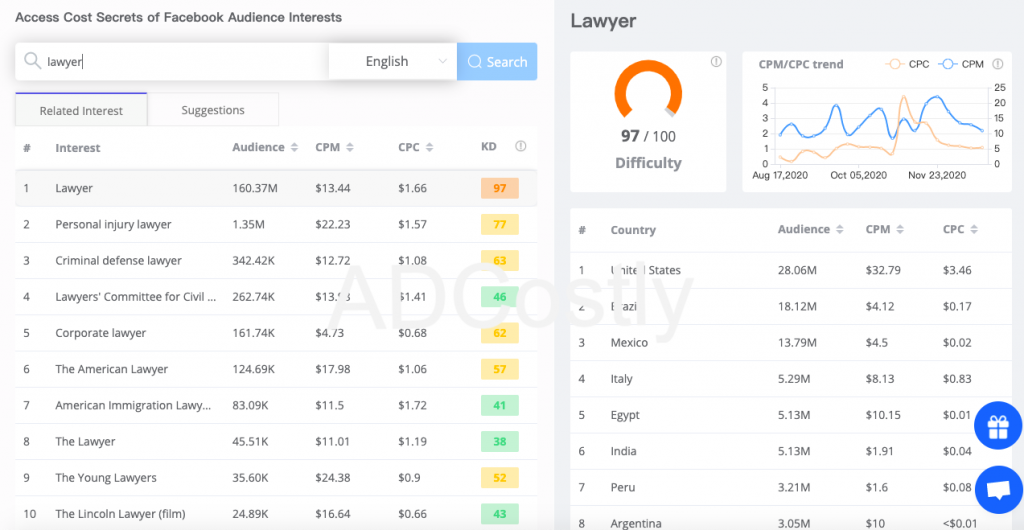 Control advertising targeting
In addition to the two points mentioned above, Facebook ads for lawyers have one of the biggest advantages that other platforms do not have - Ad Targeting.
Facebook has many targeting methods and functions, such as targeting based on demographics (age, gender, language, etc.): You can choose the basic demographics of the audience you want to cover. There is also targeting based on geographic location, education level, and behavior. The most surprising thing is that you can also choose to target based on "interest". This targeting method can greatly narrow the audience.
Target with interest refers to the ability to target specific audience segments based on interest. So how to choose these words? AdTargeting can help you. AdTargeting is an online Facebook interest targeting tool which can help advertisers get many hidden interests and find suitable interest through keyword search and advanced filtering.
Just enter "lawyer" in AdTargeting, you can get many related interests :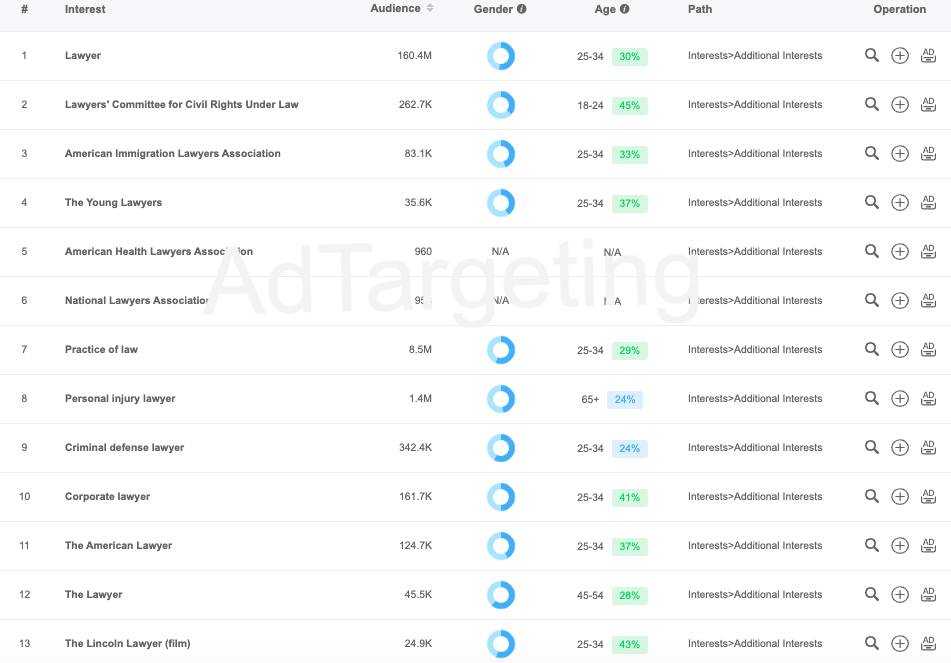 Marketing tips of Facebook ads for lawyers:
Optimize your Facebook page to generate leads
As a digital advertiser for law firms, many lawyers who try to run a Facebook Page complain that their posts simply don't get liked or commented on, and other footprints left on Facebook are even more futile. Fortunately, if you are reading this article, I will explain to you exactly how to pour into vitality into your Facebook Page and how to effectively use Facebook ads to market your law firm:
1.Listing your website in the "About Us" section
2.Post for quickly demonstrating your value, explains how you can help your clients
3.Choose a CTA for potential clients, such as "Contact Us", "Call Now" or "Send Email".
4.Showcase success stories and elite lawyers.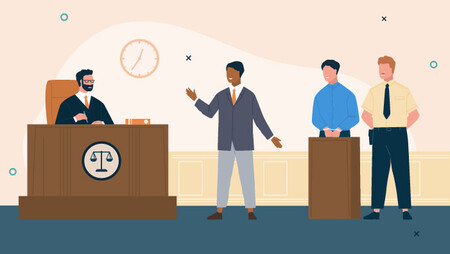 Create posts that provide value
Value is everything, especially for businesses that can't attract customers with interesting posts. Most legal content is not very interesting, but it may be particularly useful for the target audience. So you need to publish valuable posts for your target audience:
1.Provide information to potential customers by sharing information and answering questions while demonstrating your own expertise.
2.Display your blog post paragraphs and put links to them, and explain the value the blog can bring to users. Note that Facebook usually rewards local content that does not include links.
3.Answer questions that matter to people right now, even if you've already answered them in the FAQ on your site.
4.Finding questions that people are asking elsewhere (e.g. Quora or Reddit)
Use more video
Many people are wary of trusting lawyers, so first you need to get your clients to trust you. The focus of your online marketing is getting trust too. Using more video is one of the best ways to do this. People can visually see how approachable the lawyer is, and using some talking, smiling scenes will be more contagious. Potential clients can visually see your body language and hear your voice in a way that you can't in a still photo. In this way, they can begin to build trust and familiarity with you before they even connect.
There are a few things to keep in mind about using video:
1.Don't go too long. Three minutes is optimal.
2.Make sure you use common search terms for your description and video titles to increase the likelihood of appearing in search engines.
3.Upload your videos locally. local videos are prioritized in the feed and are given much higher priority than outbound links. Upload your videos directly to Facebook without using the YouTube link.
Take advantage of the powerful remarketing capabilities of Facebook ads
Remarketing is the practice of placing ads to users who have recently visited your firm's website. This strategy is applicable to law firms. It has been studied that people often encounter situations in their lives where they need the help of a lawyer to handle a matter, so remarketing is a good option!
Facebook offers advertisers a proprietary pixel that they can install on their website to track and retarget visitors over a customizable time frame (usually the last 30 days). Once set up, you can add this pixel to the audience segments of your ad campaign and show ads to potential audiences over time.
Use Facebook ads to build trust with your audience
Facebook ads are an integral part of Facebook marketing, because by just building content around a service, audiences inevitably get frustrated and bored! Fortunately, Facebook and Facebook ads provide a way for you.
When you use content marketing together with Facebook ads, it can be easier to become an authority in the field. And by taking this approach, you can give people the content they want to see on Facebook, which will help your company stand out!