The 5 Best Ways of Facebook Ads for Authors
Writing is no easy task, and perhaps you have spent countless days and nights writing books. You have wrestled, struggled, and fought to produce the right words, sentences, and paragraphs. Finally, months later, the book has published. You have high hopes and you sit back and wait for the sales to start pouring in. But nothing happened.
Want to try Facebook ads? This method will get your book in front of the ideal audience and gain favor. Here are The 5 best ways of Facebook ads for authors for you. After all, it's an online society now, and the way books are promoted has to keep up with the pace of change! Let's see how it works now!
Run Facebook Page
First, you need to set up a Facebook Page for your book or for yourself (the writer). The purpose of maintaining a Facebook page (or any social media) is to be able to connect with your audience on a personal level.
While your business page should be more rigorous or commercial, actually making it personal will make it easier to grab their attention. Not only can followers see what writers are writing about on your Facebook page, but it can also help you sell books or book-related products on Facebook.
Letting people know what you're up to or giving your followers an early look at new publications will help deepen connections with existing and potential customers, which can drive sales. By tagging other authors in your posts, you will be able to attract a larger audience of others. All you need to do is performing some simple social maintenance and you can use Facebook to work for your business.
Target the ideal audience
Target with Facebook interest
Facebook interest targeting is one of the most useful of many targeting methods that can directly target potential audiences who are interested in your book ads. Because Facebook's official interests are not comprehensive, only about 25 interests are displayed per search result, which does not fully meet the needs of advertisers.
You can use the Facebook interest targeting tool for help. AdTargeting is the outstanding representative that helps advertisers to get many hidden interests and find the right ones through keyword search and advanced filtering.
Simply enter "Book" or other keywords in AdTargeting and you will get many relevant interests: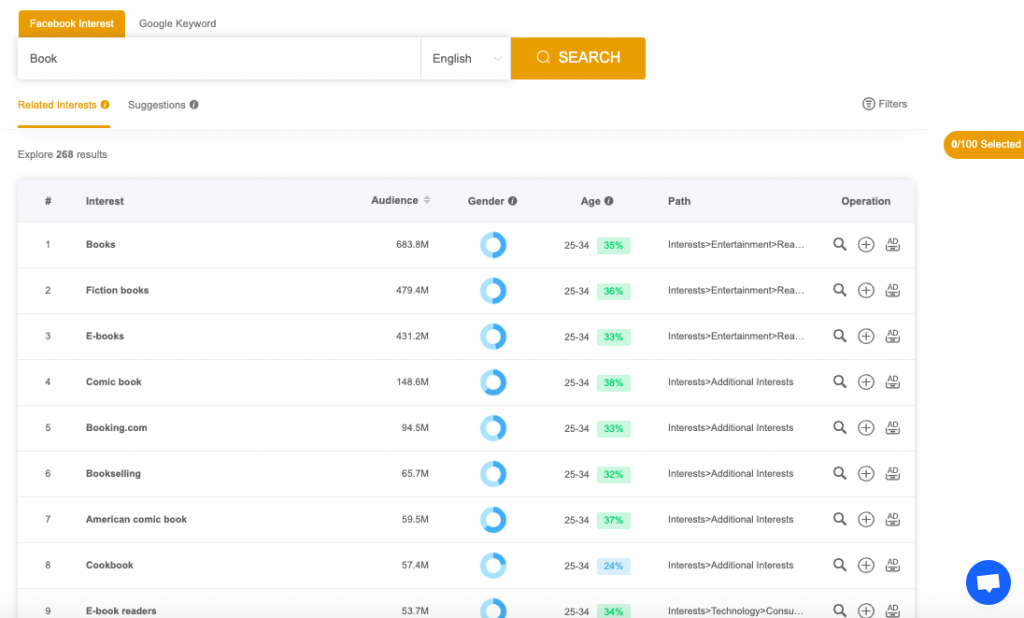 Know more about your audience
With detailed age and gender, job titles, education levels, relative status, etc. in Facebook Audience Insights, advertisers can better target their campaigns and create content based on the preferences of their target users.
And getting Audience Insights Reports in AdTargeting can help you gain deeper insights into your fans. By correlating Facebook audience insights with AdTargeting's audience analytics reports, you can better narrow down your audience and know more about them.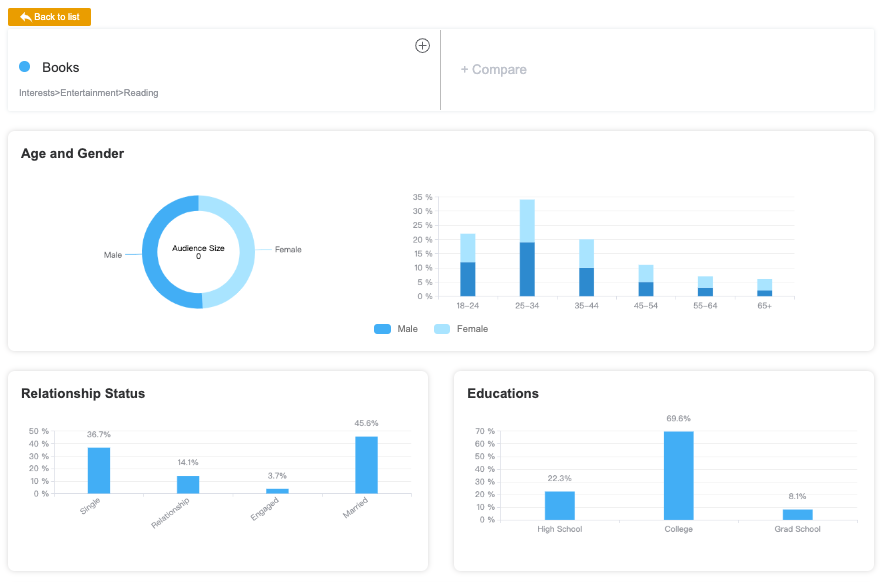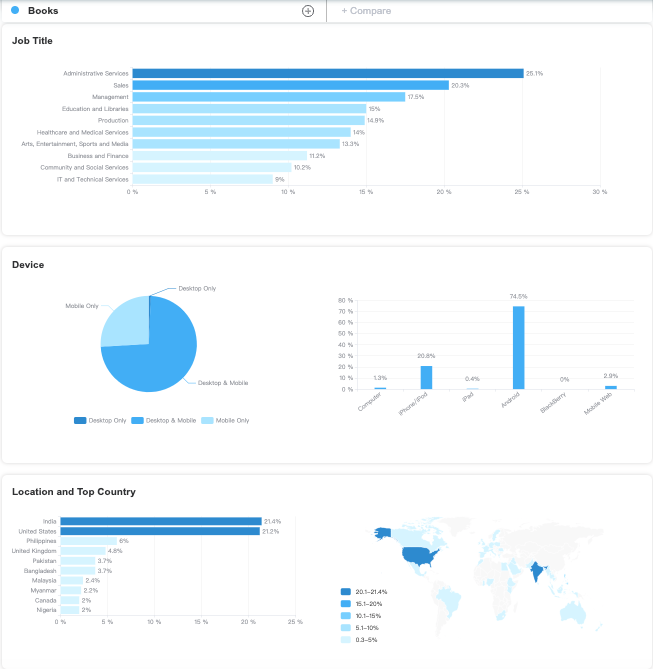 Creating compelling ads
Book cover images
Things are starting to get interesting. First, you need to choose a picture. The cover of a book is a great place to start. The cover of a book is the first impression a book makes on potential readers. The design of the book cover is one of the most critical aspects of book marketing. If the book cover is not professional, it will definitely lead to lost sales.
Keep in mind that we live in a fast-paced world where people are far more interested in images than in text.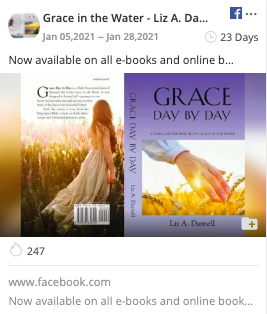 Appropriate ad copy
Once you've selected your images, it's time to create some compelling text. You can be as creative as you want. Create a headline that grabs people's attention and draws them in. Then use your copy skills to draw people into your ad. Do everything you can to make your ad as compelling and clickable as possible.
Create a video to promote the book
According to forecasts, the video will account for even 82% of all Internet traffic by 2021. So it's safe to say that adding video to a book's Facebook ads can increase clicks, views, and sales.
Create free incentives
Free chapters
You may have seen people handing out free new products at the supermarket, and this is the same thing as giving away free chapters. This marketing technique may be old-fashioned, but it's proven to work every time.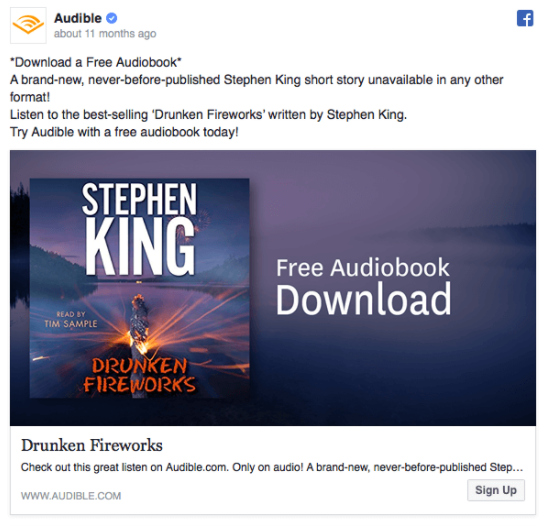 Provide a checklist for use
For nonfiction authors of books that may have a specific use in their area of expertise, it may be a good idea to entice readers with a free checklist or workbook.
Give away books
Don't be afraid that giving away books will detract from the value of the books themselves. If you have already published a series of articles and have an audience of your own, giving away books can solidify those established readers. If you already have a growing base of supporters, this Facebook ad idea will be even more effective.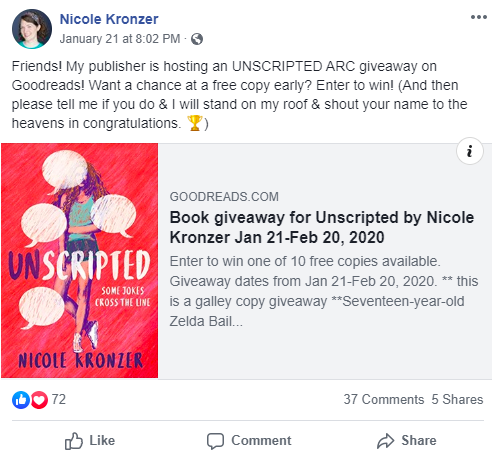 Evaluate ad results
Once the ads have been placed, it's time to evaluate the results. The easiest way to do this is to check the number of sales made during the ad placement period.
If the ad did not generate clicks, you need to make the ad more creative. Try experimenting with different images or videos.
If your ad is getting a lot of clicks but not a lot of sales, your book's landing page/sales page is not particularly compelling and may need to be changed.
In either case, don't be afraid to try. Hope you have learned something from this blog!