8 Dresses Facebook Ad Examples You Won't Miss
By accessing more than 18.2 million daily active users of Facebook, You can use Facebook's e-commerce marketing advantages to focus your brand's marketing on suitable customers. If you want to grow your business today, you absolutely must use Facebook ads. If you take the right steps, your online ecommerce can grow very well!
As well as dresses facebook ad. So how to improve dresses facebook ad? Keep reading and learn from the examples. We also provide some advertising tips for dresses Facebook ad!
8 Dresses Facebook Ad Examples
Life Clothing Co.
In order to find customers who might plan to take a vacation to adapt to the warm climate, Life Clothing Co targeted those who expressed interest in traveling but had not indicated their intention.
Life Clothing Co. attracted past customers through an event, lookalike audiences similar to past customers, and people who expressed interest in buying clothing and travel brands tried this feature. The effect of interests targeting is obvious. You can choose to use the interests tool AdTargeting to try the same method as Life Clothing Co.
And Life Clothing Co. chose a carousel format for the advertisement so that it can display multiple images of different products.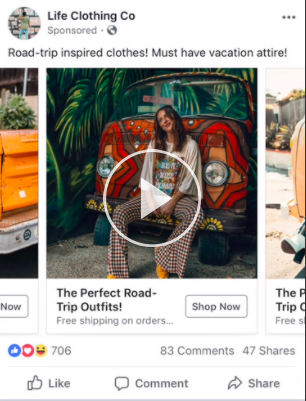 Guess
Guess' celebrity collaboration with Jennifer Lopez, coupled with the amazing photo shoot, is a guaranteed success. In addition, the collection is limited edition, which makes it even more sought-after.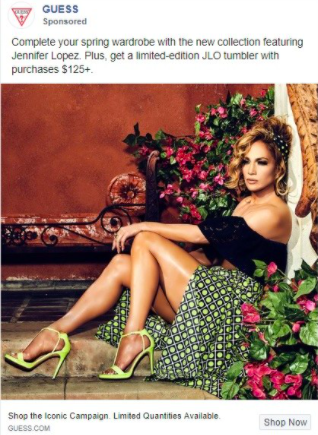 MM.LaFleur – Use Age-Appropriate Models
It is well known that female fashion models are young, but for business wear for professional women, it makes sense to use models that reflect the actual working age of these women. This is where MM.LaFleur excels, finding older women of all ethnicities to showcase their workplace fashion.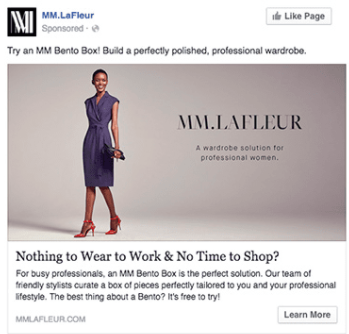 Stradivarius
This time from Stradivarius. using the fun hashtag #DressToGoNowhere, I found their initiative absolutely amusing. Especially when combined with "Join the Movement".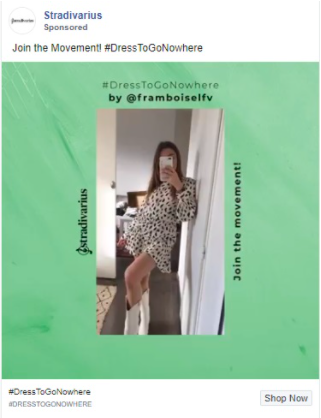 Dolce & Gabbana
I love their trailer "Don't miss the most wanted pieces ……". I don't know exactly which pieces they're referring to, but it definitely piques my curiosity. In any case, that's probably what they're advertising for.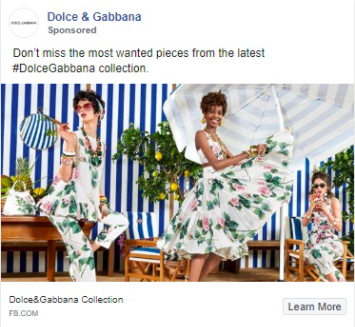 Gap
You can see how cute the baby's flower dress is when you see this picture. This adorable ad from Gap will make all parents running around buying the company's clothing line for kids and babies. Especially on sale items "up to 60% off".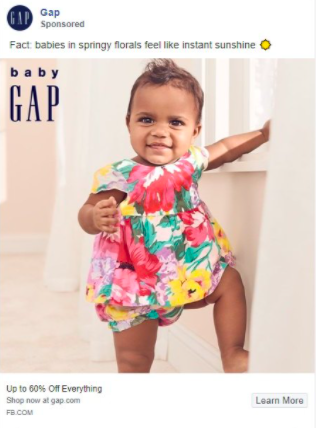 Dresslily
Dresslily is a global online women's fashion store that specializes in offering affordable prices due to its direct business dealings with factories.
Similar to many fashion e-commerce stores on Facebook, Dresslily's strategy is to post regular high-quality images to showcase its products and urge its Facebook fans to purchase items.
Regular giveaways also encourage fans to interact with the Dresslily fan page and introduce Dresslily to their friends through sharing.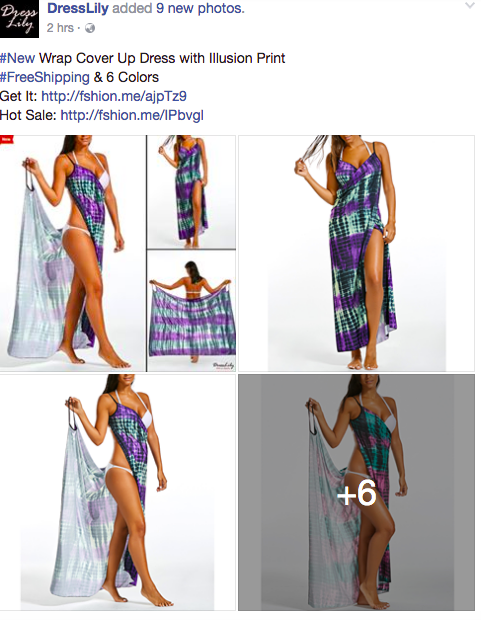 RoseGal
RoseGal is an online retail store that is popular with a group of friends, all of whom share a strong and abiding passion for amazing clothing and fashion.
Unlike other online retailers, RoseGal also offers plus-size clothing for customers who have difficulty obtaining stylish and sexy plus-size clothing.
Daily images showcasing high-quality products (plus free shipping) attract fans of the Facebook page to convert to customers.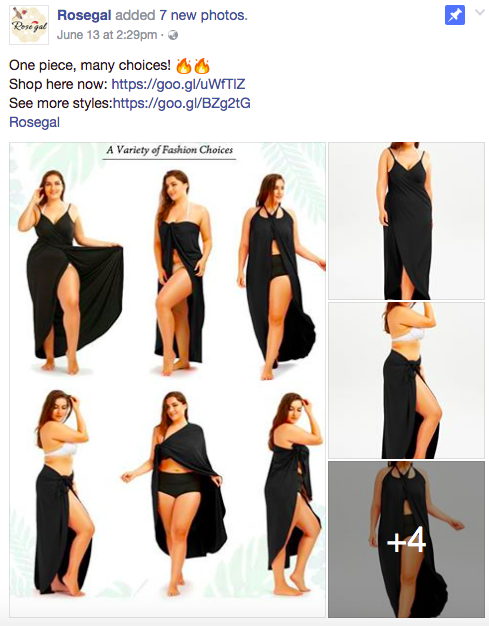 Advertising Tips for Dresses Facebook Ad
Accurate target the audience
Accurate targeting the audience is very important and Facebook interests targeting is one of the best target methods. Facebook's official interests are not comprehensive, each search result shows up only about 25 interests, which can not fully match advertisers' needs.
You can use Facebook interest targeting tool for help. AdTargeting is one of the best, it helps advertisers get many hidden interests and find suitable interest through keyword search and advanced filtering.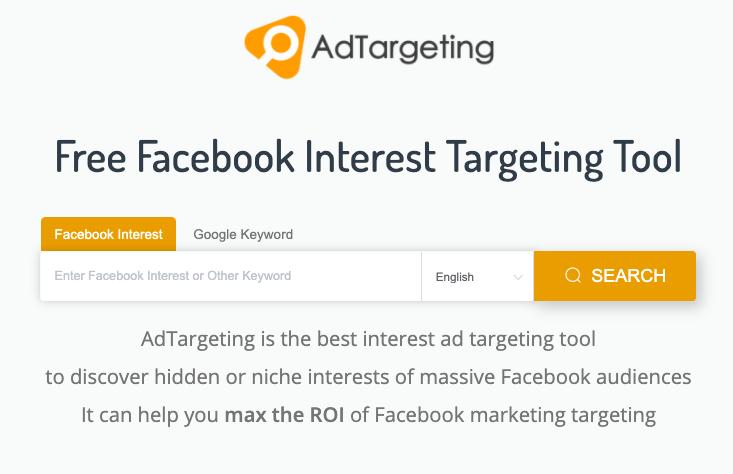 Get more likes on your Facebook page
As you can see from Dresslily and RoseGal's example, it's essential to run a good Facebook Page.
A lot of digital marketing comes down to understanding the personality of your target audience and buyers, creating engaging content, and brand awareness. While not all people who like your business page on Facebook will necessarily convert to paying customers, it is known that the more people who visit your online store, the better.
The best Facebook pages for B2C businesses are also targeted their potential audience. For example, Rose gal's target audience is plus-size women. By highlighting the beautiful dresses they offer and using plus size models, they attract the right customers to buy their products.
Also, the two brands in our example post daily and even multiple times a day. Keeping things fresh by making a joke or the latest product update will keep your Facebook feed with more energy and vitality.
Use high-quality images and videos
To attract users to buy online, high-quality images are needed to help fans imagine the product in their hands. You are more likely to increase engagement and sales if your target audience can visualize themselves with your product, so make it as easy as possible.
Visual ads give you the greatest opportunity to interact with the viewers of your ads. You can show them exactly how they can benefit from your product. Most importantly, video allows you to make the personal connections that regular print ads can't.
Deliver a valuable offer
Make sure your ad fits your sales strategy. If you want to sell a book, try a "free + delivery" or bundle offer. In addition, you can try a limited-time coupon code to incentivize people to buy.
The key is to figure out what brings your customers to your store, and then increase their desire for the product.
Facebook will continue to grow, and your business needs to harness the power of its advertising platform to be successful. Accessing and creating Facebook ads has never been easier, but before you start, make sure you have the proper strategy in place. We hope your dresses facebook ad will make a success!