Facebook Audience Insight Alternative 2021-AdTargeting
Facebook audience insight is unavailable now
Facebook Audience Insight is a powerful tool to plan and create your campaigns and relevant ads. It also shows you more detail of audiences by demographics, interests, and behaviors. But it is unavailable since July 1, 2021, which is not good news for Facebook businesses.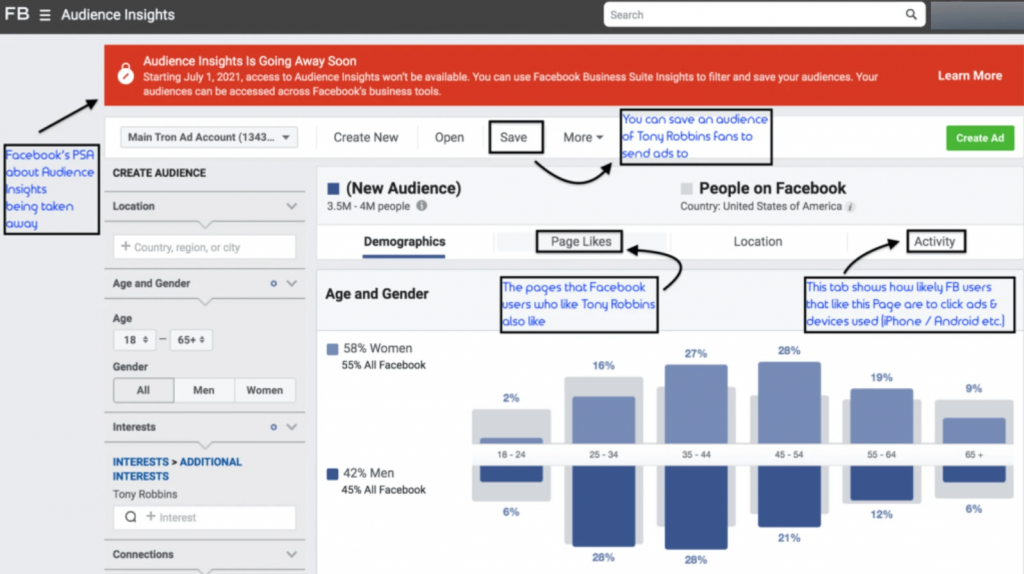 According to Facebook via Business Help Centre, "Audience Insights will no longer be available starting 1 July 2021. Instead, we recommend that people use Facebook Business Suite Insights, which is a tool that allows you to access your audience insights across Facebook and Instagram. " But is Facebook business suite the best alternative?
On Mari Smith's Facebook post, (the QUEEN of Facebook, and Facebook Marketing Expert), many of her followers have expressed their disappointment towards the matter. Some said that Facebook is taking useful things away and only adding not so useful tools instead. While others have also mentioned that Facebook is broken and are forcing them to look for another Facebook audience insight tool.
AdTargeting is a Facebook interest targeting tool that provides a powerful keyword searching feature that helps you discover hidden Facebook interests and get the audience insight behind every word.
| | | |
| --- | --- | --- |
| Features | Facebook Business Suite | AdTargeting |
| Ad platform | Facebook | Facebook, google |
| Data of potential audience insight | Age,Gender,Top city,Top page | Age,Gender,Top city,Top page |
| Supported countries | all countries | top 10 countries |
| Audience analysis of the whole world | No support | Support |
| Discover competitor's page | No support | Support |
| Number of recommended interest words | only 10 | No restrictions |
In terms of features, the audience insight analysis dimensions of the two tools are the same, but Adtargeting combines Google's keyword data and has the advantage of exploring more interesting words and spying on competitors' pages. The weakness of AdTargeting is the lack of supported countries, which is far less than Facebook Business Suite.
How to get audience insight with AdTargeting?
For example, you want to know the audience's information about "poker". Just enter the keyword and select the advertising platform.

Then you will get a series of Interest words about "poker".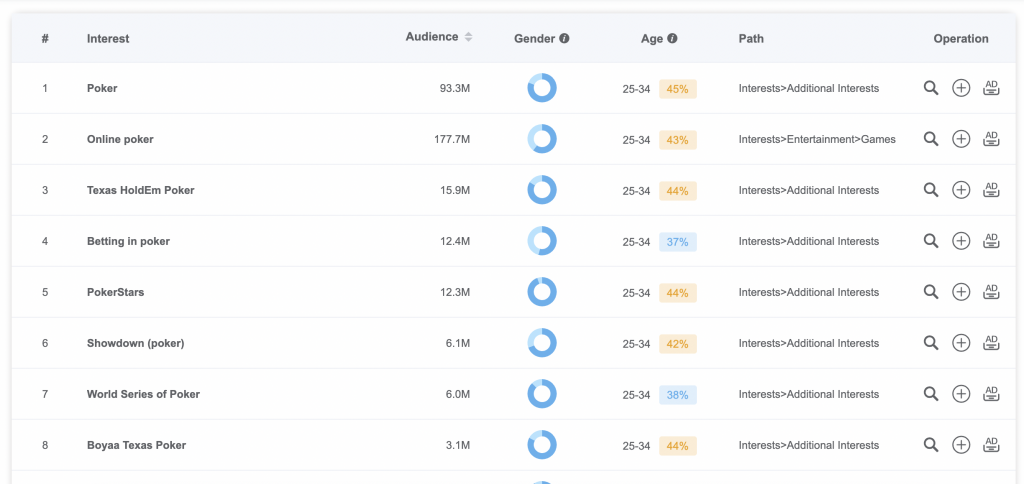 As for the related interest "Online poker", the direct form data shows:
the audience size of "online poker" is 177.7M in the whole word
gender distribution: Male/Female=60.5%/39.5%
popular age:43%
Click "Online poker" you will get audience insight with geographic and age information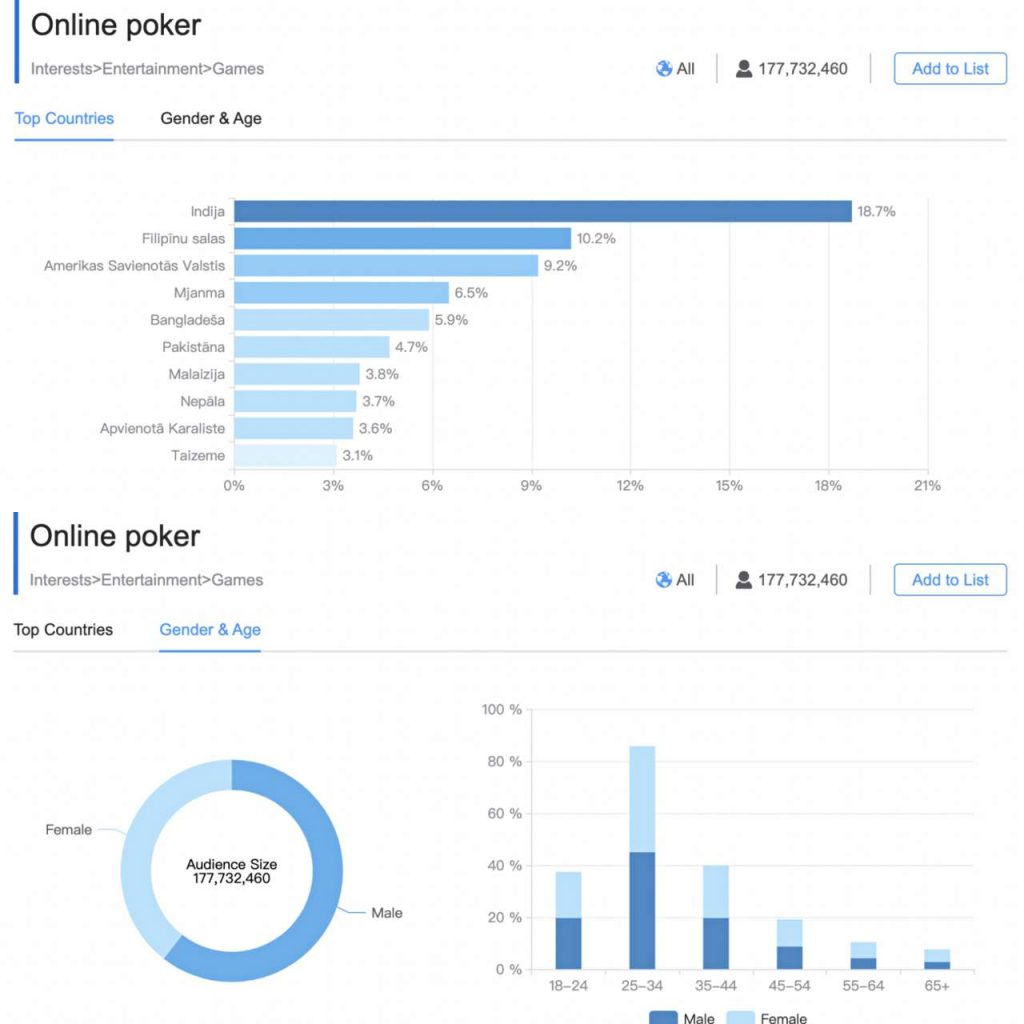 As for the google keyword of "Online poker", you can get "Pd&Popularity" "Top Countries"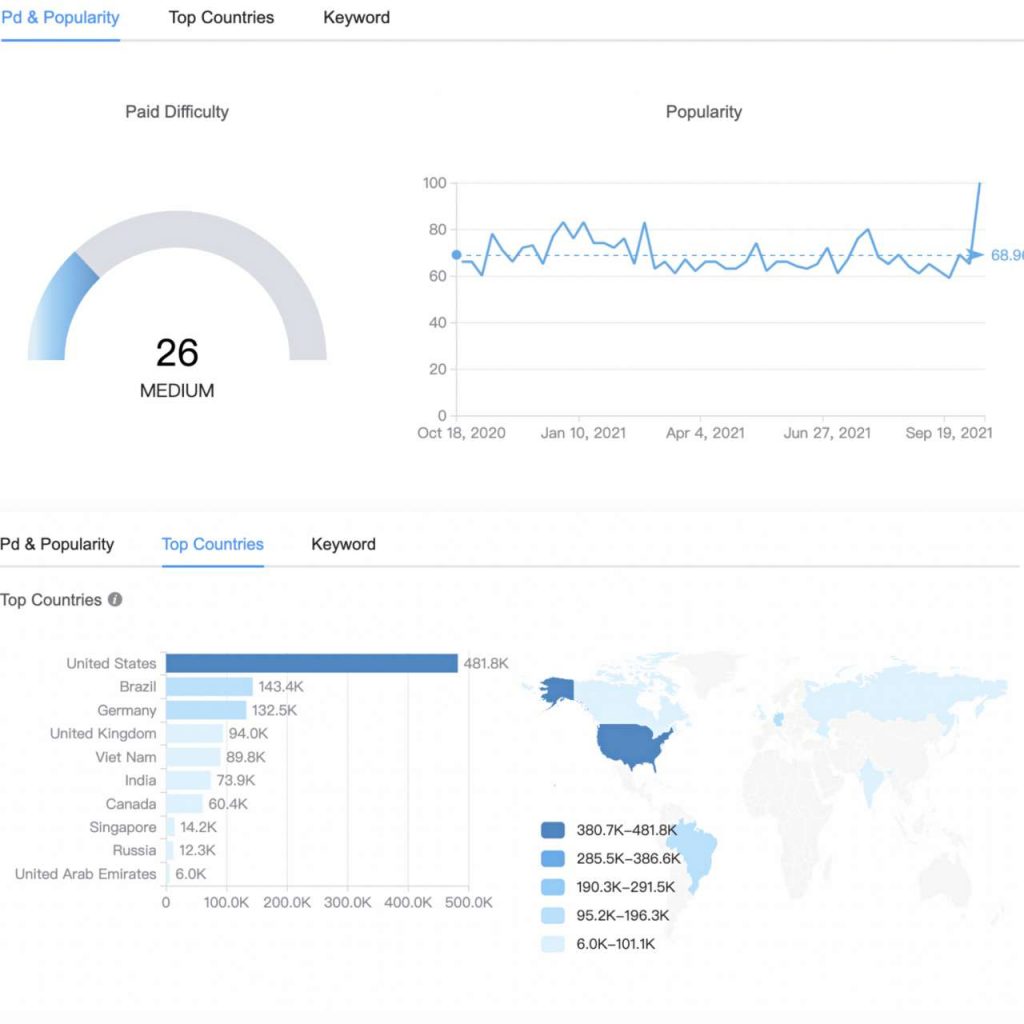 If you only focus on the audience insight in a certain country, such as the USA, you can also view the audience distribution in popular cities.
Spy on Facebook ads with AdTargeting
How to spy on Facebook ads with AdTargeting? Just enter the keyword "poker" and search on AdTargeting, you can get all the Facebook pages about "poker", it shows all the Facebook ads, competitors.
On the detail page, you can get all the advertising information of your competitors, such as advertising trends, platforms, geographical distribution.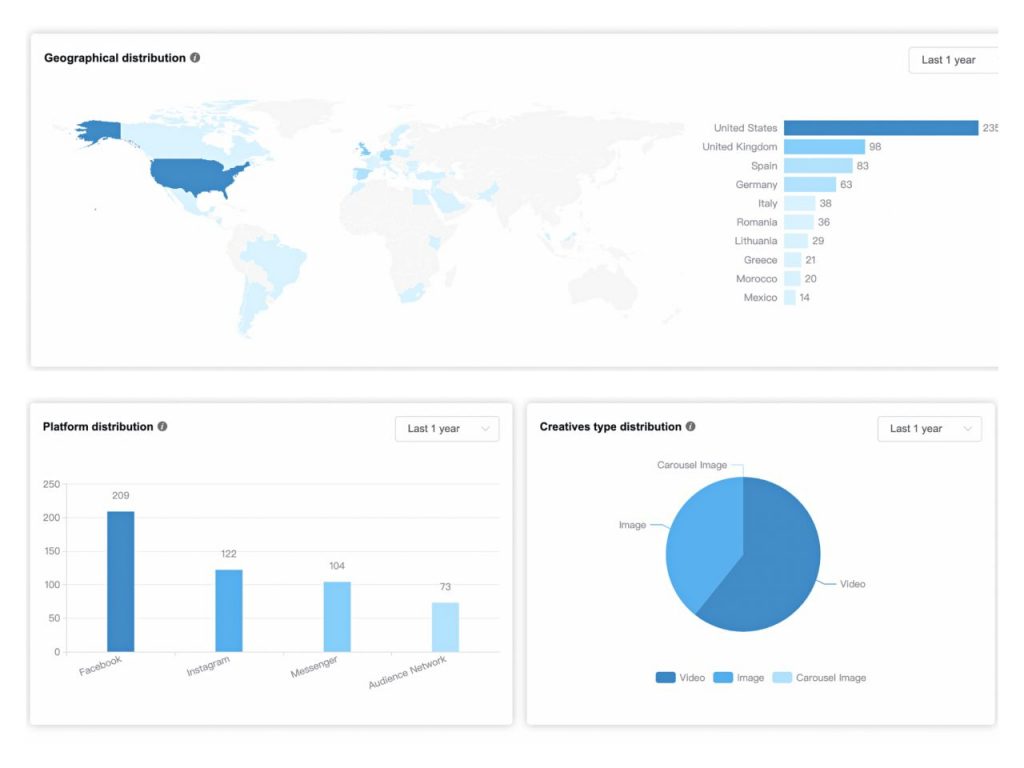 Spy on Facebook ads and find the advertising ideas of competitors, you can spend less time to get more inspiration.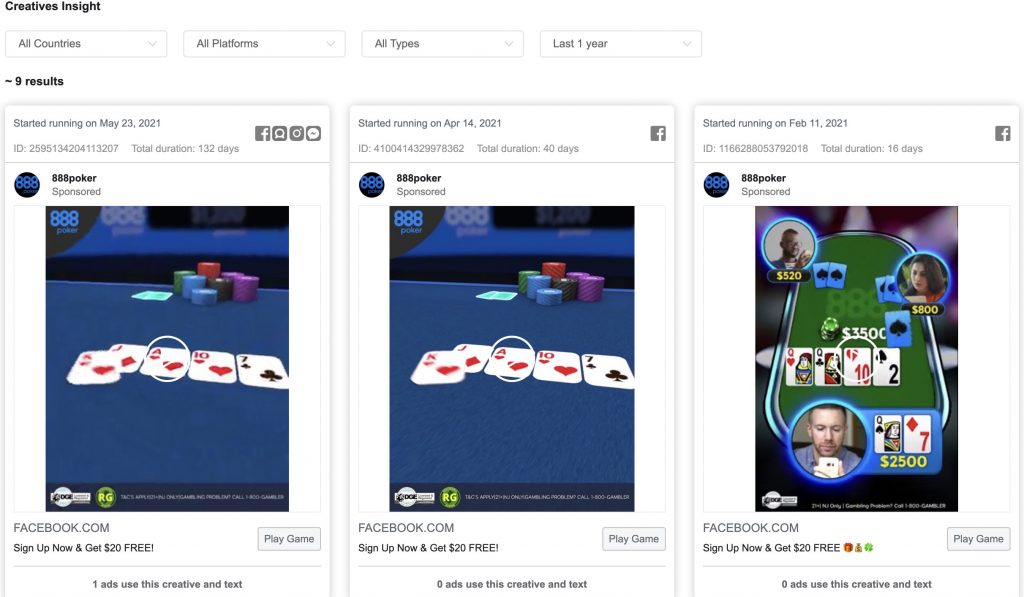 Conclusion
As an alternative to Facebook Audience Insight, AdTargeting and Facebook Business Suite have their own advantages and characteristics. If you are not only satisfied with viewing audience insight, also need to improve the efficiency of advertising or spy on Facebook ads, AdTargeting is a good choice. It can help you max the ROI of advertising audience targeting and obtain more creative inspiration.