How to Research Music Facebook Targeting List
Facebook ads are a great way for musicians to promote the latest albums, tours, merchandise, and other promotional activities to their target audience.
Read this article to learn how to make videos that have been published online into advertisements to promote the realization of offline marketing goals, and view three real cases of artist marketing.
Use video to find the ideal target audience
Create creative videos of various lengths (recommended length of at least 3 minutes) and different formats for the Facebook platform to ensure that the content is interesting and meaningful, and seamlessly fits the business goals, highlight the artist and add features in the first three seconds of the video Lens.
Examples of recommended videos:
Live performance videos that boost ticket sales.
Performance videos to increase sales of peripheral products.
Performance videos or streamlined performance videos that increase traffic.
Announce new album releases and interesting/creative videos to increase traffic (e.g. 15-second promo videos in which the artist speaks directly to the camera) Fun/creative videos to reveal the secrets of peripheral products to increase sales of peripheral products.
Use Facebook advertising tool targeting audience
Create custom audiences based on the people watching your videos on Facebook and Instagram. Then create Facebook ads to target this group of high-quality audiences.
For example, we want to target "Rock music" interest, we can enter keywords "Rock Music" through AdTargeting, after that, the system will give us a series of " Rock Music" information.
Here is Age and Gender analysis. In total 1,128,342,490 audience size, we can see compared with females, more males like listening to "Rock Music". Besides, the age between 25-34 years-old people occupy the biggest percentage.

Compare their relationship, there has a very interesting phenomenon, married people are more interested in Rock Music, rather than single group.
Otherwise, the group of "Rock Music" is more concentrated in college education.

when we research their job type, most "Rock Music" interest groups are working for administrative services.

More Android Users prefer listen to "Rock Music".

The above information is an analysis is the current situation of Rock Music. If you want to find more related keywords about Rock Music, The Facebook targeting research tool— AdTargeting also provides more than 50 similar keywords.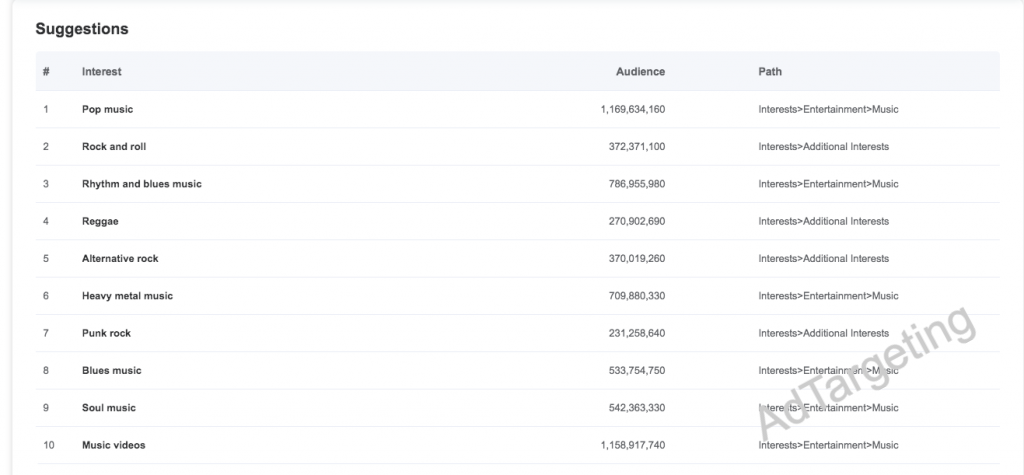 " Pop Music" also is the popular keyword for music, covered 1,169,634,160 keywords, and AdTargeting also shows different type keywords belong to "Pop Music".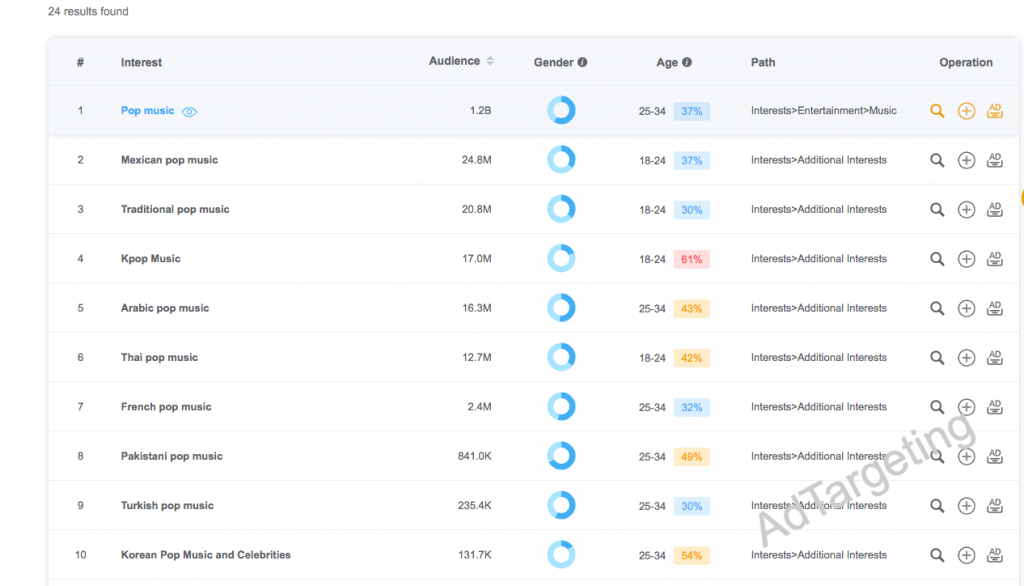 On the other hand, AdTargeting provide a similar Facebook page, we can learn some useful knowledge from these Facebook pages.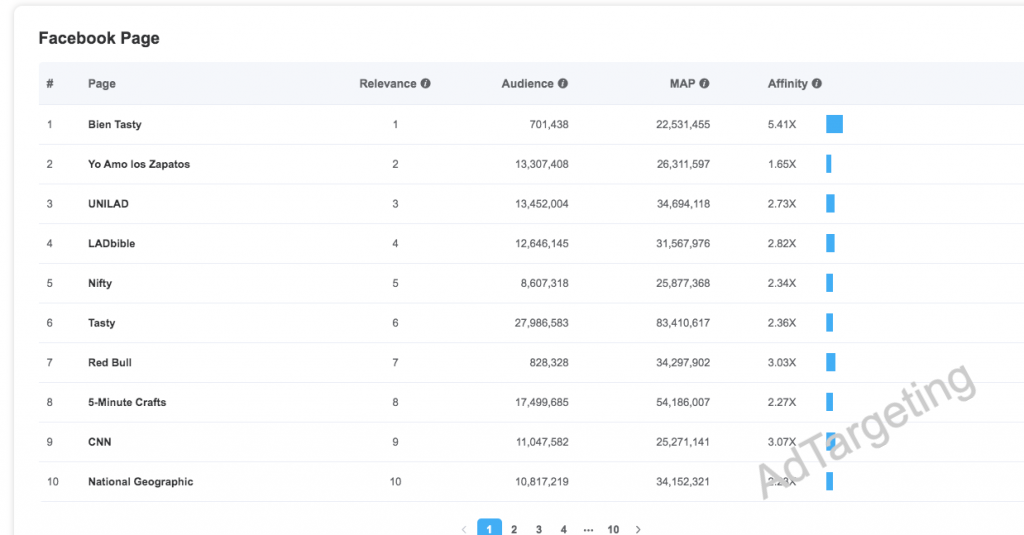 Interest positioning is one of Facebook's precise positioning strategies. If you can find the right words of interest, this strategy can make the best use of it. The problem is that Facebook Ads Manager only displays 25 interest terms suggestions, which may cause you and your competitors to choose the same interest terms, and the same interest terms are targeted to the same audience, which will increase the difficulty of competition.
However, there are some Facebook interest targeting tools that can help you gain more interest in Facebook advertising, such as AdTargeting. The Facebook interest tool can provide you with much key information such as suggestions of interest words hidden by Facebook and the number of audiences of interest words, and help you make the most important role of interest word positioning.
Create an Advertisment
When you want to promote your music, it is necessary to establish an excellent advertisement in addition to interest targeting.
Facebook Ads have different display types, like banners, videos、collection ads. For music, videos ads are the best choice.
With the rise of social media, video continues to become more and more popular. Video content can better attract viewers, especially when the video can stimulate their interest and desire, it is easy for people to remember what they are watching.
You can use different types of video content for your ads. Examples include product demos, explanatory videos, events, user recommendations, expert interviews.
Notices when you do promote for your music
Lower price: A bid that is too low will affect the performance of the ad. Whenever you put an ad campaign on the market, your ad will compete with thousands of other ads at the same time, a bit like an "auction."
It's important to note that the three factors that influence Facebook's decision-making are:
purchase price-the price you are willing to pay for the required action.
Estimated probability of action-the likelihood that your audience will take these actions.
Relevance and quality – the attractiveness of your ads to the audience and the quality of these ads (depending on the number of negative/positive feedback) can tell you that bidding is a very important factor.
When running an ad, it's best to choose a cost option with a bid cap appropriately.
The audience range is too wide: Hundreds of millions of people use Facebook every day. If your ads are not effective, it is likely that your target group has not seen your ads.
Targeting too many audiences means that competition with other similar marketers will increase. Generally, this means that you will pay more for each click and may receive fewer impressions and lower conversion rates. In addition, it is difficult to ensure that such a wide audience will be interested in your ads.
Conclusion
when you decide to promote your music on Facebook, please notes when you create ads, must pay more attention to your interest targeting and your ad quality. If you are interested in Facebook ads, come on and follow us!