5 Advices Of Weight Loss Advertising On Facebook
Since society judges people of their first meeting almost exclusively based on their weight, it is difficult to feel great if their body does not meet the standards described by the fashion and beauty industry. And excessive obesity not only affects appearance but also affects health. Therefore, it is not surprising that the number of people who are ashamed of excessive obesity. So have you ever been troubled by weight loss problems?
Weight loss has always been a permanent topic in modern society as people pay more and more attention to health and care about their appearance. Weight loss advertising also has great market potential. With the prosperity of digital advertising, Facebook has been chosen by more and more advertisers because of its status as a social media giant. The same for weight-loss advertising, so how to make weight loss advertising on Facebook, here are some suggestions.
Follow Facebook's weight loss advertising policy
Some people say that it is impossible to create weight loss ads on Facebook. But Facebook does not completely prohibit the submission of weight loss ads, it will only reject weight loss ads that do not comply with its policies. It will deal with all advertisements that do not comply with its policies. Facebook has the final decision on whether to display ads and weight loss advertising is a very strict type of advertising when Facebook reviews ads. So it is very likely that your ad may not be accepted on the first try.
Fortunately, Facebook's advertising policy clarifies what is acceptable and unacceptable. There is a stipulation in Facebook Ad Guidelines Weight Loss says that: Ads must not contain "before-and-after" images or images that contain unexpected or unlikely results. Ad content must not imply or attempt to generate negative self-perception in order to promote diet, weight loss, or other health related products. On the basis of that, the following are the policies most likely to affect whether your weight loss advertising will be accepted:
Close-up images of body parts that highlight successful weight loss is unacceptable, but if the image has been shrunk, it is in accordance with regulations of Facebook.

A picture used to promote a diet or loss weight is unacceptable, but if this picture focuses on promoting fitness, it is in accordance with regulations of Facebook.

Weight informations intended to promote diet or weight loss products are also unacceptable. But if this picture promotes healthy eating habits is allowable.

The advertisement information showing the comparison before and after weight loss does not comply with the regulations of Facebook. But if it is to promote a healthy lifestyle, such as describing a person drinking vegetable juice, it is in compliance.

Set marketing goals
What effect do you hope the weight loss advertisement will bring to your product or clinic? Before placing an ad on Facebook, you must set the marketing goals firstly.
You can run multiple campaigns for different goals, just make sure the ads are targeting the right people. In all aspects of marketing, you need to prepare corresponding strategies according to your market goals:
1.Increase popularity
At the beginning of marketing, it is important to increase popularity. The goal here is not to attract consumers to your website. Instead, let people know the existence of your weight loss products at first.
In order to increase popularity, the indicator that needs to be paid attention to is the coverage or how many people in the target audience see the ad.
2.Attract users' attention
Attracting users' attention is the next step in the marketing channel. Once your potential audience knows your weight loss product, you must want them to be more interested in it. And the more interested they are, the more they will study your product and begin to consider using it.
3.Increase conversions
When a potential customer takes the desired action, a conversion occurs. The content of the action varies, depending on the goal of the company. Examples of conversions include: submit information via contact form for more information, newsletter subscription, registration procedure, download app, make a purchase.
If your goal is to increase conversions, then you will focus on creating ads designed to attract potential customers to convert.
Target your audience accurately
1. Get more hidden interests for weight loss advertising
If you want to post weight loss ads on Facebook, you should choose interests to target your audience accurately. Although Facebook Ad Manager provide interest suggestions. But Facebook's official interests are not comprehensive, each search result shows up only about 25 interests, which can not fully match advertisers' needs.
You can use Facebook interest targeting tool for help. AdTargeting is one of the best Facebook interest targeting tools, it's a free online Facebook interest targeting tool that helps advertisers get many hidden interests and find suitable interest through keyword search and advanced filtering.
Just enter "weight loss" in AdTargeting, you can get many related interests :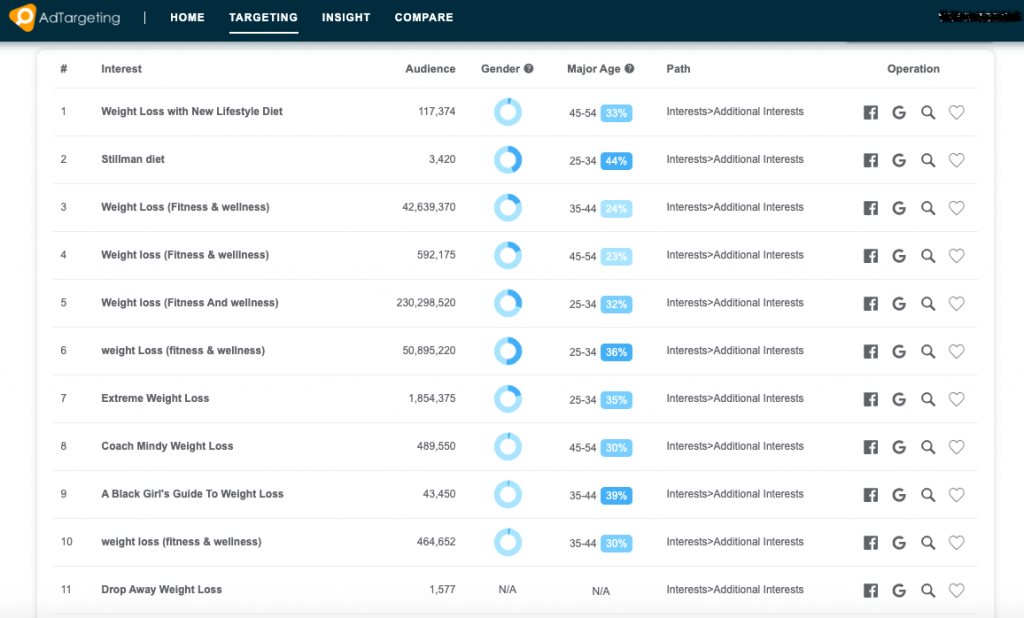 2.Set suitable audience targeting conditions of weight loss advertising
The majority of people interested in weight loss between 25 and 34 years old. And other age groups like "35-44" also take some proportion.
Men account for 30.6% and women account for 60.4%. More women are interested in losing weight.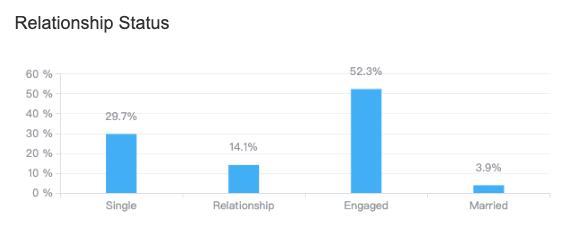 The majority of people are engaged or single, engaged people take a large proportion for 52.3% and single people for 29.7%。
The majority of people have a college degree.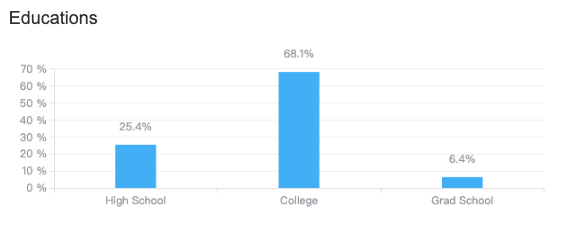 From the job title of the audience, we can analysis that the people who work on administrative services, management or sales account for large proportion of the audience.

We can see the people of United States have a high passion for weight loss.

Lookalike audience targeting
A Lookalike Audience is a way to reach new people who are likely to be interested in your business because they're similar to your best existing customers.
There are some matters needing attention:
To create a similar audience on Facebook, you must be the administrator of the home page of the source audience or the administrator of Pixel code.
If you want to create similar audiences based on custom audiences, you need to be the administrator of the advertising account, advertiser, or analyst.
If you create similar audiences based on the amount of mobile app installs, you need to be an administrator or developer of the app.
Write appropriate advertising copy
The advertising copy is very important for a successful ad. There are several advices on how to improve your advertising copy.
At first, write a compelling title. It's no surprise that many people actually never read more than the headline of a Facebook ads before sharing or liking it. A good title can attract more attention.
Secondly, add personal attributes to ads. If your ads are highly targeted or regional, add personal attributes to ads can greatly increase attraction.
Finally, make sure the content is appropriate. One wrong line of textcould potentially influence the person viewing your Facebook ad. So Make sure the content is appropriate is necessary.
Enhance the visual effect of advertising
No matter how good your ad copy is, it won't help if you don't have high-quality visual effects. In this case, the visual effect can be enhanced by a static image, GIF or video. Please carefully consider the visual material you decide to use. they should be consistent with your brand and landing page to make high conversion.
Finally, combining both Facebook ad with AdTargeting will give you a more effective ad targeting strategy of your weight loss advertising and will place your ads directly in front of the right people. If you are interested, you can join the advertising Facebook group to participate in the discussion. Hope these 5 advices of weight loss advertising on Facebook can help run your weight loss ads well!