InterestExplorer vs AdTargeting: The Best Facebook Interest Tool
As we all know, Facebook advertising marketing optimization has a total of 4 important elements, which are: excellent creative ad materials; quality products and convincing quotes; targeting the best audience; and bidding optimization and campaign structure. From here we can also discover the importance of the best audience targeting in advertising. Because accurate audience targeting can help ads increase CTR, reduce advertising costs, and improve ROI. When targeting Facebook ad audiences, we often use the Facebook interest targeting tool to help advertisers target audiences. Below are two most commonly used Facebook interest tools for comparison.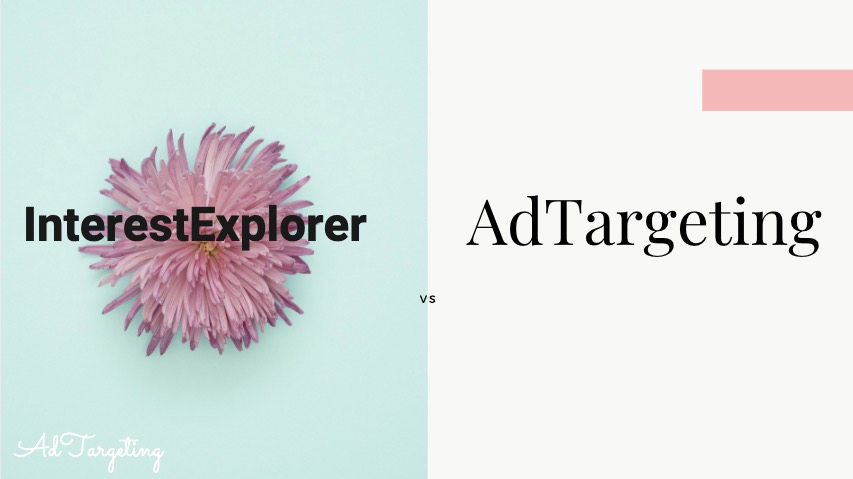 InterestExplorer
InterestExplorer is an earlier Facebook interest targeting tool. It was created in 2016, initially as a chrome extension to help users find suitable interest multiple times. When using Facebook audience insights, open the InterestExplorer extension, advertisers can see more interest. Now it has established a website to help advertisers search for multiple Facebook interest keywords online. It is well-known by more users.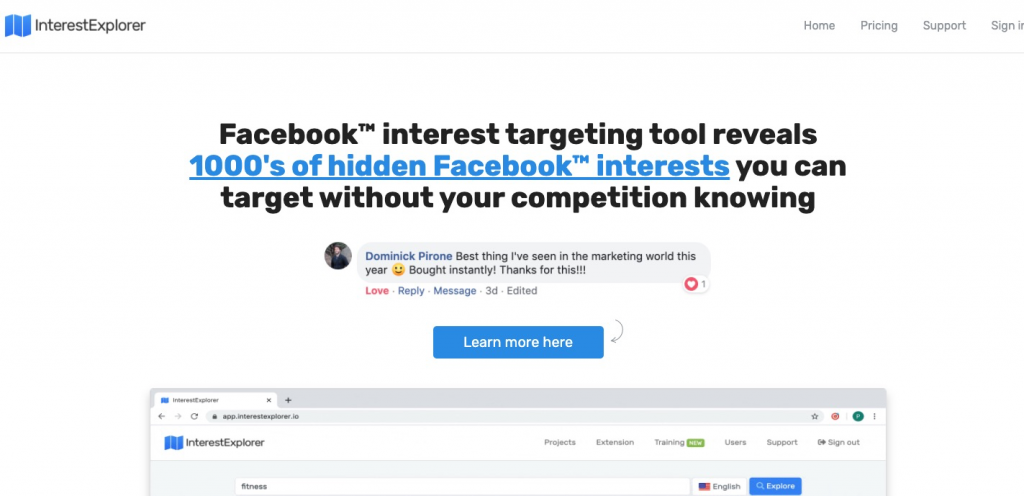 AdTargeting
AdTargeting is a popular free Facebook interest targeting tool recently. It supports 4 languages to help you better target your audience in multiple countries. Although AdTargeting was created soon, it has strong data analysis capabilities. AdTargeting is not just a simple interest search and expansion tool, it is more to help users analyze audiences by interest, and target accurate audiences by interest.
1. Comparison of main functions:
(1)Interest search
InterestExplorer
Interest search is the core function of InterestExplorer. In Facebook Ads Manager, enter any keyword, Facebook will display 25 related interests. But in fact, Facebook's interest keyword database is huge, and advertisers can only see a small portion of advertising interest words displayed by Facebook. InterestExplorer enables the Facebook API to directly call the Facebook interest database, enter any interest in InterestExplorer, you can quickly get all related interest words of the interest.
InterestExplorer's search results of interest words have three columns, the first column is the name of the interest word, the second column is the number of the audience of the interest, and the third column is the search results of the interest in Facebook and Google.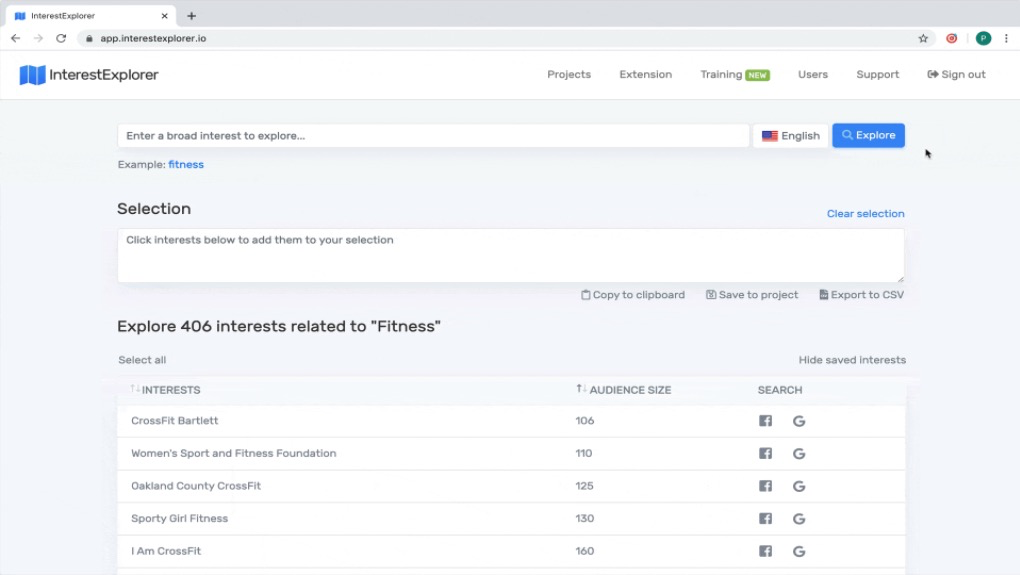 AdTargeting
One of the core functions of AdTargeting is interest search. AdTargeting provides Facebook interest searches in four languages: English, Chinese, Japanese, and Russian. Choose the appropriate language type, enter your interest keywords, and click the search box to get thousands of Facebook interest lists.
AdTargeting's search results are divided into 5 columns, they are: interest name, audience number, Facebook Ads Manager interest path, Category, Topic. In addition, advertisers can also sort by keyword relevance and audience numbers.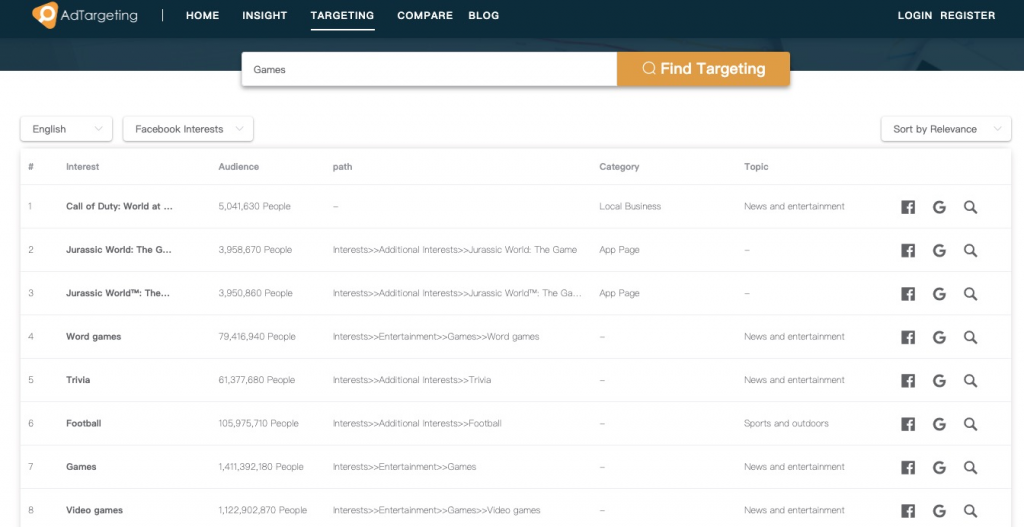 Analysis: The core functions of InterestExplorer and AdTargeting are both interest search, they can quickly get a list of interests, and help advertisers filter suitable interests. The presentation styles of the two tools are different.
(2)Interest list
InterestExplorer
InterestExplorer can get related interest list by searching keywords. The interest search result is the interest list of InterestExplorer.
AdTargeting
Facebook's interest vocabulary is beyond imagination, here hidden interest keywords you can not imagine. The interest list is also complicated, it can have multiple categories, and now AdTargeting lists the most popular interest lists in multiple industry categories in four languages.
Through the most common interest lists of advertisers, we can find that in fact, most advertisers are still using some of the more extensive ad interest words, which is not accurate enough when targeting audiences. In advertising marketing, advertising mainly avoids choosing these high-frequency interest words. You should choose an audience that is appropriate and meets the interests of the user community.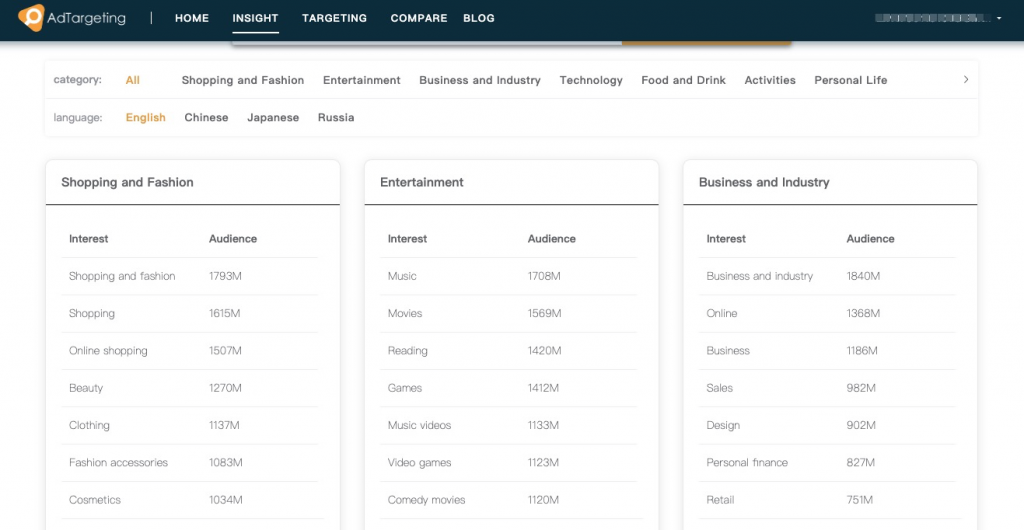 (3)Audience analysis
InterestExplorer
InterestExplorer counts the number of audiences of each Facebook interest. The less the number of audiences targeted by interest keywords, the more precise the interest. By researching keywords of interest, you can reduce advertising costs. After advertisers get search results in search interest, InterestExplorer will show the number of audiences for each keyword.
AdTargeting
After clicking on any interest word on AdTargeting, we can get an audience analysis of the interest word. The second core function of AdTargeting is interest audience analysis. If you are not sure whether the interest you choose matches the audience, then interest audience analysis plays a big role.
AdTargeting's audience analysis is completely based on the audience screening method of Facebook Audience Insights. AdTargeting analyzes the number of audiences for each interest, demographics, gender and age distribution, Job Title, Device, Location, and Top Country, and Facebook Page.
Even AdTargeting lists Facebook pages that are most relevant to interest words, which is a good way to monitor competitors 'interests.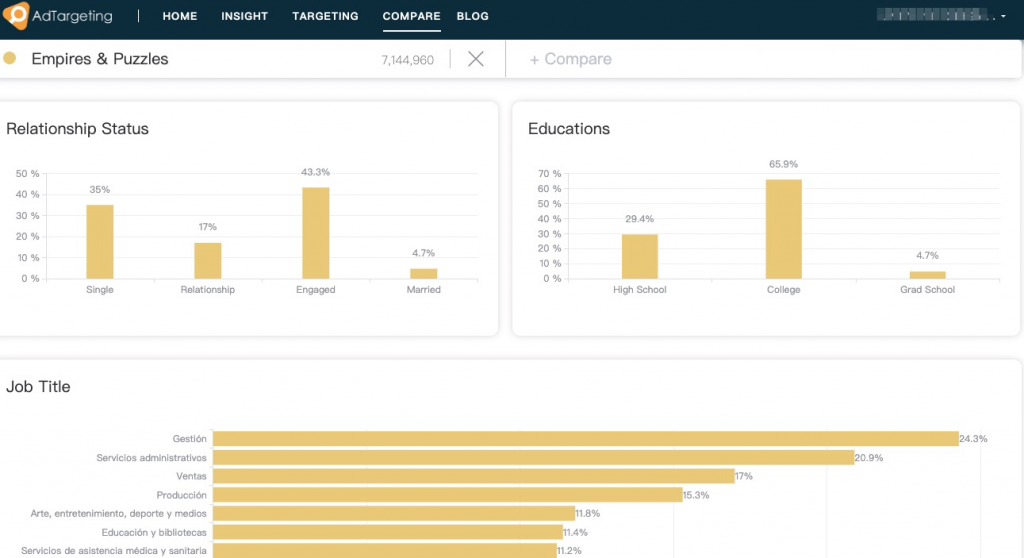 (4)Interest comparison
AdTargeting
When using AdTargeting, we will find that when analyzing the audience of any interest, it has an interest audience comparison function. Advertisers only need to enter another interest keyword, and they will see an audience comparison of the two keywords. AdTargeting visually shows the difference between the two audiences in the form of a chart.
2. Comparison of usage
InterestExplorer
InterestExplorer has two ways to use the web page and the chrome extension. You can install the chrome extension to use when creating a Facebook audience, or search directly on the web page.
AdTargeting
3. price comparison:
InterestExplorer
Pricing: Can be used all the time after one-time payment, there are two kinds of payment permissions:
$ 97: for personal use
$ 197: team use
AdTargeting
Pricing: There are a variety of plans to choose from, all paid monthly, so you can adjust or update your subscription in time:
FREE: Limited Queries
$9: 20 Queries Daily
$69: Unlimited Queries
The above is the analysis and comparison of two Facebook interest targeting tools. Both InterestExplorer and AdTargeting are good tools to help advertisers better target advertising audiences. I hope that the evaluation and analysis of the above tools can help everyone. And you are welcome to use these two tools.