Facebook Ads for Photographers: Brilliant Ideas to Increase Customers
There is no doubt that Facebook still dominates social networking and Facebook's influence is becoming more and more important. Now, many photographers are also turning to Facebook advertising. But not many of them are gaining success. They think Facebook doesn't reach enough people and even after spending a lot of money using paid ads, they don't see any return on their investment. I've heard from many photographers who bemoan the fact that Facebook ads don't work for them.
In this article, I'll outline several brilliant ideas for Facebook ads for photographers. You can use these strategies to target new photography clients. If you've considered Facebook ads, but aren't sure if Facebook ads are right for photographers, read on.
Advertising strategies for Facebook ads for photographers:
Choose the most suitable type of Facebook ads
At first, we need to know different types of Facebook ads so that photographers can choose the most suitable one for their Facebook advertising.
Single Image Ad
This is one of the most common types of ads you will see in the News Feed. To get the best results with this ad type, you can use high-resolution images with little or no text. Facebook also requires an image ratio of 9:16 to 16:9. image ads match the photographer and the photographer can choose one of his or her best work as the ad image, which will be more convincing.
Video Ads
Video Ads have become the most popular form of expression today so if you are already experimenting with video, then these ads are a great way to increase awareness or engage your audience. Facebook recommends using video ads for brand awareness.
Carousel Ads
With this ad format, advertisers can create rotations of images or videos that viewers can navigate through by clicking on a set of arrows. E-commerce retailers often use this format because it gives them the opportunity to showcase multiple products in a single ad. This type of ad is also great for photographers because it allows them to show multiple images of their own work.
Slideshow Ads
If you are not ready to place video ads, slideshow ads are the middle point between placing ads with images and videos. You can choose from 3 to 10 images, each of which should have similar image proportions, so make sure you crop them in the same way before creating your ad.
Precisely target audience
Install Facebook Pixel
Facebook Pixel is a small piece of code that you add to your website. It will provide you with a lot of important information about the Facebook users who click on your ads. Not only will it provide more information about the success of your ads, but it will also allow you to see which customers are actually interested in. The more you know about your audience, the better you can customize future ads to accurately reach your ads.
Target with Facebook interest to narrow your audience
The biggest factor in the success of marketing activities is audience targeting. Get more hidden interests for Facebook ads for photographers means a lot for targeting accurate audience. Because Facebook's official interests are not enough for advertisers.
You can use the Facebook interest targeting tool for help. AdTargeting is one of the best which can help advertisers get many hidden interests and find suitable interest through keyword search and advanced filtering. Search"photographers "in AdTargeting to find more: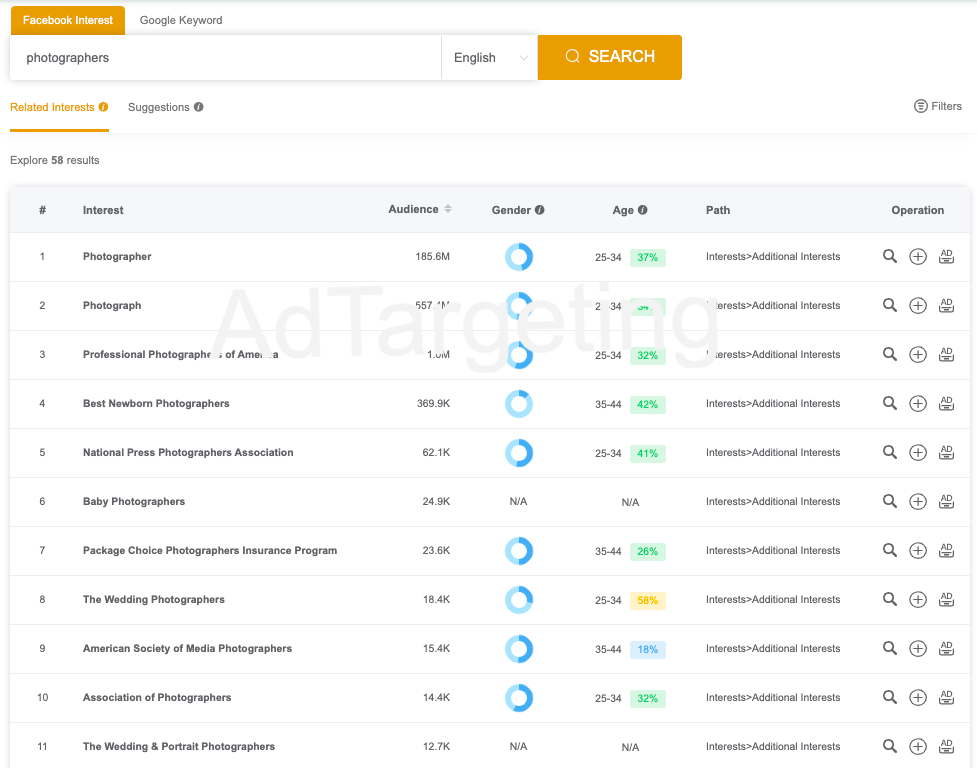 Deepen your understanding of your audience
With detailed age and gender breakdowns, job titles, education levels, relationship statuses, and so on, advertisers can better target their campaigns and make content to their target users' preferences. Facebook Audience Insights can help you better understand your Facebook audience with mentioned functions.
And Get the audience analysis report in AdTargeting can help you know the fans deeply. Link Facebook audience insight with AdTargeting's audience analysis report can help you to better target your campaigns and make content to your target users' preferences.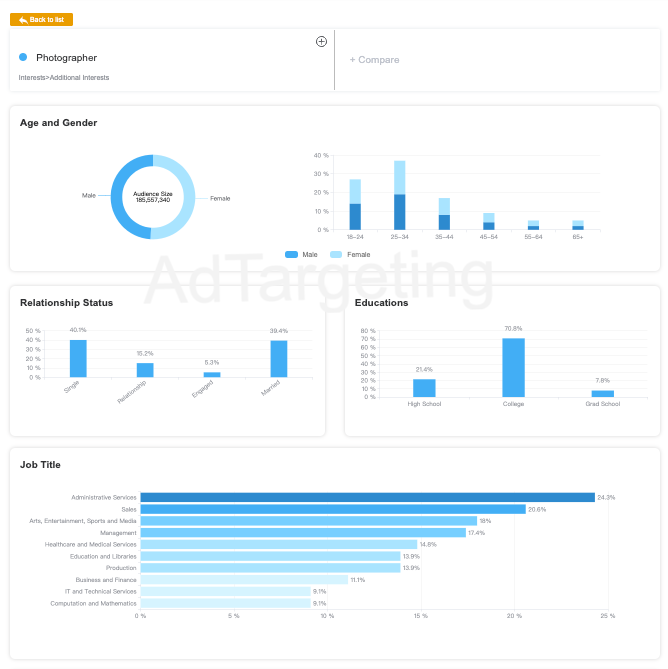 Improving the quality of advertising materials
Choose an image, video or slideshow that represents your best work. Make sure it aligns with the theme of your ad. Try to find images that will appeal to the heartbeat of your potential customers. For example, if you are a wedding photographer, you may want to include one of the best photos of the bride and groom.
Make sure to get your client's permission to use their images in your ad, especially when working with babies or children! Some people are more cautious than others about how children are shown, and you don't want great ad campaigns to go bad because you don't have permission to use specific images.
Include text that lets the viewer know what you are promoting. Keep it short, but compelling. Add something about what makes your business stand out.
Focus on the effectiveness of your ads
After launching an ad, you will start viewing data about the ad's effectiveness in Ads Manager. Here are some important metrics to keep an eye on:
Engagement
Engagement is the number of times a user responds to, comments on, or shares your ad. Measuring engagement can help you understand whether your target audience is responding to your ads.
Reach
Reach is the number of people who see your ad on Facebook.
Impressions
Impressions is the number of times your post was seen. Therefore, if the same user sees your post multiple times, Facebook counts it as multiple showings. Facebook algorithms consider that relevant ads may receive higher placements and therefore higher showings.
Test and test
Facebook Ads allows you to test the effectiveness of different combinations of ads immediately after the ads have been created.By taking this simple step, you can better understand which ads your customers are most likely to respond to, not to mention allowing you to see what ads are running before clicking the "Confirm" button.
Whether you're frustrated because you're worried about the cost or haven't tried Facebook ads yet, I want you to know that Facebook ads can work for your photography business!
When used properly, they can be very effective and can produce an amazing return on investment. But they do need to be for your target market. If you've been reading our photography marketing guide so far and implementing our recommendations, then congratulations, there's a good chance you'll be successful!