6 Real Estate Facebook Ad Examples That Really Works
Perhaps in the era when there was no Internet, most people found real estate through friends, neighbors or relatives, or newspaper advertisements. But nowadays, most homebuyers will cooperate with real estate agents, and nearly half of them will view on Internet to find real estate before contacting the agent. As the younger generation who are familiar with using the Internet gradually become the main force in buying houses, online real estate advertising is becoming more and more popular.
And real estate Facebook ad is not uncommon, after all, Facebook is the number one social media site in the world with huge traffic. But only a real estate Facebook ad with the right strategy can make your Facebook ads for real estate stand out!
So are you looking for some inspiration for your next real estate Facebook ad? Check out these 6 real estate Facebook ad examples and replicate their successful strategies.
Example 1. Domain Group
Firstly, let's see the real estate Facebook ad example of Domain Group. The advertising focuses on the practical problems faced by the target market. For example, how to get a comfortable living experience in a narrow apartment. This is a practical problem that many people are facing.
Domain Group uses clear and beautiful images to show how apartments with a limited area can be arranged to maximize use. Therefore, the advertisement is not only suitable for apartment residents (the main audience of the advertisement), but also for people who want to save space in larger houses.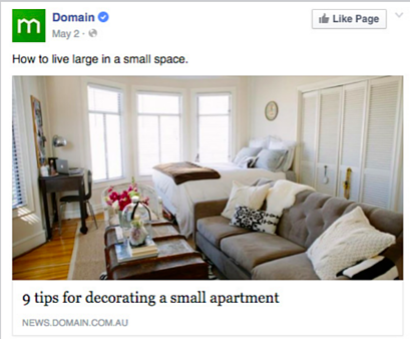 Example 2. REMAX New Dimension
The marketing of REMAX New Dimension is very eye-catching. In just a few words, it describes how the spacious house brings people together. And it not only depicts the scene of family and friends gathering together during the holiday but also shows that there is enough space for everyone to cook and entertain together, reflecting the characteristics of the real estate.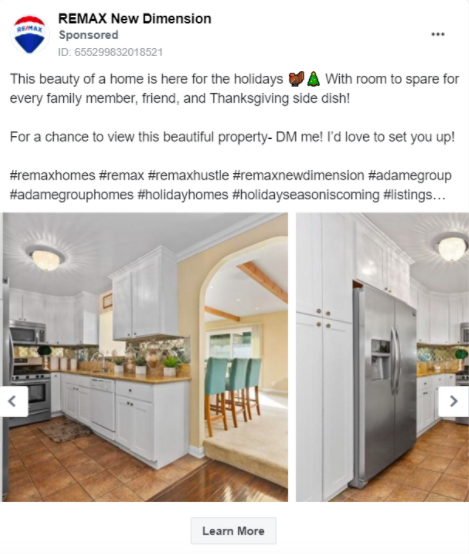 Example 3. Pulte Home
Pulte Homes' Facebook ads are successful because they are willing to pay attention to the wishes of consumers and have launched a campaign with the theme "We help people build the lives they deserve." By focusing on consumer expectations rather than selling their products or services, they have achieved good results in a sluggish market. Pulte Homes' Facebook ads also increased conversion rates.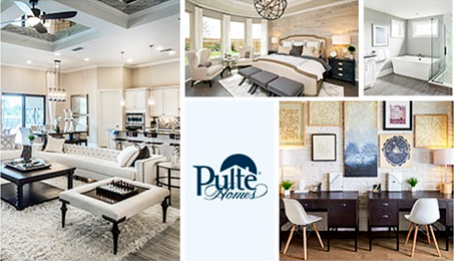 Example 4. Justsellhomes.lpages.co
What the Justsellhomes.lpages.co mainly attracts the attention of potential customers by providing suggestions to solve common problems.
It answers the question everyone wants to put their house on the market: what should I do to prepare? Justsellhomes.lpages.co can provide a free PDF to solve this problem, the brand can generate potential customers and collect contact information of people who may sell their homes in the near future.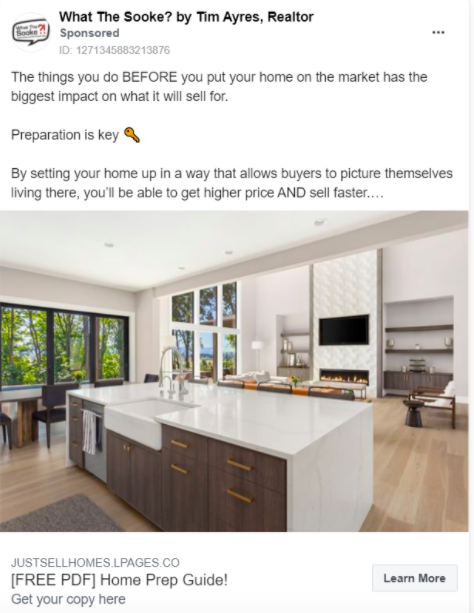 Example 5. California Realty
California Realty launched a Facebook ad campaign to attract specific target audiences. Obviously, their target market is budget-conscious luxury shoppers and they are accurately promoting the types of products their target customers want. Attract potential customers through the gimmick "the lowest house price in one of the most expensive areas of the country".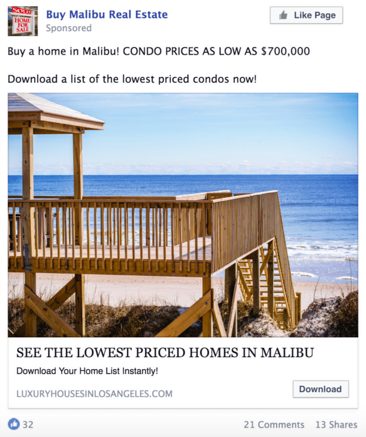 Example 6. Levinson Real Estate
The real estate Facebook ad example of the Levinson Real Estate embodies characteristics that other real estate advertisements do not have. They provide services beyond traditional house pictures and listing information. For example, using some useful infographics to help buyers decide when to rent or buy.
In addition, the ad uses call-to-action to encourage participation and attract potential customers, urging viewers to "call us now" to learn more.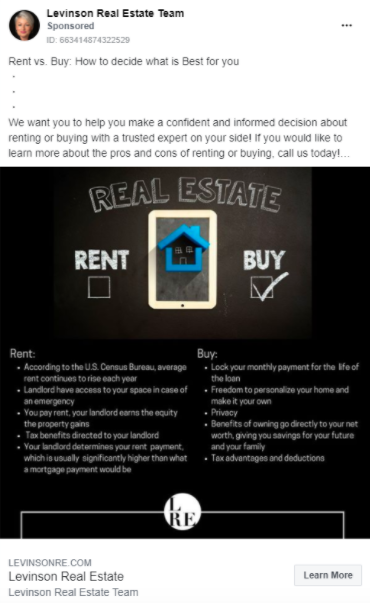 The proven strategies of real estate Facebook ad examples
Real estate Facebook ad audience targeting
There is no doubt that the biggest factor in the success of real estate Facebook ad is the audience targeting. Get more hidden interests for real estate Facebook ad is very important for targeting accurate audience. Because Facebook's official interests are not enough for advertisers.
You can use Facebook interest targeting tool for help. AdTargeting is an online Facebook interest targeting tool that can help advertisers get many hidden interests and find suitable interest through keyword search and advanced filtering.
Just enter "real estate" in AdTargeting, you can get many related interests :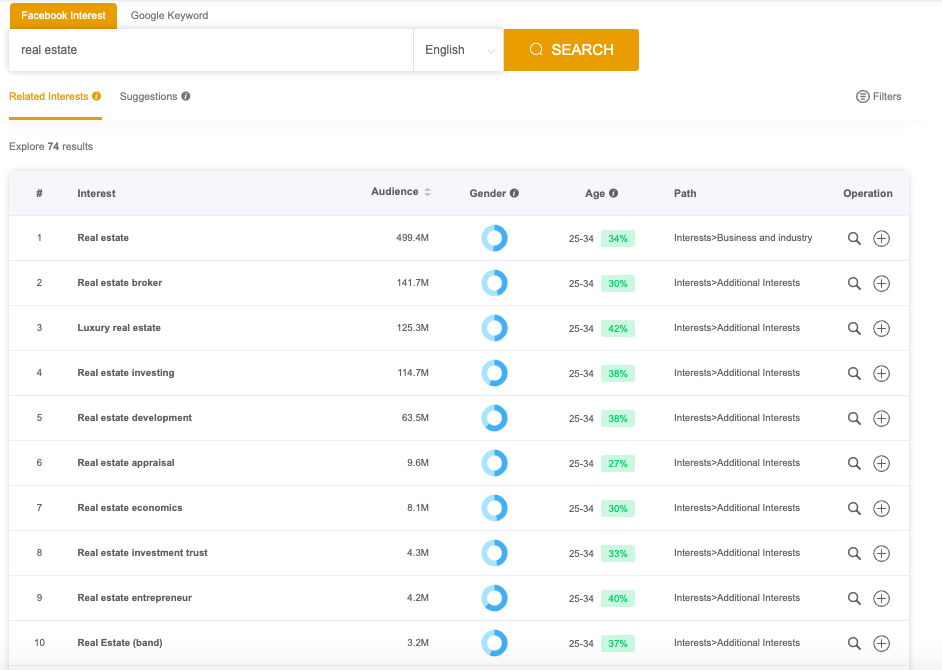 Advertising materials selection
The impact of advertising materials on advertising campaigns is crucial. In the business world, we live in, advertising fills every corner. Some of these ads are mediocre, but some are different and make a lasting impression. The choice of advertising material is an extremely important factor.
Choose high-quality images and videos often work well for real estate Facebook ads. To attract home buyers, high-quality images are needed to help them imagine the house in reality. Visual ads give you the greatest opportunity to interact with the viewers of your ads. You can show them exactly how they can benefit from your ad. Most importantly, video allows you to make the personal connections that regular print ads can't.
You can also try some ad spy tools to find quality ad ideas from competitors, such as BigSpy, and you can searches for "real estate" to get some inspiration: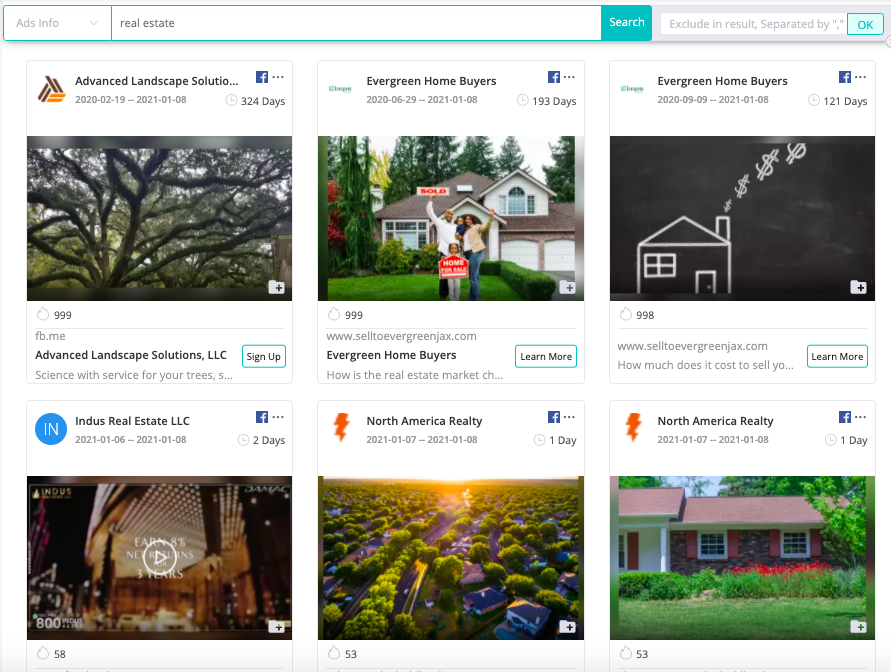 Run your real estate Facebook Page well
It's essential to run a good Facebook Page for a brand. While not all people who like your business page on Facebook will necessarily convert to paying customers, it is known that the more people who visit your Facebook Page, the better.
The best Facebook pages for B2C businesses are also targeted their potential audience. By highlighting the beautiful photos of real estate, they attract the right customers to buy the house. In addition, posting daily and even multiple times a day is necessary. Keeping things fresh will keep your Facebook feed with more energy.
Finally, thank you for reading this blog, and I hope real estate Facebook ad examples and successful strategies will be helpful to you!