Amazon Facebook Ads: Best Tips to Boost Your Sales
Facebook, like other social media platforms, is a great platform for marketing and advertising. Facebook's daily active users have reached 1.82 billion now. The huge number of active users makes Facebook ads an effective marketing platform that cannot be ignored.
Combining Facebook ads with Amazon's strategy may lead to a virtuous cycle, but you won't be able to achieve the desired sales without taking the right steps.
Here are some best practice approaches on how to promote Amazon Facebook ads and we hope we can give you a different perspective.
Why use Amazon Facebook ads?
Compared to Google Ads or Amazon PPC, Facebook Ads are for people who are not actively looking to buy your products, but that doesn't mean they won't buy. As an Amazon seller, Facebook Ads can help you connect better with your existing and potential customers. Using Facebook Ads makes it easier to communicate with people and make emotional connections, and it's also better for marketing.
In addition to a large user base, Facebook's ad targeting tools are very well developed. They allow you to show ads to the people who are most likely to convert and therefore become customers. You can even show ads that are similar to users who have previously purchased products from a similar audience on Amazon.
You need to take the right steps to ensure that you stand out in the stiff competition.
Promoting Amazon Products with Facebook Ads
Prepare your Amazon products for Facebook ads
Optimize your product listings
If you want the money on Facebook Ads to play well with the product on Amazon. Then be sure to pay attention to the optimization of your product list. Because, if things are not arranged well on Amazon, you will not get any good results and this is a pure waste of money.
So in order to guarantee the success of your amazon Facebook ads, you must first make sure that your listings are optimized for Amazon SEO and conversion. On top of that, you also have to make sure you have quality product photos and enhanced branded content.
Set landing pages
One of the reasons why many people's ads don't work well is because of the poorly setting of landing pages, and the same for Amazon Facebook Ads. Without a good landing page, you can't collect emails from visiting customers. Therefore, if they don't buy the item immediately after clicking on the ad, then you lose the opportunity to engage with them later.
The essence of Amazon Facebook Ads is that you want Amazon Facebook Ads to convert new leads into loyal customers. As time passes, lead them to make a purchase and repeat it. Good landing pages perform the following functions: collect emails (for future promotions, solicit reviews, etc.), filter traffic, and target those who are more likely to buy, thus increasing sales velocity and keyword rankings.
Get the Right Audience from Facebook for Amazon Facebook ads
Targeting with Facebook interest
Given the strong correlation between interest targeting and high commercial intent keywords, getting more hidden interests that your competitors don't know is very important! Facebook's official interests are not comprehensive, each search result shows up only about 25 interests, which can not fully match sellers' needs.
You can use the Facebook interest targeting tool for help. AdTargeting is one of the best, it helps advertisers get many hidden interests and find suitable interest through keyword search and advanced filtering.
Just type "Amazon" in the AdTargeting search box to get many hidden interests: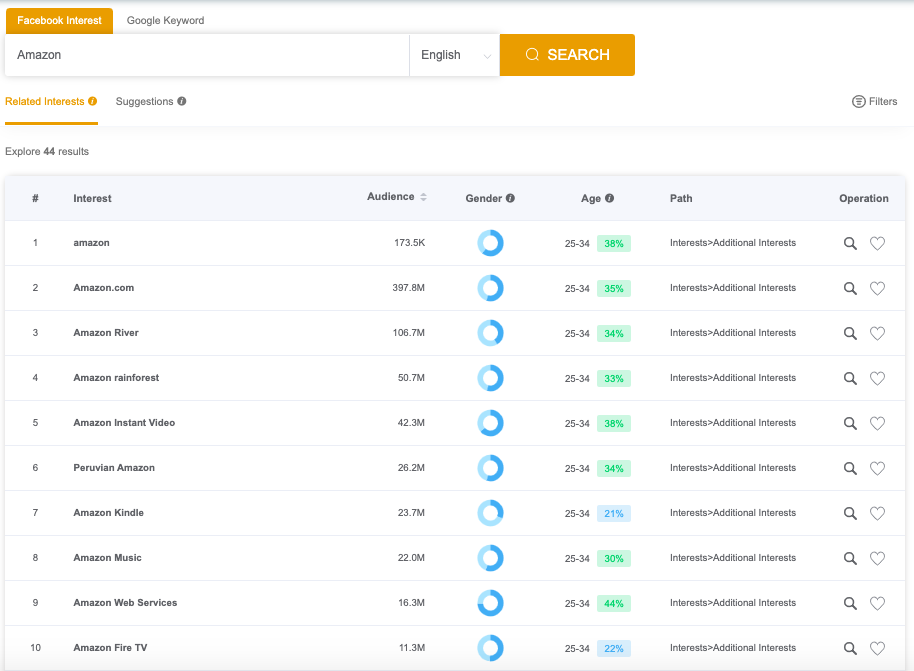 Try to find as many interests as possible related to your product. This will help you increase share and get a better price per click.
Get to know your audience well
While it is important to attract the largest possible audience, remember to be specific about your terms. The more detailed your targeting condition is, the more conversions you will get.
You can get the audience analysis report of the interests to better know your audience and better set suitable conditions.
You also can view more detailed audience analysis in AdTargeting such as gender and age, relationship status, education level, job title, the device they use, and the location information of them.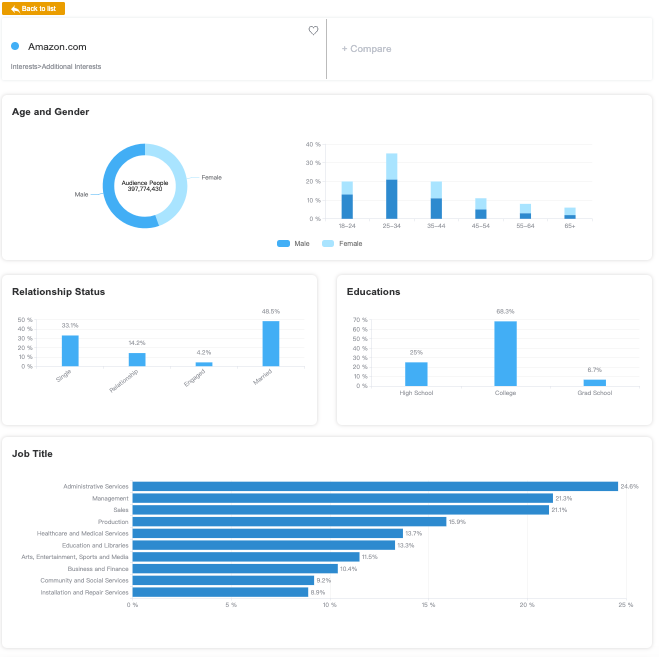 Test lookalike audience
Facebook Ads tools are an effective way to attract the right people. If you know how to use them, you will start seeing results. But there are some things to remember when building an audience.
A similar audience is when you take an existing list of prospects or customers and tell Facebook to show ads to people who are similar to the people on that list.
Smaller audience groups can work well for some ad campaigns. For others, a broader audience group performs better. That's why it's best to always test several different audiences.
Many different types of audiences need to be created. Sellers can start by creating similar audience groups from their Amazon customer data.
A/B Amazon Facebook ads testing
A/B testing of Amazon Facebook Ads is necessary to fairly test the variables and ultimately choose the ad material that performs best!
You can create two different campaigns that target the same audience and use the same ad materials and copy. This way you can test which materials and copy work better.
If you want to test audience groups, then you can have different sets of ads from one campaign with different audience groups but with the same ad copy.
Provide the right offer
The most common type of successful Amazon Facebook ads is the highly discounted promotional types that can quickly increase keyword rankings.
You can state in the ad that the discount offered, the discount, or the offer will always attract people's attention.
Finally, hope you can get success in Amazon Facebook ads!