Facebook Ads for Restaurants: 5 Killer Tips to Boost Your Sales
Food is an essential topic in people's lives, while the demand for restaurants is substantial, it can be difficult to stand out from such fierce competition. Facebook is one of the most versatile advertising platforms for restaurant businesses. When you use Facebook ads in your restaurant, you can easily target the people who are most likely to be your diners. If you don't use Facebook ads to promote your restaurant, then savvy competitors will steal your customers.
Why Your Restaurant Needs Facebook Advertising
Facebook is the largest social platform where your potential customers spend most of their time. In fact, 49% of people actually search on Facebook to find new restaurants. Since restaurants are the most searched industry by consumers on their mobile devices, it's important that your restaurant take advantage of this opportunity to keep attracting customers throughout the day.
Many of your restaurant competitors are not yet savvy about online marketing and still rely on inefficient and wasteful traditional marketing. While traditional marketing has a place, you do have the opportunity to get ahead of your slower, less sophisticated competitors.
In this article, I outline why Facebook advertising is so important for increasing restaurant visibility and provide you with 5 killer advertising strategies to drive more business.
5 Killer Tips to Boost Your Restaurants Sales for Facebook Ads
Set up geo-targeting
Over targeting Facebook restaurant ads to attract local searchers, you can use advanced geo-targeting of Facebook ads to target users who actually visit your restaurant.
This is possible because Facebook can tell when someone is visiting your restaurant and tag them in the Facebook app via their mobile device. Even when it comes to your restaurant marketing strategy, you need to configure the targeting options to ensure that your ads are shown to the right people.
That's why the first thing you need to do is configure location targeting. Fortunately, Facebook makes this very easy. You can use AdTargeting to get audience analytics reports to study ahead of time where your target audience is most widely distributed. You can do this by entering a specific zip code for your restaurant location in Facebook's Ad Manager platform. You may want to add some neighboring zip codes to make sure you're covering places where people are likely to eat at your location!
Targeting by Facebook interest
Geo-targeting is a great starting point for your ad campaign strategy, but don't stop there! One of the main benefits of using Facebook as a platform for advertising on restaurants is the exceptionally high level of specific targeting options available. Under "Detailed Targeting" you can find three categories: "Audience Characteristics", "Interests" and "Behavior". I recommend that you consider the restaurants you are targeting and explore the options available.
Let's say you're hosting a barbecue in a small town for local people. Under "Interests", there is a "Food & Beverage" category where you can target people interested in "BBQ ". But Facebook's official interests are not comprehensive, each search result shows up only about 25 interests, which can not fully match advertisers' needs.
You can use Facebook interest targeting tool for help. AdTargeting is one of the best, it helps advertisers get many hidden interests and find suitable interest through keyword search and advanced filtering.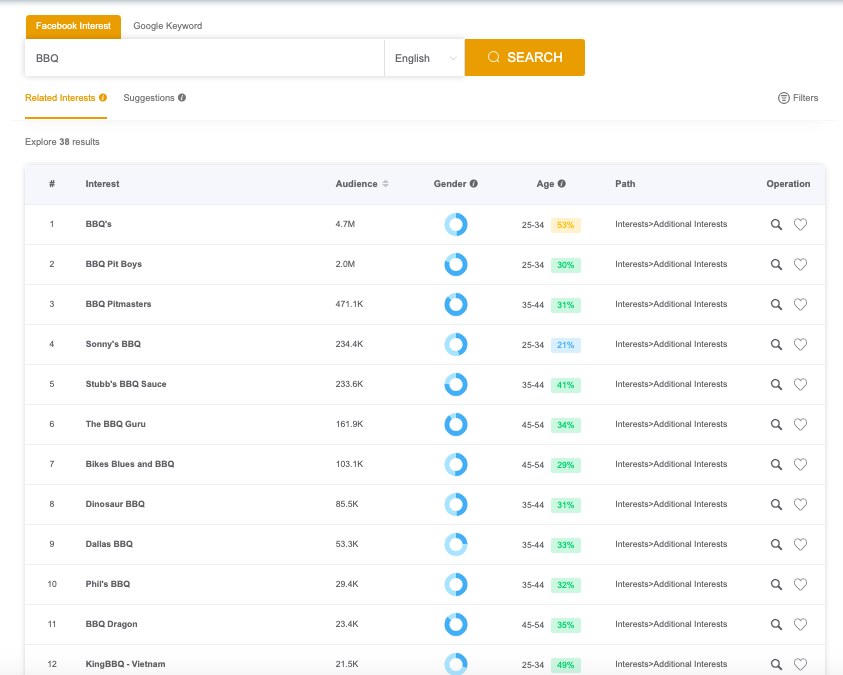 Plan for seasonal additions
Your restaurant needs to encourage new diners while also engaging with regular customers year-round, and one easy way to promote menu changes is to sell dishes that make sense for each season. Your team should identify dishes or seasonal specials to promote during each month. Having seasonal specials of year-round value allows you to use Facebook ads to showcase the restaurant's delicious food throughout the year.
In addition to specific seasonal and monthly specials, you can also promote the restaurant for holidays and special events. You can use Facebook ads to advertise your restaurant on Mother's Day, Father's Day, and Valentine's Day. Also, you can use Facebook ads to establish your restaurant as a top choice for special occasions such as birthdays and other celebrations.
Create a propaganda atmosphere
The results of the study show that diners value atmosphere so much that a negative atmosphere makes them less likely to recommend the restaurant, regardless of the opinion of the food, staff, and service
So, what does this tell restaurant marketers? It tells you not only how important it is to establish a pleasant dining atmosphere, but also how important it is to flaunt your atmosphere to attract new diners. Take a look at the example of Lolita Cocina & Tequila Bar. Rather than focusing on the food on every post, Lolita shows off some inviting photos of its pleasant dining environment in this Facebook ad.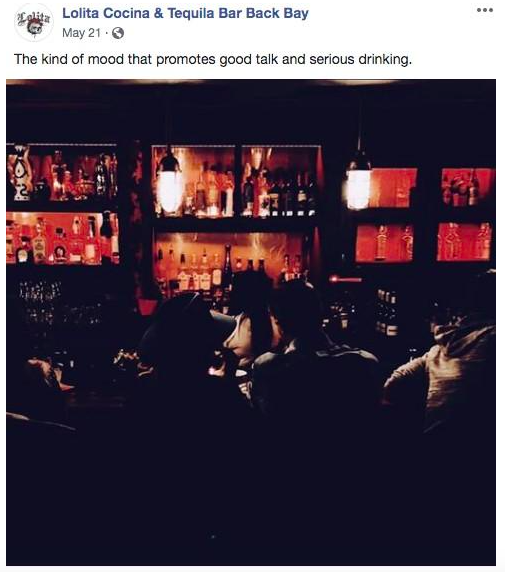 Attract new customers with fun free events
Entertainment at a restaurant can be a crucial advantage, and you can use Facebook ads to boost the restaurant's standing in the community. Everyone loves live music, and if you have live music or other entertainment, you should use Facebook ads to attract people who may be looking for a good time.
Or you can start other fun and free events to attract new customers, such as taking fun restaurant-themed photos, etc.
If you are not using Facebook ads to attract customers, then you will miss one of the most effective advertising channels to attract them. Take action now!