Make Wonderful Facebook T-Shirt Ads and Promote Sales
1.82 billion people on average log onto Facebook daily and are considered daily active users for September 2020. Facebook makes it easy for businesses to connect with their customers at every stage of the purchasing behavior to increase marketing efficiency.
The huge number of active users makes Facebook ads a marketing tool that cannot be ignored for all businesses, including Facebook T-shirt ads, of course. This guide will show you how to create Facebook T-shirt ads and ultimately promote sales and get a higher return on your spending.
Why are Facebook ads good for selling T-shirts?
Facebook ads are sponsored content that people see on Facebook. People see sponsored content because the page owner or social media manager decides to target them and pay to have the ad content appear in front of them. This ensures that Facebook is specifically targeting the right people. And a large number of active Facebook users makes the targetable population very broad, which greatly increases the chances that your T-shirt ad will be seen! The conversion rate of ads for specific groups is also very high, so all of this proves that Facebook ads are good for selling T-shirts.
How to reduce Facebook T-shirt ads costs and promote sales?
Choose the right Facebook advertising target
In order to create successful Facebook T-shirt ads, the first thing you need to do is to choose the right Facebook advertising target. The goal you choose will allow Facebook to help you make ads that will achieve that goal.
It is important to set clear goals for your campaign. If you are not sure what to choose here, it is best to take a step back and start thinking about what you want your Facebook ad to achieve.
You can choose from three categories:
Awareness – Helps you generate interest in the product.
Consideration – Encourage people to consider your business and to want to learn more about it. This may include enticing people to visit your website or install your company's application.
Conversion- Get people to buy your product or service.
Generally speaking, for that ad using photo ads a lot, I always recommend choosing "website conversion" as the target of the ad, the same as Facebook T-shirt ads.
Choose the right placement
You can choose where to place your ads, which include the followings:
Facebook Dynamic Messages: When a user accesses the Facebook website from a computer, the ad will be displayed in the desktop version of Dynamic Messages. When a user uses the Facebook app on a mobile device or accesses the Facebook website from a mobile browser, the ad will be displayed in the mobile version of Dynamic Messaging.
Facebook Right Sidebar: Ads will be displayed in the Facebook right sidebar. Right sidebar ads will only be shown to users who are browsing Facebook from a computer.
Facebook Stories: Full-screen portrait ads will be displayed on the user's Stories.
Video Spots: Ads will be displayed before, during, or after the video content is played.
Search: The ad will be displayed next to Facebook and Marketplace search results.
Facebook Instant: The ad will be displayed in the Facebook mobile app.
In my personal experience, the option to display only in the desktop or mobile news feed would have been a good choice. The ads are shown in the right sidebar rarely attract attention.
Perfect your Facebook ad targeting strategy
Target with interests
You can target the audience more accurately with interests. Get more hidden interests for your Facebook ads is very important for targeting an accurate audience. As Facebook's official interests are not comprehensive, each search result shows up only about 25 interests, which can not fully match advertisers' needs.
You can use the Facebook interest targeting tool for help. AdTargeting is a free online Facebook interest targeting tool that helps advertisers get many hidden interests and find suitable interest through keyword search and advanced filtering.
Just enter "T-Shirt" in AdTargeting, you can get many related interests :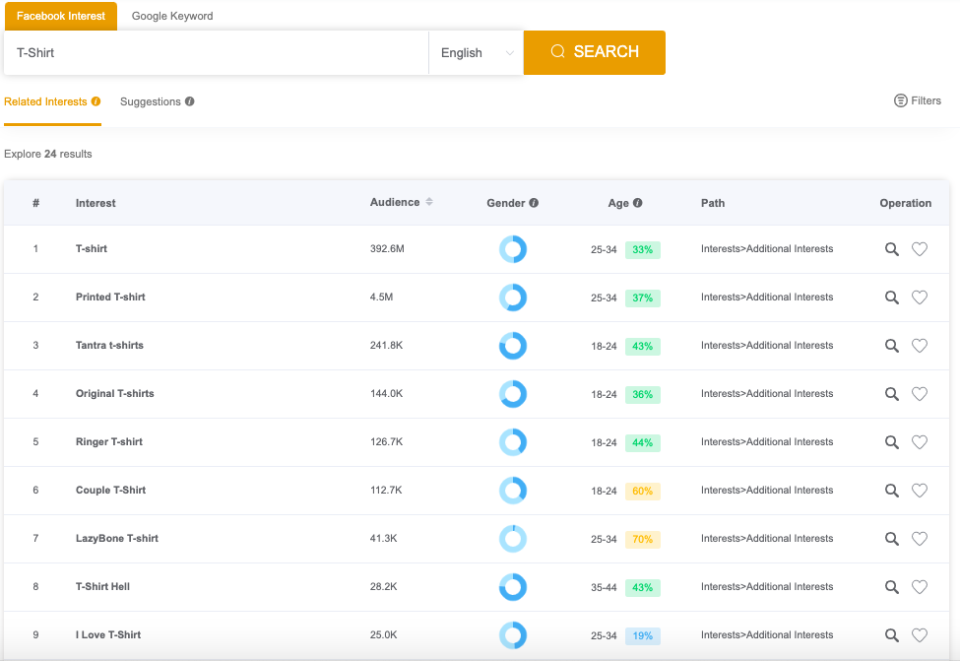 Narrow the audience
Improve your targeting by examining "audience insights" to determine who is not interacting with your T-shirt ad. If you want to get more clicks at a lower price, make sure the target audience is very narrow.
With detailed age and gender breakdowns, job titles, education levels, relationship statuses, and so on in Facebook Audience Insights, advertisers can better target their campaigns and make content to their target users' preferences.
And Get the audience analysis report in AdTargeting can help you know the fans deeply. Link Facebook audience insight with AdTargeting's audience analysis report can help you to better narrow the audience.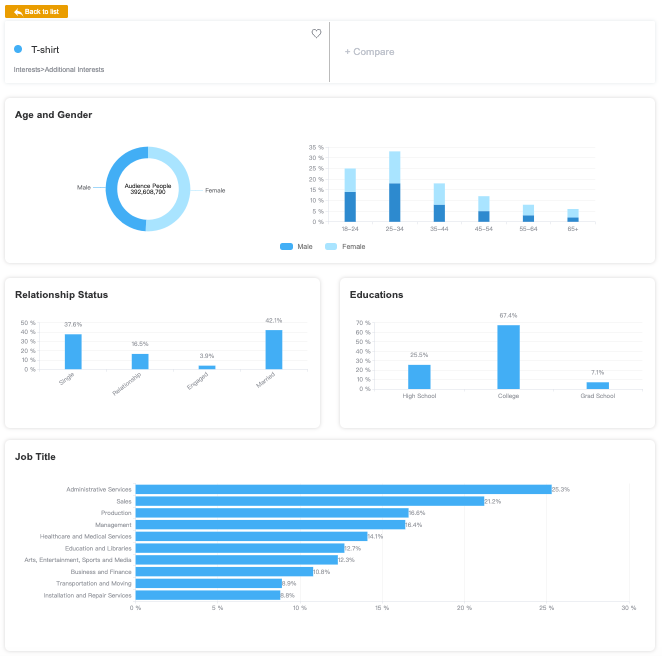 Consider the relevance of ads
The relevance score is calculated based on the positive and negative feedback we expect an ad to receive from its target audience. The more positive interactions we expect an ad to receive, the higher the ad's relevance score will be.
You need to understand the relevance of Facebook ads. The more relevant the image and the copy on the ad are to the target audience, the higher the ROI of the ad. After the campaign is over, go to your Facebook Ads Manager, then select an ad set and look at your ad's score under "Relevance Score". Remember to use buyer personas to increase your Facebook ad's Relevance Score.
Use Facebook ads to promote your high-quality content
Images are still the best ROI type for t-shirt advertising
Use high-quality images, especially in the clothing industry. The image or video you're using will catch the viewer's eye in the chaos of all the other Facebook ads.
Keep the text of your posts short and interesting
Short and interesting ads are more likely to grab the viewer's attention and entice them to click to your website to learn more!
Use carousel ads
Carousel advertising provides a flexible way to advertise your T-shirts without having to create multiple ads. The rotate format allows you to display multiple images within a single unit that show the different models wearing your t-shirt, making it easier for viewers to navigate.
Finally, this complete guide can help you create Facebook T-shirt ads or other categories ads, like shearling jackets, and ultimately promote sales and get a higher return on your spending. Try it now!