Recommend An Interest Explorer – AdTargeting
The audience of each product has specific hobbies, and the interest characteristics of these audiences require us to carefully analyze and go through a long test session. There are many interest explorer tools on the market. They are all-powerful. Interest explorer helps advertisers target the best advertising audience. Whether it is Facebook or Google advertising, the audience is the core indicator, and marketers need to carefully conduct A/B testing. Interest explorers can target more accurate audiences with appropriate interests.
There are many tools used by everyone to target advertising interests, among which the most well-known one is Interest Explorer. It was well known by advertisers in 2017 and used to find more advertising interest. Facebook™ hides most interest keywords. Interest Explorer is used to exploring more precise and most relevant interests.
Over time, more and more advertisers realize the importance of interest, and recommend one of the best interest targeting tools here – AdTargeting.
The best interest explorer – AdTargeting
99% of advertisers are using the same interest keywords. The audiences targeted by these keywords are too high. During the competitive advertising time, the advertising costs spent are also multiplied. So here I recommend a perfect Facebook interest targeting tool – AdTargeting. It is a popular tool for finding interest lists recently, and it is very convenient to use. Just open a web page and enter keywords to get thousands of most relevant interest lists.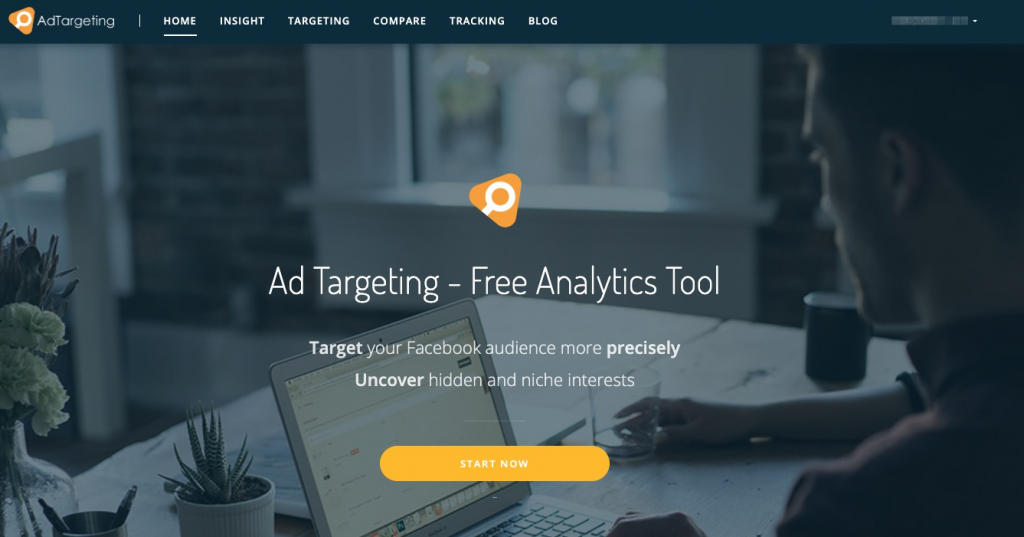 AdTargeting's interest expansion principle:
Facebook has millions of interest keywords that we can use. But when advertisers create a new audience, they search for Facebook interest keywords, and it only shows the 25 most relevant interests of the audience. Most advertisers in the same industry are using these 25 interests repeatedly, resulting in fierce advertising competition.
Now AdTargeting directly calls the thesaurus of Facebook's interest, and will no longer be limited by Facebook. When choosing audience interests, don't use the interests recommended by Facebook directly. Open AdTargeting, search for your product keywords, AdTargeting will display the most relevant 1000 interests, and also analyze the number of audiences covered by each keyword.
AdTargeting also analyzes the demographic characteristics of each interest, for example: audience age, gender, country, education level. If you are not sure how to choose two interest keywords, AdTargrting also provides an interest audience comparison function.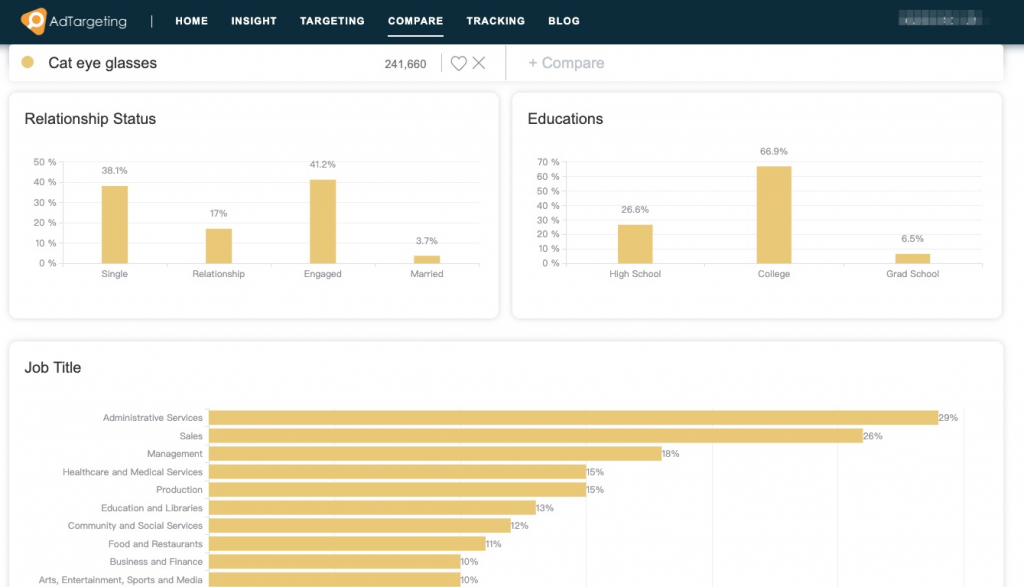 AdTargeting interest targeting channels:
How to use AdTargeting?
When choosing audience interests, don't use the interests recommended by Facebook directly. Now we use AdTargeting to show how to choose an audience for a product. For example: I use AdTargeting to find accurate advertising interests related to cat owners.
Open https://adtargeting.io/interest-targeting, enter the keyword "cat", we get the following results: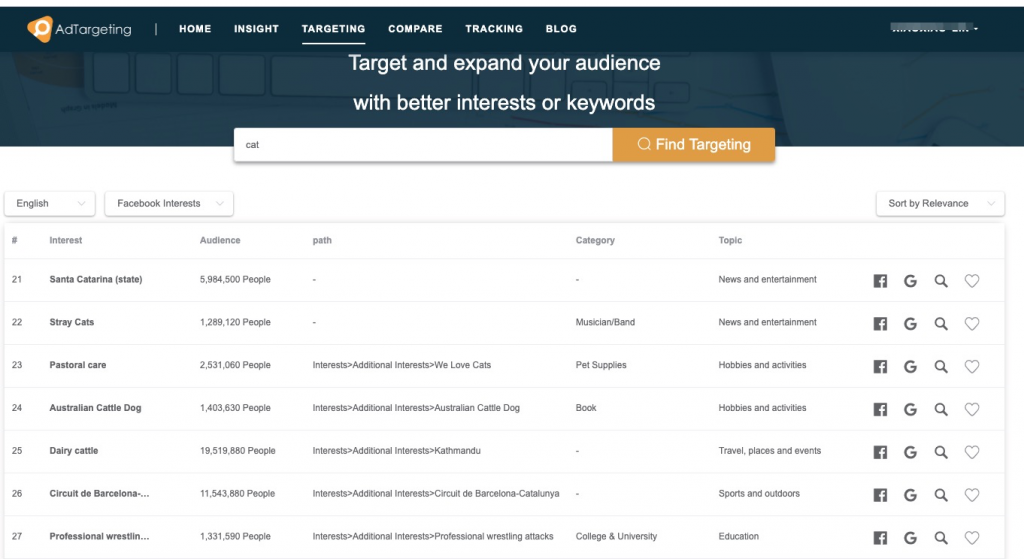 We can find relevant interests in 4 aspects:
1.The specific classification of cats:
| | |
| --- | --- |
| Interest Keywords | Audience |
| Persian cat | 5,882,421 People |
| List of cat breeds | 1,269,280 People |
| Wildcat | 3,924,150 People |
2. The cat owner shares the cat's content:
| | |
| --- | --- |
| Interest Keywords | Audience |
| Maru (cat) | 14,819,560 People |
| Cats (musical) | 5,610,180 People |
3. Cat owner's purchase behavior:
| | |
| --- | --- |
| Interest Keywords | Audience |
| We Love Cats | 2,531,060 People |
| Cat play and toys | 4,908,530 People |
| Cat café | 2,601,720 People |
4. Other competitor brands
| | |
| --- | --- |
| Interest Keywords | Audience |
| Nestlé Purina PetCare | 31,817,180 People |
AdTargeting advantages:
AdTargeting can help advertisers to classify keywords based on keywords and target product audiences in detail through interest classification strategies.
Most advertisers choose the same interest keywords, which leads to a higher degree of overlap between the audiences in the same location
When choosing audience interests, don't use the interests recommended by Facebook directly. After using Adtargeting, you can target a larger audience with a small amount of money.
3. Target competitors' audiences
There are 2 methods for competitors through interest behaviors:
Find more competitor brand keywords through keyword search
By analyzing each keyword interest, find the Facebook Page that best matches the keyword.