Share A Free Facebook Interest Targeting Tool – AdTargeting
Facebook interest words are key for businesses to advertise on Facebook to target audiences. Advertising should consider the cost of advertising and the final revenue. If there is a more accurate audience positioning, it will greatly improve the conversion rate of ads, which means to increase advertising revenue and maximize ROI. Interest words are so meaningful, however, Facebook will not easily provide a list of interests, or even cover-up. Facebook's ad management system and audience insight tool only show limited interest-targeting words. Advertisement mainly wants to choose the right Facebook ad interest keywords, must use Facebook audience targeting tool – audience insights.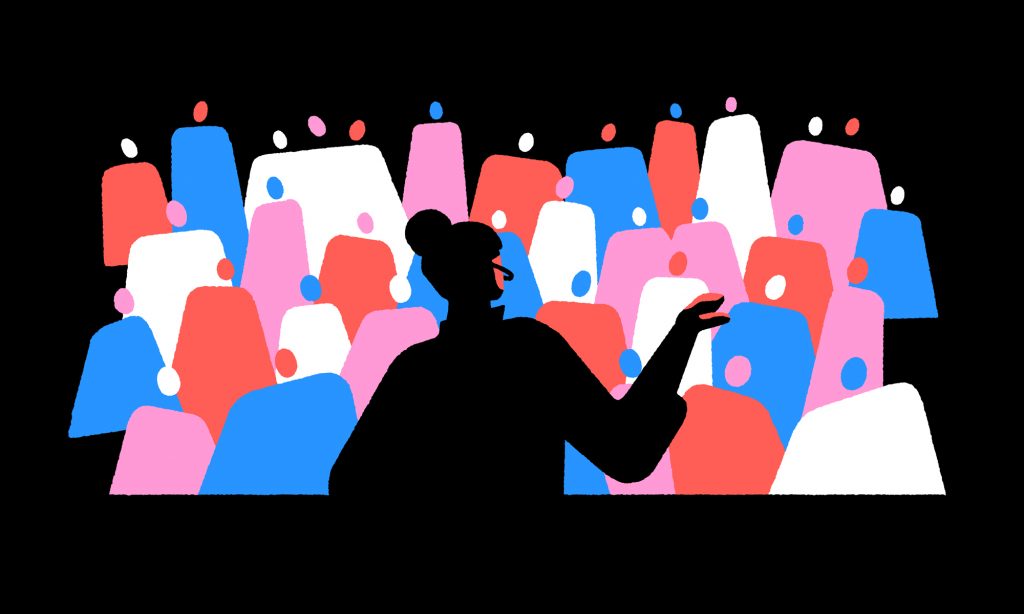 Audience Insights – Facebook audience targeting tool
Audience insights is Facebook's official advertising audience targeting tool. Here, advertisers can gain an in-depth understanding of the audience and filter out the most suitable audience based on the demographic information provided by Facebook. We all know that when targeting audiences, population-based information such as gender, age, country, education, and occupation is well established. In addition to this basic information, interest is the key to accurately positioning the audience, and Facebook has a huge interest keyword library. But at present, when users set interest, all they can see is only some keywords displayed in the drop-down box.
The importance of Facebook interest targeting
The importance of interest targeting is self-evident. When Facebook selects an audience, accurate audience positioning can reduce advertising costs and increase advertising revenue. But many advertisers are not aware of its importance. A lot of money was wasted on Facebook audience targeting. There is now a tool for Facebook interest targeting – AdTargeting. This tool is a niche tool. Although it is not as well-known as the ad spy tool, it is intelligent and powerful in terms of audience positioning. Big data analysis is more data-based and reference value than brainstorming results.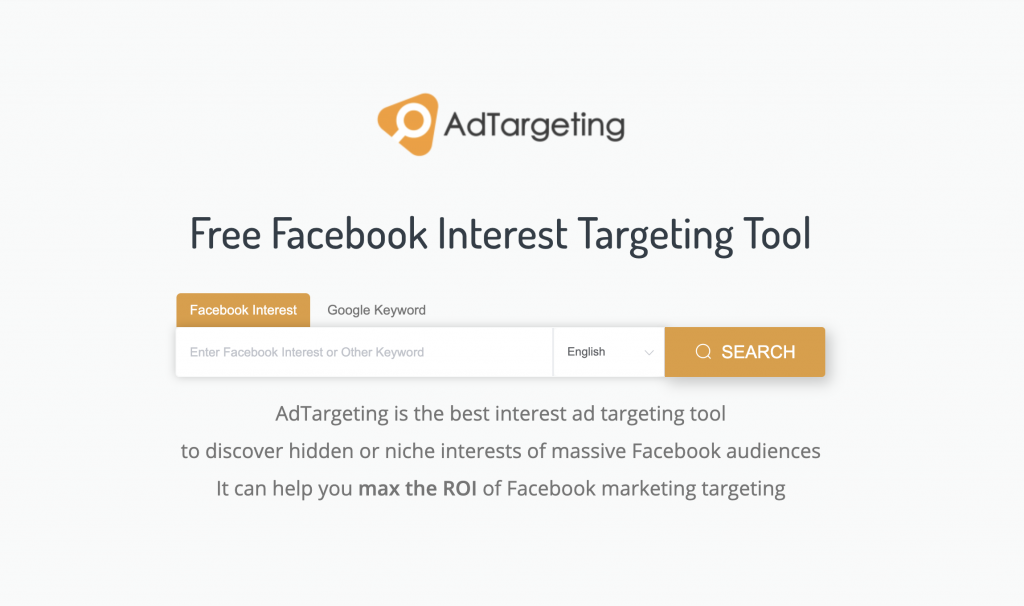 AdTargeting – A Free Facebook Interest Targeting Tool
AdTargeting is a tool that provides more insights into Facebook 's key interests. Although it will be launched soon, it is very powerful. It is not only interest search but also an interest-based audience analysis tool. Search for any interest keywords in AdTargeting. You can associate more interests and find potential interest inspiration, and get audience information for each interest.
Interest list
Do you want to know more about the Facebook interest list? AdTargeting gives the most popular interests and corresponding audiences in various industry categories through big data analysis. AdTargeting currently provides free advertising categories including: Shopping and Fashion, Entertainment, Business and Industry, Technology, Food and Drink, Activities, Personal Life, and Additional Interests. If you want to know more popular interest words in other categories, you can get it by a simple search.
Interest Search and Targeting
AdTargeting can help users find the most suitable advertising interests through interest word search and advanced filtering. AdTargeting has 3 filtering methods: language, channel, and sorting method.
AdTargeting supports searching Facebook interest words in 4 languages: English, Chinese, Russian, Japanese. It's default language is English.
AdTargeting supports search of interest words in advertising in 2 channels: Facebook and Google.
AdTargeting has 2 sorting methods: relief and audience.
For example: you are the manager of a restaurant, advertise on Facebook, and want to find users interested in food, we can enter "food" in AdTargeting, and then find related interests, and can be sorted by the number of audiences.
AdTargeting shows the name of each interest in the search results, the number of audiences, the path in Facebook ads, and the category. as the picture shows: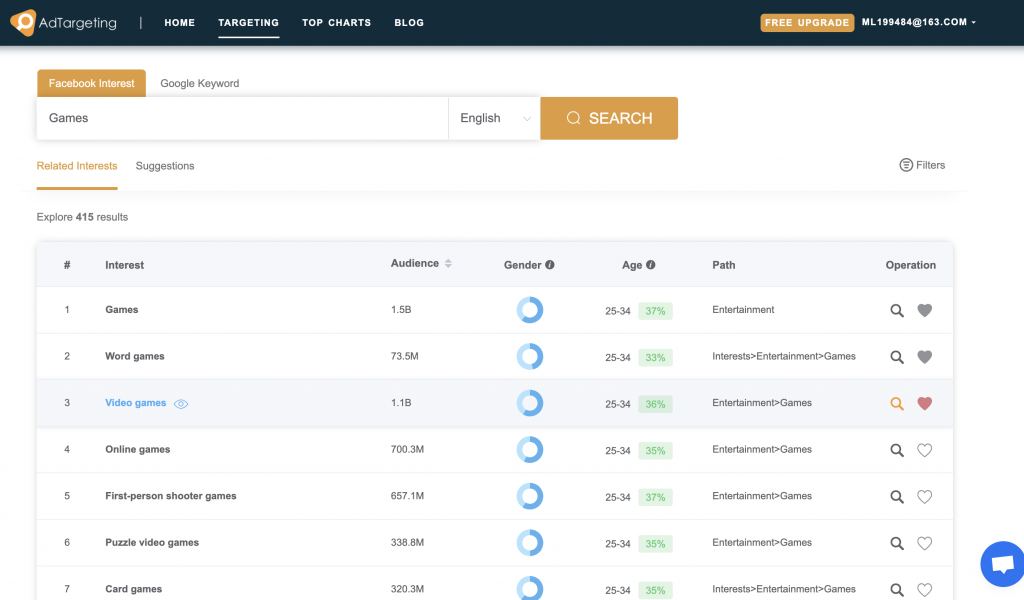 Detailed audience information of interest
In the search results, click on any interest, you can see a detailed audience analysis about this interest. Audience data analysis includes: Age and Gender, Relationship Status, Educations, Job Title, Device, Location, and Top Country, Interest, Related Facebook page.
For example: using AdTargeting to analyze the interest "Food and Drug Administration", in the audience analysis information, we can see that 61.8% of women are interested in Food and Drug Administration. People aged 25 to 34 pay more attention to this interest. The most relevant Facebook Page for "Food and Drug Administration" is Doc Willie Ong. In addition, you can also see more relevant data about Facebook's interest in food.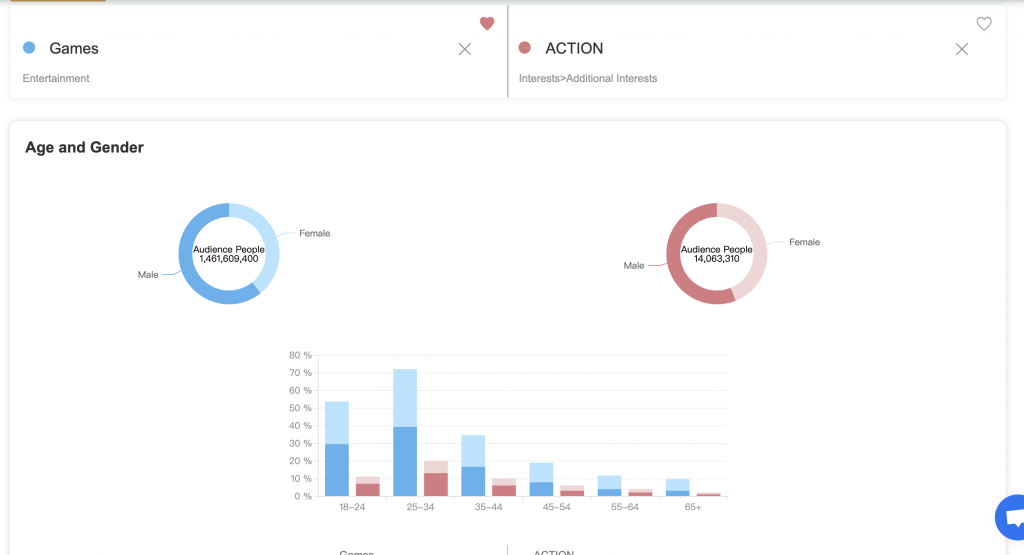 Comparison of two interest words
Open the COMPARE page of AdTargeting, enter any two interest keywords, and you can compare the audience targeting differences between these two interests in detail. For example: I compared the difference between "music" and "pop music" audiences. We can clearly see that Pop music has 700,000,000 fewer users than music. Pop music has 2% more female users than music. Pop music and music have similar age divisions. In addition to this basic information, AdTargeting also compares other demographic information, which needs you to discover slowly.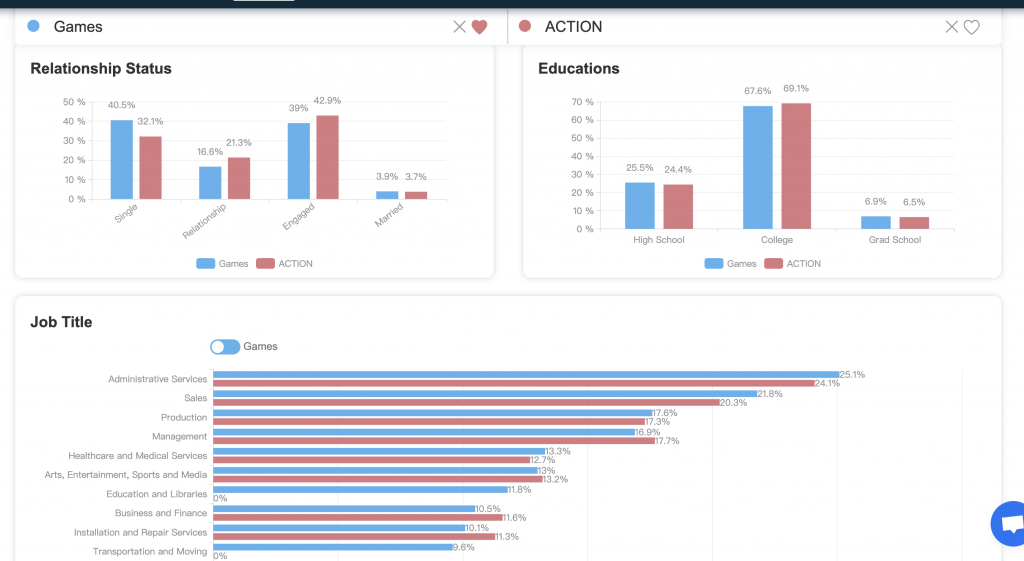 More features are in the update
AdTargeting is still constantly developing new features. It not only provides interest word exploration for Facebook, but it will also provide keyword research on Google.
AdTargeting Pricing
AdTargeting is a free Facebook interest targeting tool I made after years of experience in Facebook advertising, to help advertisers like me to more accurately target Facebook audiences. I hope you will enjoy using it.