How To Target Business Owners On Facebook: 7 Expert Tips
You maybe very surprised that over 2.6 billion monthly active users in Facebook as of the first quarter of 2020 according to statista. Yeah, that's also staggering for me. And there is no doubt that Facebook has became one of the biggest social network worldwide. This makes Facebook the perfect place to promote business what can't be ignored by marketers.
If you're looking for business cooperation you may be wondering how to target business owners on Facebook. Although Facebook has the most powerful social media advertising platform available, but that may be challenged when it comes to targeting specific individuals.
There are so many people waste thousands of dollars each month on Facebook ads because they can't target accurate business owners. It's not because Facebook ads doesn't work. It's because the strategy they are using doesn't work.
The good news is here are some useful strategies to granularly target specific audiences as well as business owners.
Does Facebook work for B2B Audiences?
Some marketers don't believe that Facebook is an ideal place to find business owners because they think that Facebook is only used by consumers or B2C audiences.
This is not consistent with the actual situation. Although advertising to B2B audiences is a bit more complicated than doing the same to B2C audiences or consumers. They are usually more cautious than normal customers and often think the profitability of their business before jumping into a purchasing decision.
But just think that business owners are also people and people use social media. It's more about business to people. So Facebook is also a good platform to find business owners. How do marketers handle the power of Facebook to reach business owners with a strategic advertising campaign?
Here are 7 essential tips for targeting business owners on facebook:
1.Set Conditions to Create Your Audience for Targeting Business Owners
In order to begin the targeted ad campaigns, you should jump into Facebook's Ad Center where you can customize everything and really narrow the audience for your ad campaign, and there is no doubt that it's the most important process of running ads.
At first, you should be clear on why you are targeting business owners and identify the goal of your campaign. After that, you should navigate to the "Audiences" section of your ads manager, which is located under "Ad Set". And then You can click on "Create New Audience" to begin targeting our business owners.
You maybe wondering how to set these conditions to target business owners. The Facebook Audience Insights can be helpful. It's a tool designed to help advertisers analyze and decode their target audiences. With detailed age and gender breakdowns, job titles, education levels, relationship statuses, and so on, advertisers can better target their campaigns.
And you can also use AdTargeting combined with Facebook Audience Insights to obtained interest analytics report, includes the audience's location, demographic(age, gender, relationship status, educations), job title and device and so on for setting these conditions better.
2.Target Business Page Admins
Target Business Page Admins is one of the easiest ways to target business owners. Most business owners have a Facebook page that they're an admin of. That means nearly all business page administrators are actually business owners. So it's a very easy and quick way to find people who might own a business.
It's a very simple but effective way and a lots of people don't kwon it. You can target people who are business page admins on Facebook by using the detailed targeting section on Facebook's ads business manager.
This is a quick way to find people who may own a business. It will also ensure that you're putting your ads in front of people that are the most likely to own a business.
3.Target Business Owners on Facebook with Specific Job Titles
You can also use Facebook to search for different job titles of the people you want to contact. For example, business owners might use the job title "CEO", "Founder", "Director" and so on.
So that you can focus on the position within a company of the audience you are trying to reach, these are the decision-makers you may want to reach with your advertising.
Targeting business owners on Facebook with specific job title ensures your message is personalized and, therefore, more effective. And it will be a good idea to target all possible job titles that match your criteria because it can increase the chance of accurate targeting.
4. Target Specific Types of Industries
If you need to target business owners in specific industries, it will be necessary to refine your search.
For example, if you want to target financial business owners, particularly investment bankers. Facebook allows you to narrow down your search to find these individuals based on their profession they have listed on their profiles.
In addition to target business owners in specific industries, you also can use the "insight" function in AdTargeting to see the categories of interests which are summarize by industries, such as Shopping and Fashion, Entertainment, Business and Industry, Technology.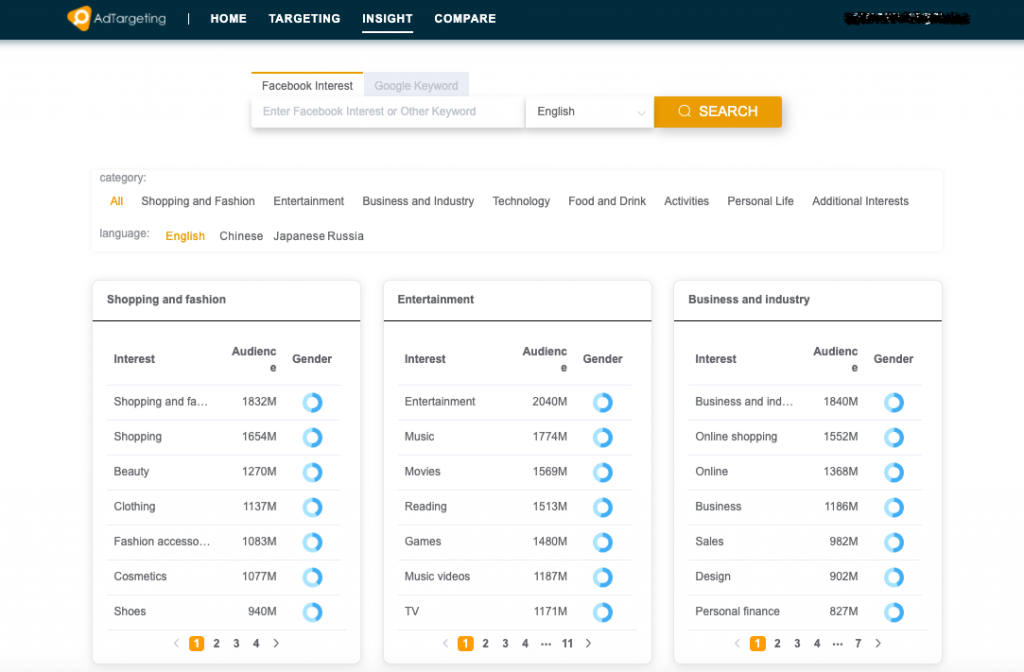 5.Target Business Owners on Facebook with Unique Interest
The most easiest way to target business owners on Facebook is targeting people on Facebook who are interested in "business". Just enter the interest into the Facebook targeting search box to find out what you want.
Actually, both the two points include targeting specific job titles and industries mentioned above and the target the people who are interested in "business" are targeting through interests. But the deficiency of Facebook Ads Manager is that it only shows few suggestions for interests you can target with ads which can cause many advertisers use the same interests and may result in increasing advertising costs and bad ROI.
Fortunately, there are some Facebook interest tools can help solving this problem. AdTargeting is one of them, it's a free online Facebook interest targeting tool that helps advertisers explore thousands of related interests and find suitable interest through keyword search and advanced filtering.
Just take "business owner" for example, enter "business owner" in AdTargeting, you can get many related interests:
You can see the number of audience, the sex ratio of audience and the major age of audience. Among all these related interests, you can choose the most appropriate interest to target business owners according to your situation. For example, the interest "small business owners" and "independent business owners" both are suitable.
As for targeting business owners on Facebook with specific job titles what mentioned earlier, you can also use AdTargeting to find more related interests,just take "CEO"for example:
And then you can have more choices of interests. This can also help you to make wise decision to target business owners.
6.Target Business Owners on Facebook via Magazines or Online Publications
Many business owners read some publications for various reasons in their daily life. The good news is Facebook allows advertisers to target these individuals based on the publications they read.
Just think that which magazines or online publications such as websites, blogs your ideal business owners would read. And then enter the name into the Ad Creator to target their Facebook followers.
If the business owners read a particular magazine that has a large readership, you can search for it on Facebook ads manager, and target people who express an interest in that.
For best results, you must try to find magazines or online publications that are specific to the type of businesses you're targeting. For example, if you wanted to target estate businesses, you should focus finding online magazines and publications for estate agent.
7.Target Who Use Facebook Payments
This brilliant way lets you target people who spent money on Facebook within the past three months. If you target this group, it's very useful to connect with business owners, key decision makers, or head of B2B who control the company's budget on Facebook.
Don't be discouraged if you haven't targeted business owners you want at present. Just try these 7 expert tips now,hope you can get something different!