How to Market Your Facebook Jewelry Ads: 5 Tips You Can't Miss
Facebook is still the first choice for many marketers to place online advertising. It still has the largest user base and covers most of the target audience of many companies-including some target audiences that other social media may not have. This is no exception for jewelry advertising.
However, some jewelers did not bring real sales through Facebook. This may be due to unreasonable customization of marketing strategies or insufficient audience targeting. So how to market your Facebook jewelry ads? There are some tips you can't miss.
Develop marketing strategy for Facebook jewelry ads
Create Facebook event
Your page may be submerged in a large number of Facebook posts, but events go straight to the top of feeds and often end up in user's notifications.
Use the Facebook events scheduler to promote your business and add images to post directly in the event listing to spur engagement. Events are one of the most effective tools available on Facebook.
Tell the news that you will sell the product somewhere! This may be an ideal way for you to meet customers and connect with them outside the computer screen.
Pay attention to social interaction
The purpose of maintaining a Facebook page (or any social media) is to be able to connect with your audience on a personal level. Although your business page should be strictly related to industry and commerce, making it personalized will make it easier to attract their attention.
Not only can your followers see photos of the jewelry on your Facebook page, they can also help you market your jewelry on Facebook. Let people know what you are doing, or let your followers see the new series or new products in advance, which will help deepen the connection with existing and potential customers, and then promote sales.
By tagging other jewelers in your posts, you will be able to attract more other audiences. You only need to do some simple social maintenance work, you can use Facebook to work for your business.
Develop advertising strategy for Facebook jewelry ads
Video marketing
Video is quickly becoming the preferred method of media consumption. If you haven't started to think about a video strategy, now is definitely the time. Video advertising has been and will continue to be one of the most effective types of advertising. But you not only need to make good videos, you also must produce compelling videos.
There are three reasons why we should pay attention to video advertising for facebook jewelry ads:
People stare at video five times longer than static information.
The average engagement rate of Facebook video posts is 6.01% (2% higher than the average engagement rate of all posts)
30% of mobile shoppers say that video is the best medium for discovering new products
Focus on creativity
Creativity is instructive for advertising campaigns.
In the business society we live in, advertisements are flooding every corner. Some of these advertisements are mediocre but some are unique, leaving a deep impression on people. There are many reasons, in addition to design and production factors, the level of advertising creativity is also an extremely important factor.
"Creativity is the soul of advertising." Advertising works can directly create market value in the form of market consumption through their creativity, and reflect their own value through the promotion of the market value of advertising products.
Accurately target your audience for Facebook jewelry ads
There are many factors that can affect the success of any marketing campaign. Of course, you need compelling products and quotations. You need the right timing and sometimes some luck. However, the biggest factor in the success of marketing activities is the audience targeting.
Get more hiddden interests
Get more hidden interests for Facebook jewelry ads is very important for targeting accurate audience. Because Facebook's official interests are not enough for advertisers.
Just enter "jewelry" in AdTargeting, you can get many related interests :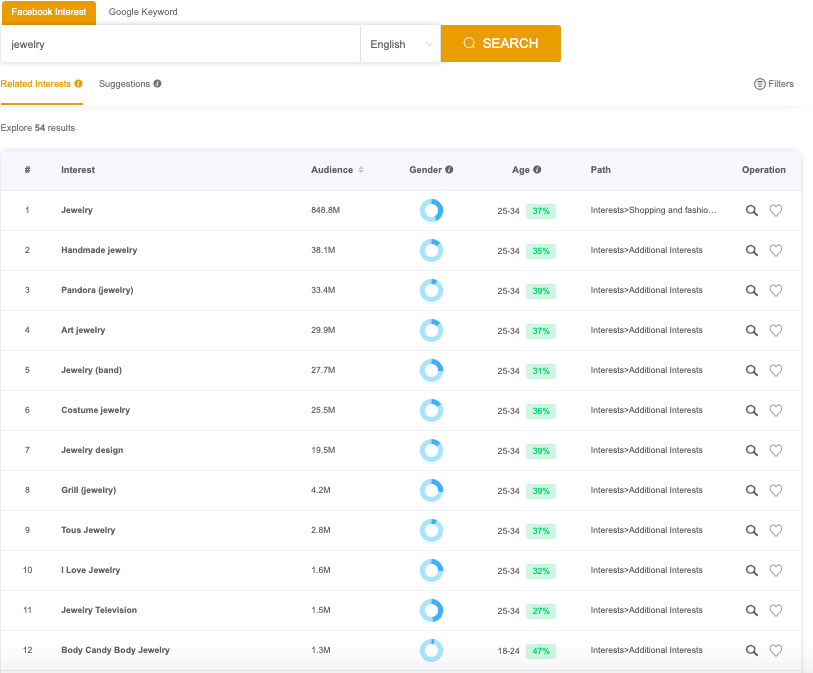 Facebook audience insight and audience analysis report
Facebook Audience Insights is a tool designed to help advertisers analyze and decode their target audiences. With detailed age and gender breakdowns, job titles, education levels, relationship statuses, and so on, advertisers can better target their campaigns and make content to their target users' preferences. In a word, Facebook Audience Insights is a tool to better understand your Facebook audience.
And Get the audience analysis report in AdTargeting can help you know the fans deeply. Link Facebook audience insight with AdTargeting's audience analysis report can help you to better target your campaigns and make content to your target users' preferences.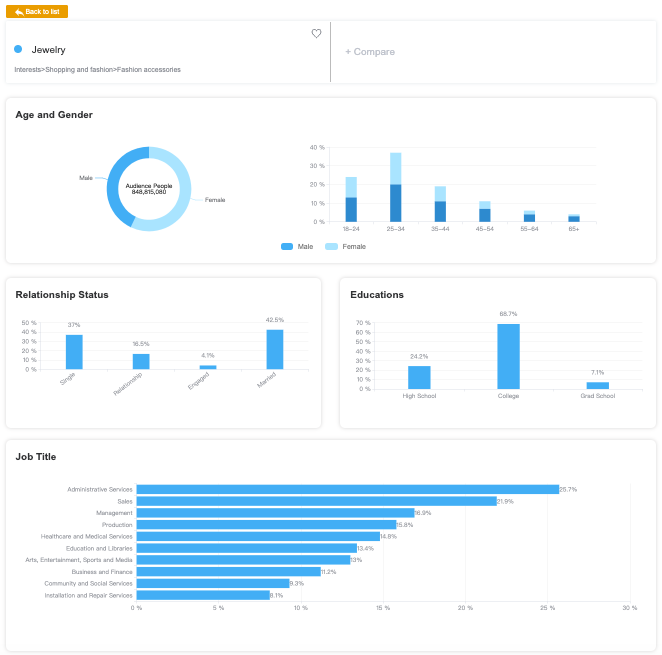 Use Facebook Page to target fans of competitor's page
Relevance is the Pages that are the most likely to be relevant to your audience and affinity means how likely your audience is to like a given page compared to everyone on Facebook. So if you see a very high affinity score, it will be extremely likely that the audience you selected will also like those pages. So we can use it to find the pages which fans of competitors might like, thereby finding the characteristics of these pages and targeting fans of competitors.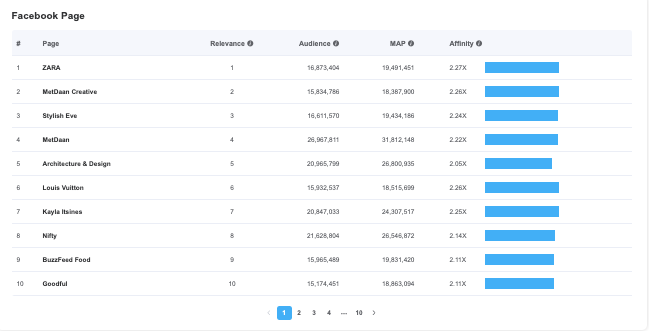 Facebook online store
Part of marketing your jewelry on Facebook is to allow customers to easily purchase your products. You can set up an online store within Facebook to further attract potential customers. Facebook shopping aims to cultivate your audience and win customers. You can provide more information about the product. Therefore, if someone clicks, they can see enough information and may be more likely to buy.
Facebook pixel for Facebook jewelry ads
The Facebook pixel allows you to gain a deeper understanding of the types of website actions your audience is taking, so you can effectively group your campaign audiences based on their purchase intentions.
For example, in order to encourage website visitors to buy its products, "My Jewelry" cooperated with the media agency Expand Online to first add Facebook pixels on multiple website pages. With this information, "My Jewelry" targets dynamic ads to people who have already expressed interest in the brand. After uploading its product catalog to Facebook, "My Jewelry" easily launched eye-catching advertisements containing products relevant to the viewer-items they have recently viewed, or items that have been placed in the basket but have never purchased commodity. Coupled with strong calls to action and website links, these dynamic ads are essential to help increase online sales.
Finally, I want to say, Marketing jewelry on Facebook isn't always easy, but with a few tips you can be successful. Facebook ads can help advertisers grow their brand and audience, make sales and provide fast customer service. If you are interested, you can join the advertising FB group to participate in the discussion. Hurry up and implement these practical tips to help you boost your Facebook jewelry ads!