Facebook Ads for Nonprofits: Five Expert Tips
The use of Facebook ads for non-profit organizations might sound novel? You may also be wondering if anyone is actually doing it. Needless to say, this may be one of the most effective ways.
Why advertise for non-profit organizations on Facebook?
As we all know, the difference between the marketing of non-profit organizations and other marketing methods is that the budget is limited, at least the budget of most non-profit organizations is not sufficient. But this problem can be solved on Facebook. Although not all Facebook advertising campaigns are cheaper, you can set some conditions in advance to avoid spending more than your budget. If you advertise strategically on Facebook, there is also a great chance of exposure. And Facebook Ads can also help you attract potential audiences on Facebook who may be interested in your non-profit organization. This may be an effective way. Now let's take a look at how to do this.
Target a specific audience
It is important to ensure that your audience is targeted. This can reduce the scope of audience targeting while ensuring the accuracy of potential audiences and increase the return on investment. This can be achieved by using Facebook's specific demographics, interest targeting, and behavior targeting.
Interest targeting
Interest targeting means using interest word to target those people who are interested in it. Getting more hidden interests that your competitors don't know is the key! Facebook's official interests are not comprehensive, each search result shows up few interests, which can not fully match sellers' needs.
You can use the Facebook interest targeting tool for help. AdTargeting is one of the best, it helps advertisers get many hidden interests and find suitable interest through keyword search and advanced filtering.
Just type "non-profit" in the AdTargeting search box to get many hidden interests: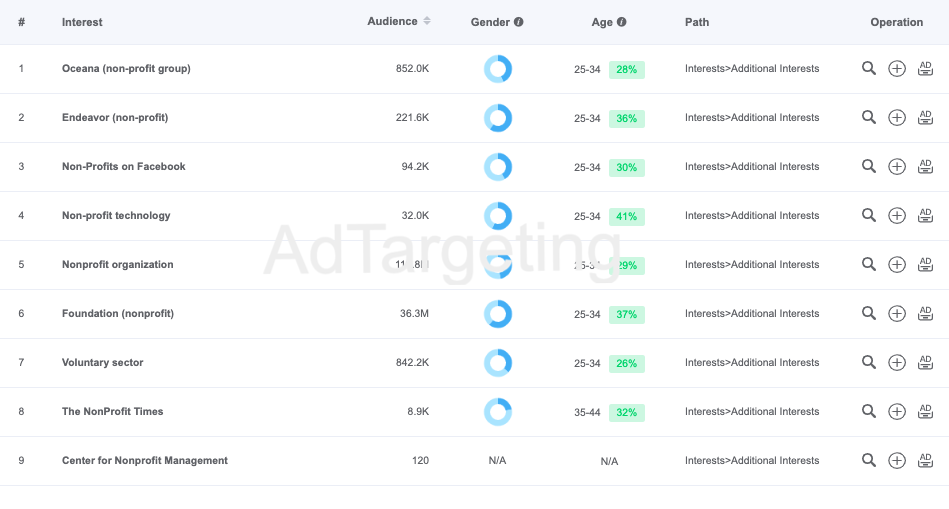 And there are some other interest suggestions of non-profit organization ( view more on AdTargeting):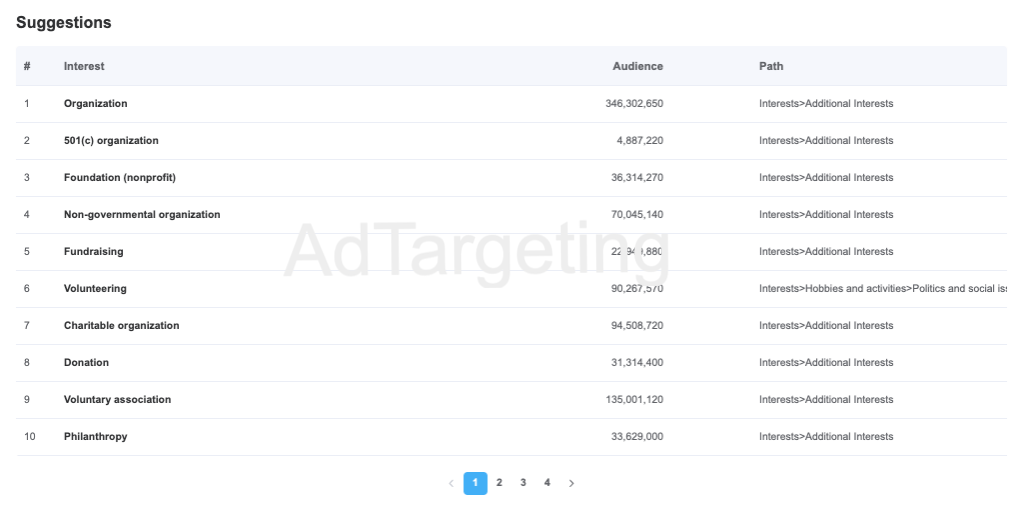 Demographic targeting
While it is important to attract the largest possible audience, remember to be specific about your terms. The more detailed your targeting condition is, the more conversions you will get. You can get the audience analysis report of the interests to better know your audience and better set suitable conditions.
View more detailed audience analysis in AdTargeting such as gender and age, relationship status, education level, job title, the device they use, and the location information of them is also convenient.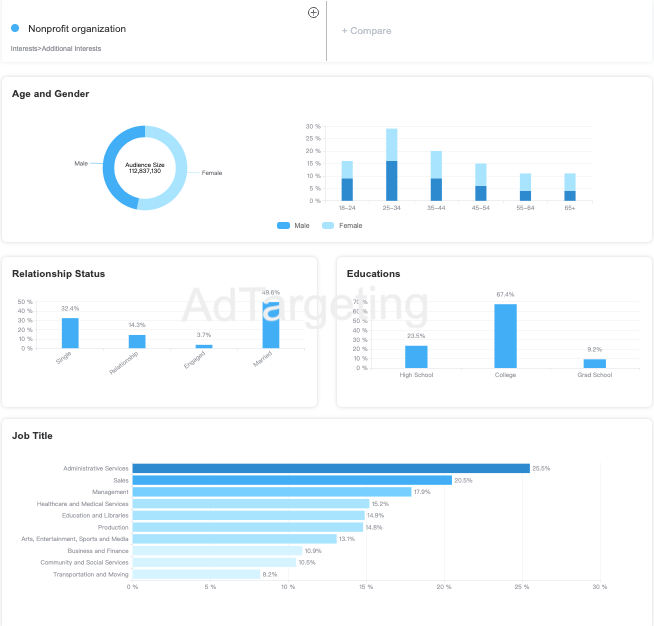 Create super eye-catching ads
If you want standout social media ads for non-profit organizations, video is key. Over 54% of social users prefer video posts to all other formats. Plus, social video posts generate 1200% more shares than text and image content combined! So investing time in creating video ads for social media is definitely worth it.
A short video is the sweet spot, especially for Facebook. But you need to make sure you have an eye-catching design that delivers a strong call-to-action, like an offer or promise.
Reasonable arrangement of advertising time
As previously stated, nonprofits are very strapped for cash, so when it comes to advertising, blindly placing ads may not make any difference. Nonprofit Facebook ads only make sense if your potential donors or the potential audience you are trying to reach is on Facebook and viewing your ad. This correlates closely with the timing of the ad placement.
It has been found that donations spike at the end of the week after lunch and dinner. But the trend fluctuates with the seasons. You may see more activity on weekends, while in the colder months, people are less likely to spend time on outdoor nonprofit campaigns. In the summer, things change again.
Looking at your Facebook data can help you make decisions, and using ad placement schedules wisely can ensure that your ads are shown to your targeted audience during peak conversion times.
Appeal to emotions
The tips mentioned earlier are all advice from a marketing perspective, but for the nonprofit sector, you can also take the standpoint of appealing to emotions. After all, a nonprofit's fundraising or other activities are meant to resonate with people emotionally first and foremost.
The key to attracting user emotions is to tell stories in an impactful way. Non-profit marketers can tell a meaningful story in sharing to promote their careers. This is by far the best way to attract people and get them to invest in your business. Use descriptive adjectives in ad copy, and show pictures and videos of real people or animals behind these stories, so that emotions are more abundant, which will also help other people to establish connections.
Continuously measure the effectiveness of your campaign
Finally, it's important for nonprofits or any other advertisers to measure and track their Facebook ad campaigns. Especially when advertising money is not as plentiful, it makes a lot of sense to know if the money you are spending is paying off.
In addition to adjusting your advertising strategy based on the effectiveness of your ads timely, continuously measure the effectiveness of your campaign can help you gain more insight into your audience as well as your nonprofit advertising, adjust your budget, and more to maximize your investment!