Retirement Facebook Ads: Useful Tips to Inspire Your Ads
So why not using retirement Facebook ads? That would be a very stupid decision. More importantly, the real power of Facebook is that Facebook ad service allows you to precisely target your ads to audiences by geography, demographics (such as age and occupation), and interests.
In short, retirement Facebook ads can be very effective with the right strategy! Keep reading and get useful tips to inspire your retirement Facebook ads.
Identify your target audience first
You must tailor your ads to the users you want to attract, it can ensure that you attract the leads that are most likely to convert into sales opportunities.
Facebook interest targeting
Interest targeting is a common theme on Facebook, and in general, it can be very effective. But this is only if you choose the right interest.
Imagine if your community has tennis courts, swimming pools, and gyms, then you can target users who show some interest in fitness. Similarly, if your community is located next to the ocean in Florida and has its own private golf course, then you would be able to target users who enjoy boating, golfing, or generally being outdoors.
But how do you choose the right interest? You can use the Facebook interest targeting tool for help. AdTargeting is a free online Facebook interest targeting tool that helps advertisers get many hidden interests and find suitable interest through keyword search and advanced filtering.
You can start with entering "retirement" in the search box in AdTargeting to get many hidden interests: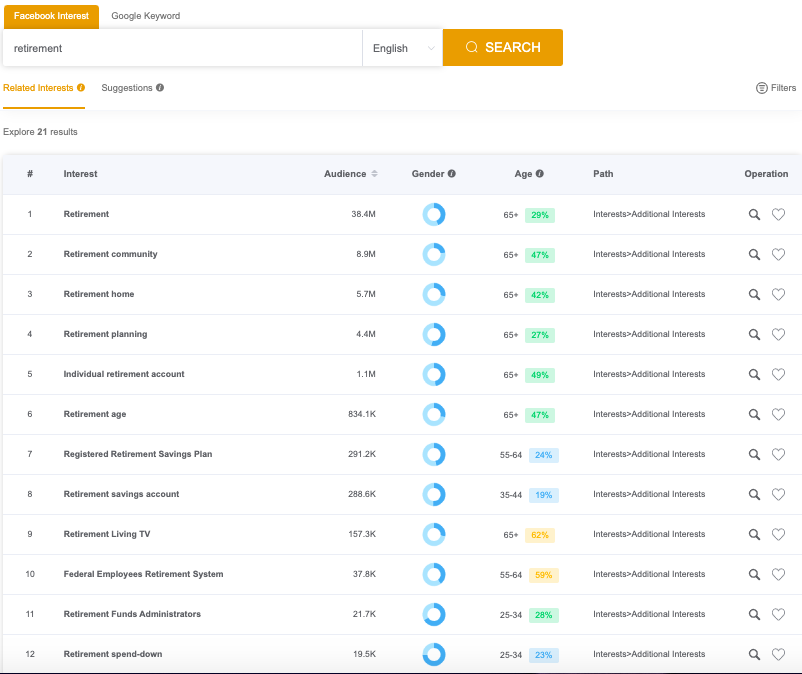 Demographics-based targeting
It doesn't make sense to advertise the 55+ community to the 30+ demographic. Therefore, when you create Facebook ad campaigns for such communities, be sure to take care to set targeting conditions based on the specific characteristics of your audience.
Use Facebook Audience Insights to learn how to find the best audience insights into all your insights data. Once you have an idea of your new target audience, you can set up a new ad set using the ads that work best.
You can obtain interest analytics report, includes the audience's location, demographic (age, gender, relationship status, educations), job title, device, and the affinity of interest and Facebook Page by using AdTargeting.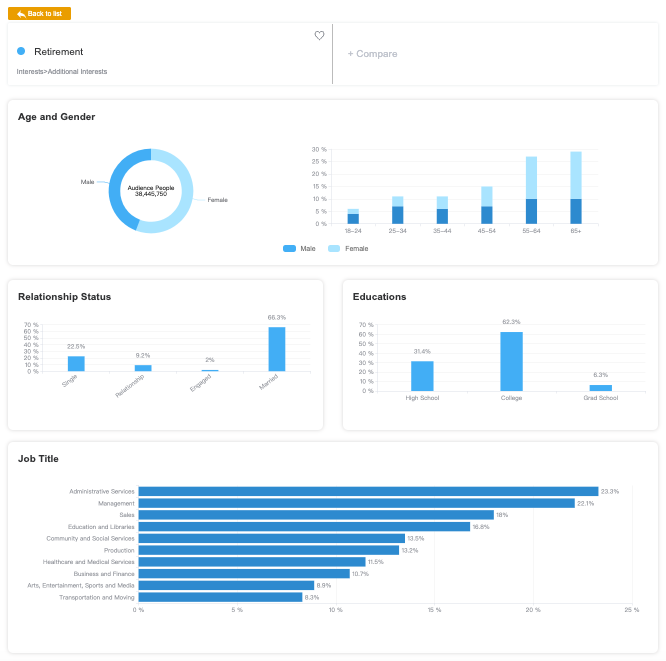 Optimize the content of retirement Facebook ads
Use high-quality photos
High-quality ad images can immediately catch the viewer's eye and entice them to click on the ad for further viewing. Research is necessary before selecting the material. McCarthy & Stone, for example, chose the most appropriate ad images based on their past experience, and the company knew which ad creative would appeal most to their customers.
McCarthy & Stone placed ads that showed photos of the exterior of its apartments because they brought in higher click-through rates than other image ads. It initially testing rotating ads and image ads, then added them to its real estate ads, which ended up working well.
Put important content first
In the past, we've published several blog posts on how ad design affects click-through rates, website traffic, and conversion counts. But we must bring it up again. It's important.
Facebook ads should never look like ads. Instead, they should look like user-generated content that will populate your news feed. Therefore, you should create ads that emphasize the experience rather than the purchases. So you must pay more attention to the content of the ads. Please remember to put important content first!
Use call-to-action
A call-to-action ad promotes your Page's call-to-action. The button encourages people to take action that is important to your business.
While having a good design will draw attention to your retirement Facebook ad, the CTA is what will increase conversions and convince people to click and take action. Spending a little time crafting your Call To Action button can make a significant difference to your conversions.
Strengthening community outreach
Share retirement information
Sharing useful retirement information on Facebook in the form of articles, tips, tools, videos, and infographics is a great way to show your expertise and build trust among consumers. It's also a form of content marketing that has proven to be a very effective strategy.
Send giveaway
There is also a more effective way to enhance contact with potential customers is to send gifts. As we all know, people like free things.
Giving gifts can attract people's attention and increase people's participation. Establishing a brand image in this way is also a very good channel.
Finally, remember not to mislead or exaggerate any specific features. Hurry up and implement the above measures, you will surely get the most matching potential customers!