Facebook Keyword Tool Help You Boost Your Sales
As the world's largest social media network, Facebook plays a pivotal role in the social media ecosystem. 1.82 billion people on average log onto Facebook daily and are considered daily active users for September 2020. The huge number of active users makes Facebook ads an effective marketing tool that cannot be ignored for all businesses.
Facebook makes it easy for businesses to connect with their customers at every stage of the purchasing behavior to increase marketing efficiency. Facebook marketing isn't just about launching campaigns to promote your business, it's also about customers spreading the word for you. And the Facebook keyword tool can help.
Differences in Facebook keyword research
One of the biggest advantages that Facebook has over other online marketing platforms is its sophisticated and precise targeting options. Advertisers and marketers can target potential audiences based on many different criteria, including demographics, behavioral patterns, broader interests, and stratified segments that combine any available data points.
So the Facebook keyword tool does not use keyword research in the traditional sense; Facebook does not provide keyword-level targeting, nor offer any built-in keyword research tools. Instead, Facebook's audience profile data is used as a starting point for keyword research.
Three aspects of Facebook keyword research
Facebook keyword research on your Page
Facebook's keyword search tool aims to filter out content unrelated to users. All posts, including photo and link sharing, can be found by Facebook keyword search. As with all other SEO projects, you can optimize your Facebook page for keyword search, such as researching high traffic keywords and incorporate them naturally into your posts.
Naturally use keywords in the text to help customers find your Facebook page. Don't rush through the descriptions on your Facebook page. When users rely on keyword search, a short description is unlikely to make the page more attractive.
After creating a business page, don't forget keywords. All posts should focus on keywords that may generate the most traffic.
Suggested Keywords (in Detailed Targeting)
Another way to do keyword research is to see what types of suggested keywords appear when you enter a keyword in the interest area of your Facebook ad audience area.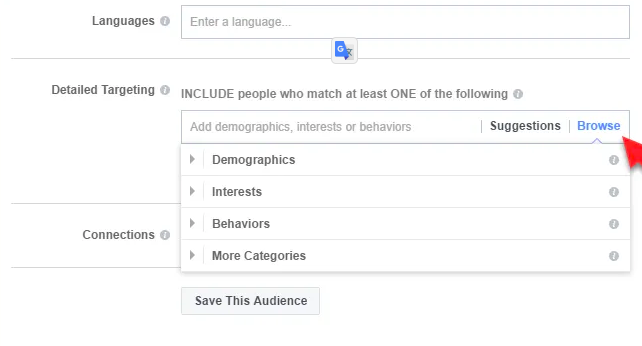 Audience characteristics: education level, professional title, family, and lifestyle details.
Interests: activities, their favorite pages, and closely related topics.
Behavior: attract users according to purchase behavior or purchase intention, equipment usage, etc.
Facebook interest targeting tool make a difference for Facebook keyword research
Facebook provides an incredibly detailed audience targeting based on hundreds of parameters, including demographic data, specific hobbies and interests, and broader subject areas of interest. This allows you to take the first step in Facebook keyword research based on interest research and demographic data.
Get more hidden interests
Given the strong correlation between interest targeting and high commercial intent keywords, whether you are an advertiser, SEO specialist, or content marketer, getting more hidden interests or finding the wide-reaching interest that your competitors don't know is very important!
Facebook's official interests are not comprehensive, each search result shows up only about 25 interests, which can not fully match advertisers' needs.
You can use Facebook interest targeting tool for help. AdTargeting is one of the best, it helps advertisers get many hidden interests and find suitable interest through keyword search and advanced filtering.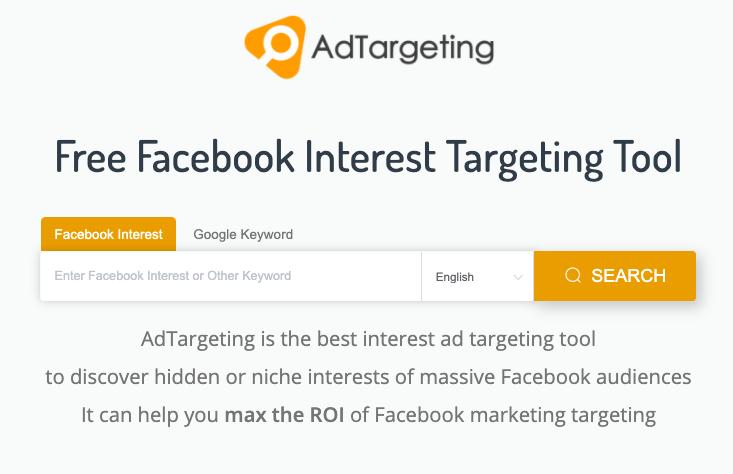 For example, if you sell sports-related products, you can target more audiences who are interested in sports events such as basketball and football, because this group may be more interested in sports-related topics and products.
Audience Insights in the Facebook ads
Facebook audience segmentation options are the ideal starting point for your Facebook keyword research work.
You can get the audience analysis report of the interests to better know your audience and better set suitable conditions.
You also can view more detailed audience analysis reports in AdTargeting such as gender and age, relationship status, education level, job title, the device they use, and the location information of them.
The impact for business owners
Optimize the Facebook page for keyword searches
Facebook's keyword tool is great for business owners. The main advantage is that the feature makes it easier for potential customers to find your business.
Facebook users are constantly locating information about businesses they frequent, favorite restaurants, and foods they eat. If their friends are looking for business advice or more information, then they only need to enter what they are looking for. In addition, Facebook's keyword search also supports mobile devices, and users can search in their trusted and most commonly used applications anytime, anywhere.
Create ads with Facebook keywords to boost sales
With the Facebook keyword tool, more targeted and accurate ads can be created, which can help advertisers target more audiences with less cost, greatly reducing the cost of advertising and increasing the ROI of advertising.
Facebook provides a huge coverage and highly coordinated audience, which makes it an ideal platform for advertisers, content producers, and brands to expand their influence through pay-per-click advertising. The Facebook keyword tool can help you to do it!