Facebook Ads For E-commerce : 5 Must-Use Strategies
The e-commerce industry is developing rapidly, and more and more people are investing in the e-commerce industry. Among all the sales channels, Facebook is called "the channel that must be invested." Last year, more than 7 million advertisers spent US$55 billion on Facebook to reach more than 2 billion users of the network every month.
Needless to say, e-commerce and Facebook are a powerful combination. Facebook ads are essential for every e-commerce company, and this guide will help you start running a profitable ad campaign. Here are some tips that can be used in conjunction with actual advertising to give full play to your advantages.
Focus on the advertising form of Facebook ads for e-commerce
Use dynamic product advertising
With Dynamic Product Ad Templates, you don't have to create ads for every product in your catalog. Instead, the template will pull images, product names, prices, and other information from your catalog based on the product details you upload to Facebook. So, if you have hundreds or thousands of products, this is a good solution for you.
Use multi-product advertising
Facebook multi-product ads enable you to showcase multiple products in a single ad. The benefit of it is that multi-product ads can provide your customers with more options. They can help you increase conversions. The more relevant products your customers see, the better chance they have of making a purchase. You can also use them to show the different benefits of a single product.
Do better audience targeting of Facebook ads for e-commerce
Accurately target the audience with interests
Facebook's official interests are not comprehensive, each search result shows up only about 25 interests, which can not fully match advertisers' needs.
So you can target your audience more accurately with more hidden interests by using this AdTargeting: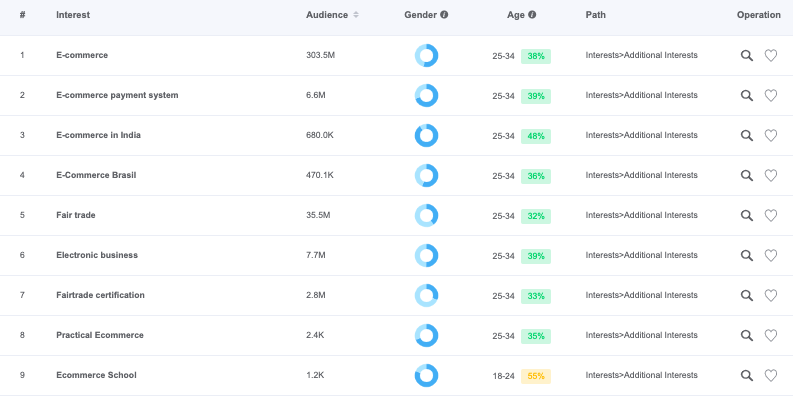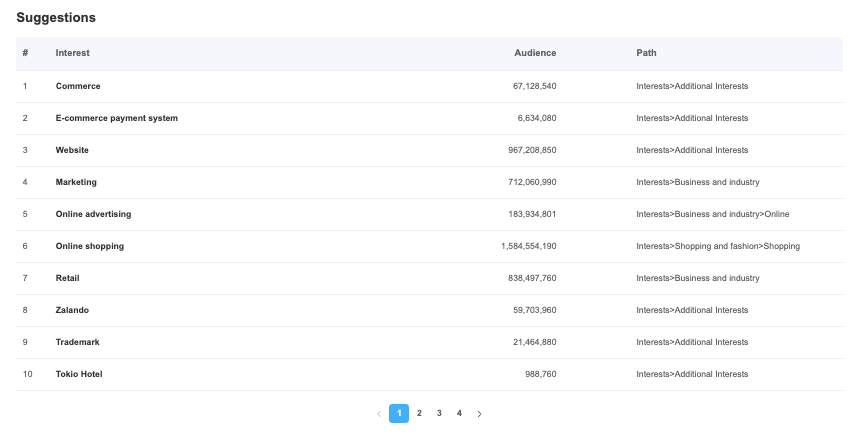 Get audience analysis report
You can also get the audience analysis report of the interests to better know your audience and set suitable conditions in Facebook Ad Manager.
View more detailed audience analysis report in AdTargeting such as gender and age, relationships status, education level, job title, the device they use and the location information of them: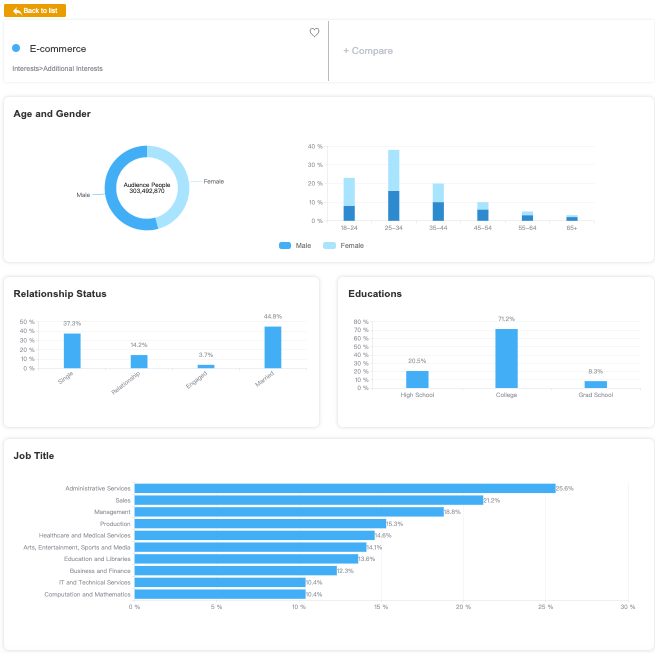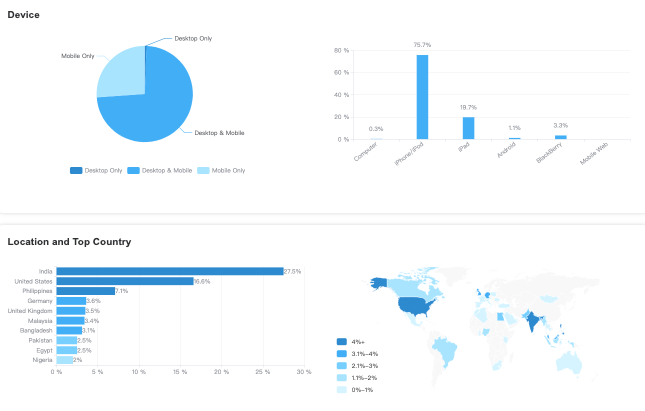 Look for new customers with similar audiences
Building similar audiences is another interesting option.
Imagine that you have created an audience that includes users who perform specific actions on your website, such as completing a purchase.
Facebook can generate new audiences through users who share characteristics with the purchased products. These similar people usually have a higher conversion rate.
Brand Awareness in Facebook ads for e-commerce
One of the purposes of creating Facebook ads is to create a series of ads to convey your key brand message and promote brand awareness instead of selling its content, which can increase the overall conversion rate.
If your target user don't know who you are, then they are unlikely to buy from you-whether your product or service or its success outside of Facebook. This is the problem that the brand awareness campaign has to solve.
You can conduct extensive publicity on Facebook and you want to show your brand and products in front of as many users as possible. The campaign focused on expanding the page to increase the number of targeted fans. "Targeted" refers to people who are genuinely interested in investment-related products or services.
Strengthen relationships with existing customers
Building and maintaining strong relationships with existing clients can set you up for repeat business. And even if clients don't return to you, they may recommend you to colleagues.
To build and maintain lasting business relationships with your clients, you can follow these advices:
1. Focus on Exceptional Communication
2. Maintain a Positive Attitude
4. Be Open about Your Opinions
Install Facebook Pixel in Facebook ads for ecommerce
Install conversion tracking pixels to track customer behavior on the site, Facebook can also use the data in conversion pixels to optimize your campaigns and build similar audiences to target your ads.
The first thing you need to do is installing the Facebook pixel to track everything that happens in e-commerce. Pixels are just HTML tags you put on the store website. In short, Pixel captures the Facebook profile of people who visit your store.
In this way, you can advertise to Facebook users who have visited your store before or in the past, and even advertise based on whether they have completed an action (for example, adding an item to a shopping cart but not buying).
Good strategies, more targeted audiences, and continuous optimization of your ads will help Facebook Ads become an incredible source of traffic. let's start! You may thank us in the future.