The Most Useful Strategies Of B2B Facebook Ads
In the past few years, Facebook has fundamentally changed our social life. It allows us to connect with friends in a unique way. With the increasing number of large active users of Facebook, it has gradually become an important marketing channel that can help advertisers attract global consumers.
Facebook has become the main advertising platform for B2C customers. But what about B2B Facebook ads? For B2C advertisers, Facebook is an excellent platform to increase brand awareness and attract potential customers. It is a place to find new customers, provide promotions and provide excellent marketing ideas, and ultimately stimulate user conversion. But for B2C customers, many people are still skeptical.
However, this is often completely misunderstood. B2B Facebook ads can actually make money. The Facebook platform can be a powerful channel for promoting B2B brands and generating qualified potential customers, if you use the right strategies. In this blog, I will introduce you the most useful strategies of B2B Facebook ads.
Create marketing channels for B2B facebook ads
Most marketing channels contain 5-6 different stages:
Awareness-at this stage, your goal is to increase awareness of the product or service.
Interests-Once people understand your brand, the next step is to establish the initial interest, but please be careful not to ask your B2B customers to make a purchase.
Consider-At this stage of the marketing channel, the audience who likes your product is considering buying it. Now you just need to convince them further.
Intent – ​​These are the hot leads that require the last push to make a purchase.
Purchase-This channel stage represents people who have purchased your product after successful marketing.
When creating a B2B Facebook advertising strategy, you must first define the marketing channel and consider the correct advertising message and target audience at each stage. First, you need to attract their attention and let them know that your product exists. After that, you will need a smart strategy to drive potential customers to purchase. The conversion may not happen within 1 day. This is why you need to understand every transition point that represents the person's movement from one stage to the next. Effective advertising is to target the right people with the most relevant information at the right time.
After understanding the entire sales channel, the creation of B2B Facebook ads marketing channel information can carry out effective advertising and attract potential users.
Pay more attention to relevance of B2B Facebook ads
Facebook will prioritize advertising content based on how relevant it is to the target audience. The advertising system is designed to provide users with a highly relevant advertising experience and show them content that they may be interested in. To measure relevance, Facebook assigns a score between 1-10 (maximum 10 points) for your content. The effectiveness of advertising will also affect the score. All this is to encourage advertisers to provide a better advertising experience.
Relevance score is not the only indicator of advertising effectiveness. Score can be used as a guide to your creative efforts, but it will not be a determining factor in the overall effectiveness of your campaign.
In some degree, create valuable ads with content is the same important as relevance. If your content doesn't make sense, then it won't succeed no matter what your relevance score is. Anyway, just pay more attention to relevance after creating good contents.
Target specific audiences with interests for B2B Facebook ads
Targeting specific audiences is very important for B2B Facebook Ads. Some marketers don't believe that Facebook is an ideal place B2B Facebook ads because they think that Facebook is only used by consumers or B2C audiences.
Using Facebook interest is one of the most effective ways to target specific audiences. Unfortunately, Facebook Ad Manager provide few interest suggestions that are not comprehensive and can not fully match advertisers' needs. Then you can use Facebook interest targeting tools for help.
AdTargeting is one of the best Facebook interest targeting tools, it's a free online Facebook interest targeting tool that helps advertisers get many hidden interests and find suitable interest through keyword search and advanced filtering.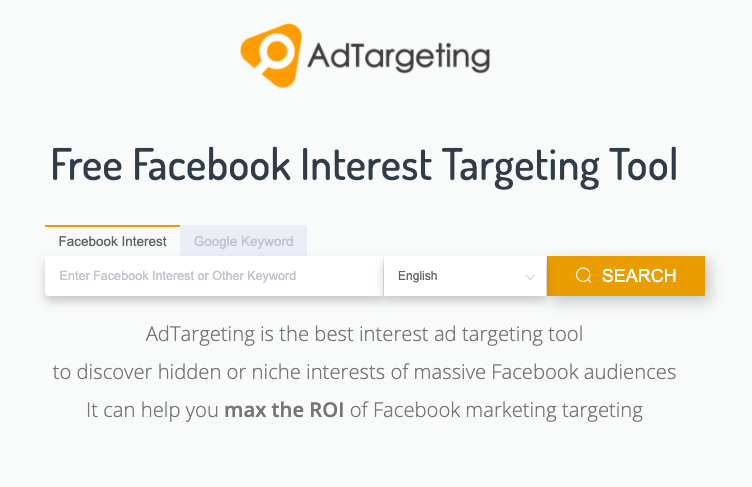 Get audience analysis reports for B2B Facebook ads
After choose the suitable interest to target the accurate audience of B2B Facebook ads, you can also get audience analysis reports to understand your audience better. And this can help you set suitable audience targeting conditions in Facebook ads.
You can obtained interest analytics report, includes the audience's location, demographic (age, gender, relationship status, educations), job title, device, and the affinity of interest and Facebook Page by using AdTargeting.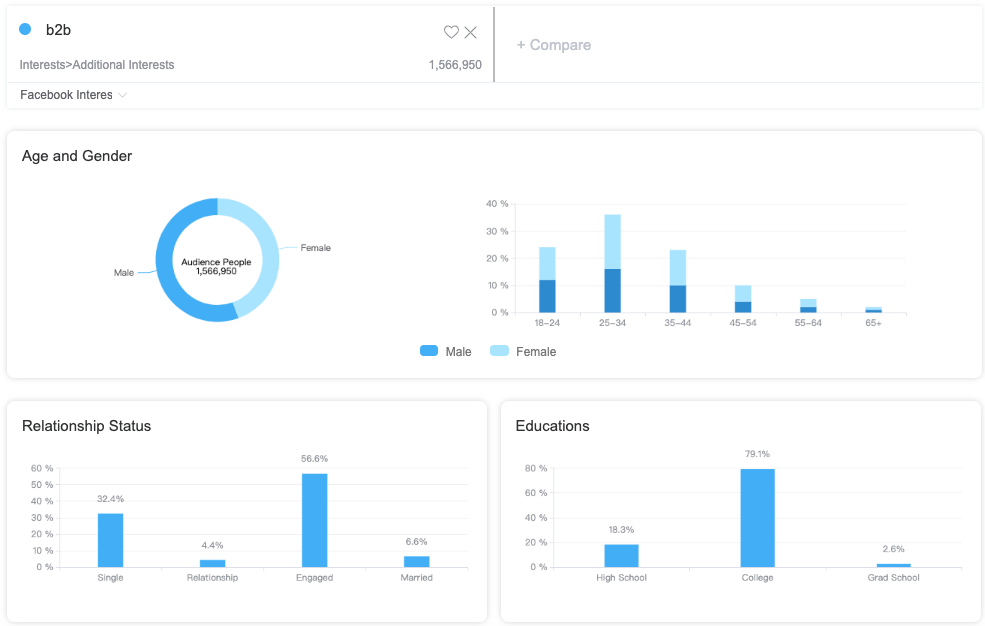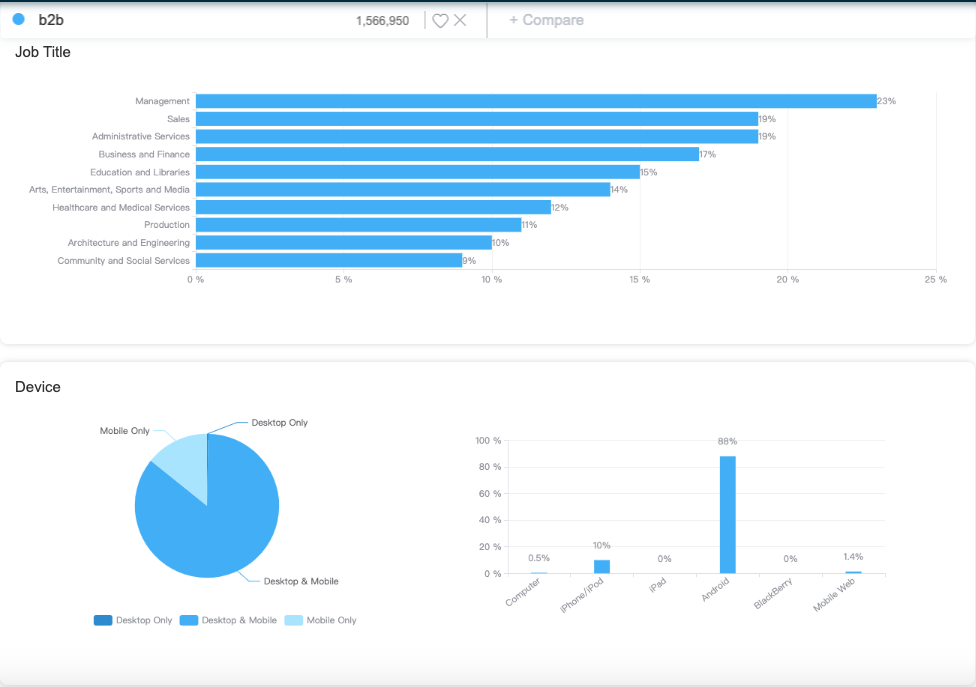 Build trust with potential customers and promote brand image
In the world of B2B marketing, you can expect people to think about your brand through a variety of options: highly qualified, professional, trustworthy and other impression.
Whether you are advertising to small, medium or large companies, they want to make sure you are a reliable partner. So, how do you build trust in Facebook ad campaigns? You can use the following methods:
Mention well-known brands that use your services in your ad copy.
Include your well-known customer's logo in the ad image.
If your service is included in the "Top 50" list, please mention it in your Facebook ad.
Use customer recommendations.
Mention the number of customers you already have.
Promote success stories.
Indicates that the product will continue to be improved.
Work with influencers on B2B Facebook advertising
Expand your influence and credibility by introducing your products or services to influential people. Moreover, if the influencer is a trusted authority in the industry, your ads will get better results.
Working with well-known influencers and thought leaders in your industry is a valuable strategy. Companies want to see well-known professionals standing behind your products. except this, you can also consider asking them to create their own content to sponsor your products.
Although some small businesses may not have access to some public figures, you can look for companies that are similar in size and goals to yours, and establish partnerships with them for mutual recognition. When you find someone with a certain degree of influence, you should express your admiration for their work and promote the chance of cooperation.
Promote purchase awareness
To get people to think about trying your B2B product or service, the best strategy is to try it out for free, provide them useful advice, and use case studies to gain customer trust.
Let's take a closer look at how Facebook advertising can be used to attract more people to try your B2B products or services.
In SaaS (software as a service) industry, providing free trial period for new users has become the industry standard. And this is also very effectual.
You can also provide users with personalized services, generally to give them free and appropriate and practical suggestions for their problems. This may deepen their impression of the product and recommend your product to others around him.
Finally, I want to say that the possibilities are endless with Facebook advertising, just practice these most useful strategies and improve your B2B Facebook ads!