7 Reasons Why Your Facebook Ads Are Not Working
For those new to online marketing, Facebook ads are one of the more popular advertising options. With two billion users worldwide and a powerful advertising platform, Facebook offers marketers a huge opportunity to target a large audience. However, despite 92% of marketers claiming to use Facebook ads, there are still plenty of people trying Facebook ads, but without positive conversion results.
If you are new to the platform, or you do not have the knowledge to navigate complex systems, advertising on Facebook may be frustrating. But f you have been using Facebook for some time, you must be familiar with the challenges associated with dealing with Facebook ads. However, you may not always get the desired results on Facebook ads. Whether you are new to using Facebook ads or an experienced Facebook marketer, you will likely encounter situations where Facebook Ads does not provide results.
If your Facebook ads aren't working, don't get angry. We've listed the reasons behind why your Facebook ads won't run. To make things easier for you, we've also provided solutions to address any issues that may arise with your Facebook advertising strategy.
So let's take a look at the various possible reasons behind Facebook's poor ad performance.
Quoted price issues
1.Your bid is too low
The issue that may affect advertising success is whether your bid is too low. Every time you put an ad series into a better ad, your ad will be competed with thousands of other ads at the same time, which is a large digital auction. Interestingly, Facebook doesn't always look at the price when picking the winners of these "auctions." Three factors that influence Facebook's decisions are:
Purchase price – the price you are willing to pay for the required operation.
Estimated action rate – the likelihood that your audience will take these actions.
Relevance and quality – the appeal of your ads to the audience and the quality of those ads (depending on the number of negative / positive feedback)
Based on the total value of Facebook's advertising, your Facebook ads will be decided whether to be showed.
When buying ads, Facebook allows you to choose how much to pay.To determine the amount to be paid, you have two options: the minimum fee or the minimum fee with a bid cap.
2.Your offer is not compelling enough
If you're satisfied with your advertisement, but what you're promoting doesn't appeal to your audience. In this case, you have to go back and check if you're selling the right product or service. Try to evaluate your offer from a customer's view.
Ask yourself about the following questions:
Could my quotation solve the actual problems encountered by customers?
What is my product or service trying to achieve?
Do the customers need my quotation in today's market?
Is my offer better than my competitors?
In addition, you need to have a comprehensive understanding of the ideal customer. Conduct market research so that you can determine the offer based on the knowledge of the whole market.To determine the amount to be paid, you have two options: the minimum fee or the minimum fee with a bid cap.
By choosing a "minimum fee" bid, you can let Facebook choose the best price for the selected action and make a competitive bid. For 90% of advertisers, this is a good choice because it ensures that your bid will never be set too low.
On the other hand, increasing the bid ceiling is a different case. When you choose a bid cap, you tell Facebook what you are willing to pay for your actions, by specifying an average bid or a maximum bid.
Inaccurate targeting
3.You're targeting your Facebook ads to the wrong people
When it comes to making Facebook ads work, arguably no factor has a greater impact on your success than your audience targeting. Sure, there are many other factors play important role, but if your Facebook ads can't target audience accurately, there is no need to mention other things. So the if you're targeting your Facebook ads to the wrong people, then your Facebook ads may not work.
You can try to use deeper audience targeting measures like finding more interests to target. The problem is Facebook Ads Manager shows just 25 suggestions for interests which cannot satisfy the advertisers. But there are Facebook interest targeting tools that can help you get more interests for Facebook ads such as AdTargeting. You can use this free online Facebook interest targeting tool to explore thousands of hidden interests and find suitable interest through keyword search and advanced filtering.
4.Your audience is too wide
Targeting too many audiences means that there is a lot of competition among other marketers to attract these people. Generally, this means that you will pay more for each click and may receive fewer impressions and lower conversion rates. In addition, it is difficult to ensure that the audience is interested in your ad.
However, in some cases, it can attract a large number of less focused audiences. But even in this case, you should still try to filter out segments that exceed your target demographics. So you should kwon your audience well at first and then narrow down your audience.
You can narrow down your audience through setting suitable audience targeting conditions after analyzing of audience in AdTargeting. AdTargeting provide interest analytics report, includes the audience's location, demographic(age, gender, relationship status, educations), job title, device, and the affinity of interest and Facebook Page which you can used to analyze audience.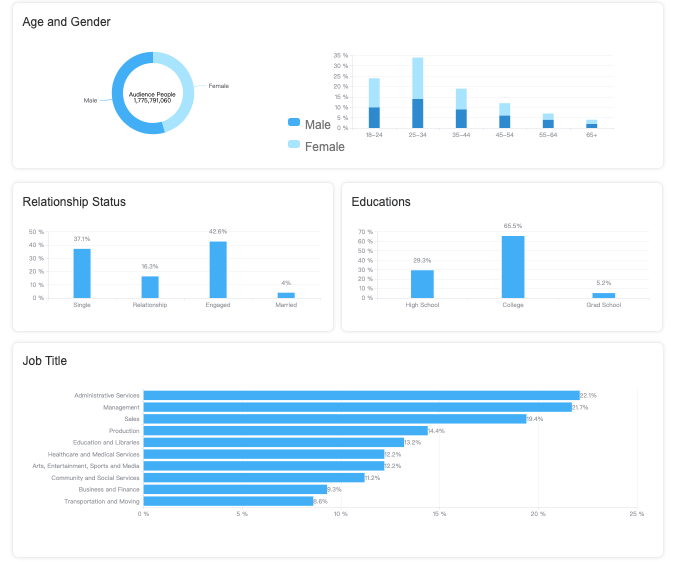 Issues of advertising materials and creativity
5.Don't use video ads
Have you place video ads on Facebook?
According to Facebook, there is a video advertising solution for you – no matter what your business goals, goals and budget are! With the rise of social media, video continues to become more and more popular. Video content can better attract the audience's feelings, especially when the video can stimulate their interest and desire. It is easy for people to remember what they watched.
You can use different types of video content for your ads. Examples include product demonstrations, explanatory videos, events, user recommendations and expert interviews.
6.Too much text in your image
Even Facebook changed the rule that 20% of text an ad image can contain, it still prefers ads with no or few words. Too much text (including logos) in ads can lead to insufficient Facebook advertising. This will affect your coverage and cost per click. So what can you do to solve this problem?
When you upload too much text, Facebook will show you a warning, even if it may approve your ad. Don't ignore the warning. Instead, adjust the image to reduce text and avoid punishment. You can also try the carousel format, which allows you to include multiple descriptions of different images.
7. Poor advertising creativity
The creative includes copywriting and images. Have you ever asked yourself is your copy clear, profit-oriented, user-centric and actionable? Does your image capture the user's attention? If your ad fails to capture the attention of your target audience in the busy newsfeed and show them the worth of it?
If the click-through rate is low, it means the copywriting and images may not suitable. You should make sure to hire good copywriters to help you create customer-centric, profit-oriented copywriting. You can also learn about the past by looking at email campaigns, social media posts, and landing pages to understand what content is suitable for your specific audience.
Final thoughts
Once you find ways to target the right audience, make effective copies and communicate valuable offers, Facebook ads can help you find potential customers and turn them into long-term buyers.
Now, you can find these reasons why your Facebook ads are not working. Making measures to avoid these problem and make your Facebook ads run well. Last but not least, start using AdTargeting to help you find a more targeted audience and create effective Facebook ads.