The Anatomy Of A Facebook Ad | Examples And Optimize Advices
Whether you admit it or not, Facebook ads are a proven way to get in front of your specific target audience. And most of social marketers already on board with Facebook ads. If you don't want your post is only glanced at for about a second in dazzling advertisements, you should capture their attention.
Anatomy of a Facebook ad is a very necessary, and it is important to understand the structure of the ad and how to make the most of all the elements.
Not sure what effective Facebook ads should contain? Learn the anatomy of an amazing Facebook ad and how to use these advices to optimize your ads and boost your traffic!
Anatomy of a Facebook Ad
Facebook Ads are highly customizable, allowing businesses of all sizes or in different areas to advertise. Creating unique Facebook Ads is not difficult, as there are five basic creative elements that apply to each Facebook Ad in different combinations.
Post Text
Facebook's advertising guidelines include a 20 percent text rule, meaning that the text on ad photos cannot take up more than 20 percent of the photo. This text is directly above or below your image, so it's the first copy your audience will see.
You may be thinking 20 percent is not a lot of space. The good news is, text on photos is not necessary to build powerful Facebook ads.
Some advertisers write 1-2 lines of text, some write a few paragraphs. And suggest you having an A/B test to check how people respond to short or long post. Choose text that your audience responds better.
Image
This is the most important part of advertising because it determines whether your ad will catch your audience's eye. If your images are engaging enough, it will lead viewers to continue browsing the rest of your ad's message. Images draw people in, while your text provides information about your product. It is important to note that in digital video ads, video clips are used instead of static images. To create an image for Facebook ads, you can use Facebook Ads Templates using online tools. There are lots of tools available on the internet that can allow creating Facebook ads with ease. PhotoADKing is the one that we can recommend.
Headline
Many people believe that the Facebook ad headline is not the most important text in the ad copy. What's most important is the main ad text displayed above the image or video, which is the first thing users see.
However, headlines are still important, and they can greatly increase your ad's conversion rate. But headlines on Facebook Ads are often ignored or underutilized.
The headline of your Facebook ad is displayed below the ad's visuals and is usually very short. That's why it's essential to keep it to 40 characters. You can use different techniques to write ad headlines, such as inspiring a sense of urgency or using active voice. And we prioritize headlines for blog posts, YouTube videos, and even emails.
Description
The description of your Facebook ad is right below the headline. Here you can explain your headline in more detail. And good copy in your description will help maximize response to your ad.
Some brands will post their prices here, while others will go into detail about features or benefits of the products. Also, you need to make sure that your description convinces people to click on the "call-to-action" button.
Call-to-action button
A call-to-action ad promotes your Page's call-to-action button. The button encourages people to take an action that is important to your business, such as booking appointments or shopping on your website.
The call-to-action is the most important element of your Ad to convince people to click. It's where people will make their decision to actually stop and click. The description text can help, but the majority of people will have already made their decision to click before they read it.
5 Facebook Ad Examples to strengthen the impression
1.Hootsuite
Here's what we can learn from this ad:
Post Text sums up all the information in one short sentence, and the content is attractive.
The image is strikingly colorful and grab the audience's attention at first glance.
The title is concise and powerful and highlights the key messages.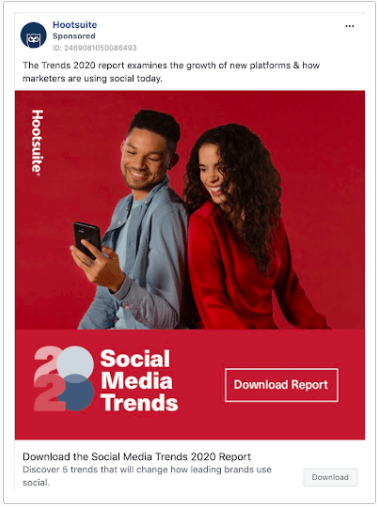 2.Dollar Shave Club
This ad from Dollar Shave Club is concise, easy to understand, and punny with some humor.
And this ad gets right to the point. The curiosity-driven copy and the call-to-action are enough to bring the audiences' interest.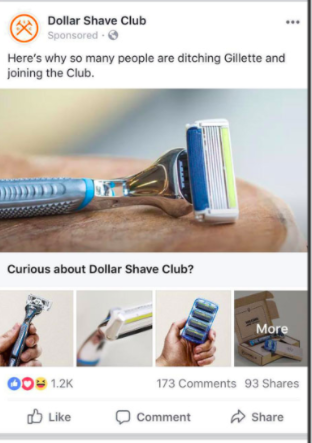 3.Adobe Photoshop
This is an eye-catching ad created by Adobe Photoshop. Overall, not much text there, but the image itself is powerful enough to make you want to know more.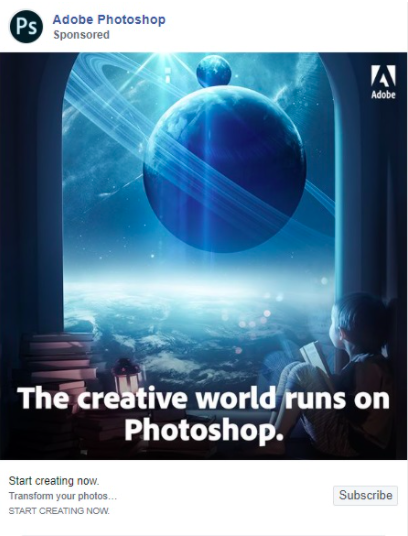 4.Google
Google might be one of the biggest advertising channels, but it doesn't mean that they are not advertising on other channels.
And not only to do it, but more importantly, do it better. The thing that struck me about this ad was its slogan "Grow with Google".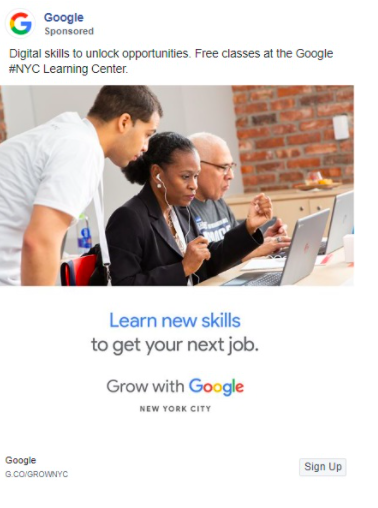 5.LinkedIn Learning
The LinkedIn Learning ad not only does a great job with the image selection, but also with the job description.
Powerful call-to-actions such as "invest in your success" and "Don't wait" are a great way to encourage your audience to click on your ad and actually take action.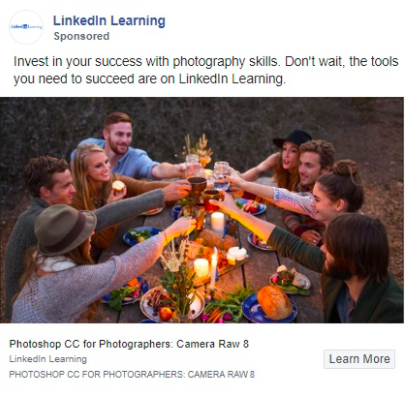 Advices for effective Facebook ads after anatomy of a facebook ad
Set advertising goals
Set advertising goals are important for successful Facebook advertising.
Goals are an important part of your marketing strategy. They are usually where you start. Goals set the direction your product or service needs to achieve success in the marketplace and are the basis for the plan you have created to achieve them.
Pre-set focused, realistic and quantifiable goals can set a real direction for your marketing efforts.
Target your audience accurately
knowing your audience means a lot. You may have the most effective images and the most compelling ad copy, but if your ad isn't targeting the right people, no one will click on it. So how to target the right audience accurately?
1.Getting more hidden interests to target your audience
Facebook interest targeting tool can help you get more interests for Facebook ad. AdTargeting is one of them which helps advertisers get thousands of related interests and find suitable interest through keyword search and advanced filtering.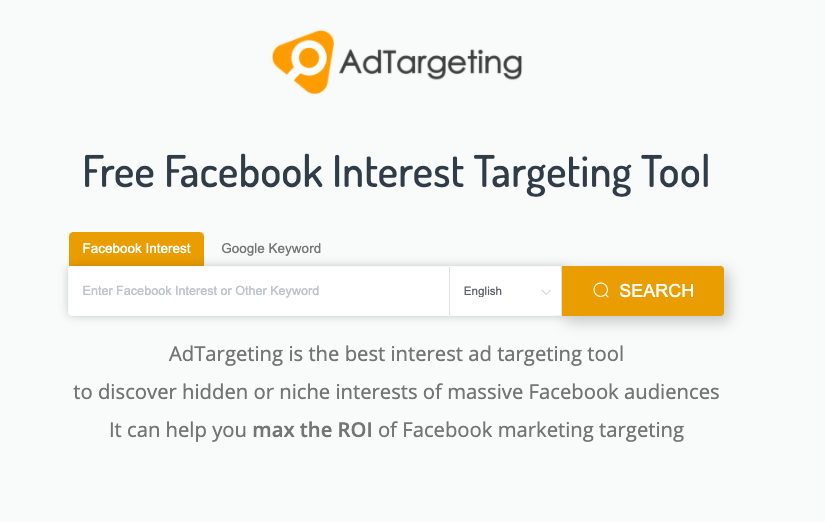 2.Getting audience analysis report
To meet the target audience, the first thing you should do is getting to know your audience well. You can obtain audience analysis reports for understanding your audience by using AdTargeting.
AdTargeting uses the big data analysis capabilities of Facebook to analyze the demographic characteristics of your audience for each interest, such as audience gender, age, relationship status, job title and so on which also can be combined with Facebook Audience Insights to know your audience better.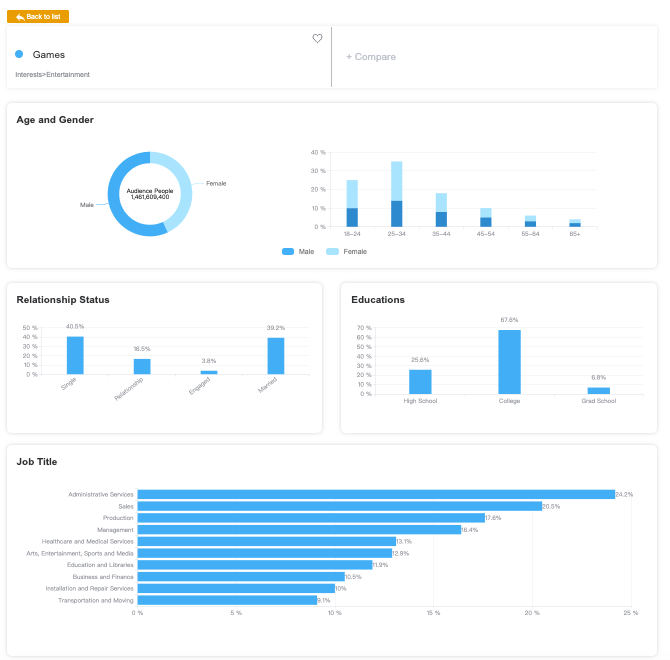 3.Target fans of competitors
You can use Facebook pages to target competitor's fans.
Facebook pages in AdTargeting is a list of pages that are ranked by affinity. Affinity means how likely your audience is to like a given page compared to everyone on Facebook. So if you see a very high affinity score, it will be extremely likely that the audience you selected will also like those pages. So we can use it to find the pages which audience of competitors and target their fans: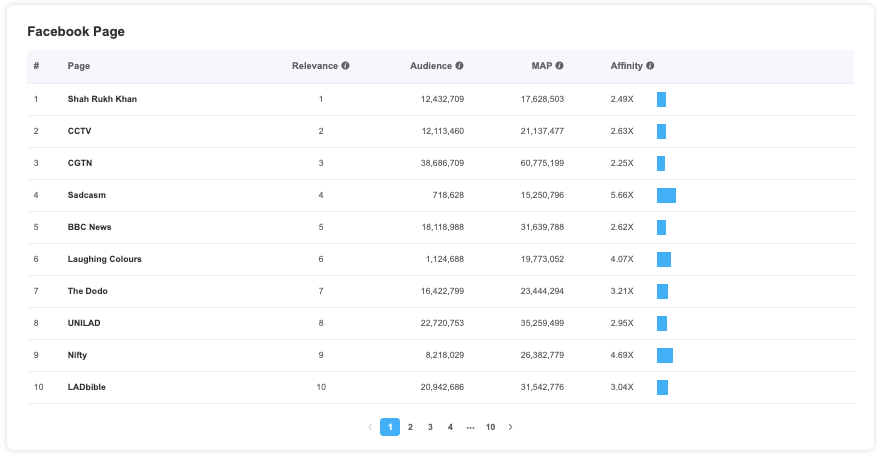 All in all, Facebook Ads allow you to harness the power of the largest social media network site to reach your prospects and customers. Anatomy of a Facebook ad is of great significance for a successful Facebook ad. Hope this blog can help you!