Finding Your Shopify's Target Audience With Audience Keywords
In the early stages of your Shopify business, sometimes you may not find the ideal audience for your Shopify store. The ideal audience is the people most likely to buy your product or service.
With marketing to your target audience, you can effectively target potential customer groups, reduce advertising costs and increase return on investment. Therefore, in addition to providing customers with purchased products and services, many retailers also spend a large part of their time attracting the attention of these customers. Making your product appear in the sight of potential audiences as much as possible is almost one of the main goals of every entrepreneur.
But how should we go about it? One way to resonate with existing and potential customers is to learn about them and then tailor a sales plan to your audience. Using audience keywords to find your Shopify target audience is a very useful method. Next, let me introduce you specifically:
Identify the products your Shopify sells
One of the biggest challenges aspiring entrepreneurs face first is finding profitable, trending products that will sell, and here are some practical tips to help you choose the right products:
1. Solve customer pain points
Solving customer pain points is always an effective reference for choosing products that people want. At the same time, this product is usually about solving that problem - the bad or frustrating experiences with the currently available product.
2. Consider your professional experience
Using your expertise to create and target unique products can be very profitable. Because working experience in a specific industry can help you better understand a specific product. Maybe you have a certain skill or a specific experience that can make you more knowledgeable about a specific topic than the average person. Turning your expertise into your own online business is a smart way and it is difficult to replicate.
3. Take advantage of trends early
Identifying trends early is important for new business. It allows you to gain a foothold in the marketplace and establish yourself as a leader before others have the opportunity. Using trends early can also reduce marketing costs.
4. Find product opportunities in keywords
Natural traffic from search engines is an important marketing channel. Search keyword opportunities are about strategically finding products based on the search queries people are using, the number of searches per month, and the overall competitiveness of those searches.
This approach can be quite technical and requires some understanding of keyword research as well as search engine optimization. This method may be quite technical and requires a certain understanding of keyword research and search engine optimization.
5. Read customer reviews on existing products
Whether you already sell products online or not, you can get a lot from customer reviews. Are there any trends or interesting feedback messages that can be used to inspire you to choose the products you are going to sell? Pay special attention to customer dissatisfaction or complaints.
If you're not sure which industry or product category to explore, you can consider specific demographics and focus on the brands and products that are popular with them.
Use audience development methods to obtain audience keywords
After choosing the product you will sell, you can study on your products carefully and use the product name or other keywords to get more related keywords.Each keyword can narrow down the audience, and help you target the audience that is most relevant to your product. In this way, you can get more target groups that are most suitable for your Shopify products.
Here are some ways to extend your basic keyword:
Synonym (Word having a similar meaning)
Related Words (Related information expansion words)
Abbreviations and full names
Summation words (A summary or overview of the product)
Adjective + basic keyword
You can get more extended keywords by using the above methods. For example, if you decide to sell toys, then you can have more suitable keywords for targeting more audience:
If you don't have any extended thought about your basic keyword, then you can open the Facebook interest targeting tool- AdTargeting, and just in type an interest or keyword to get many advice: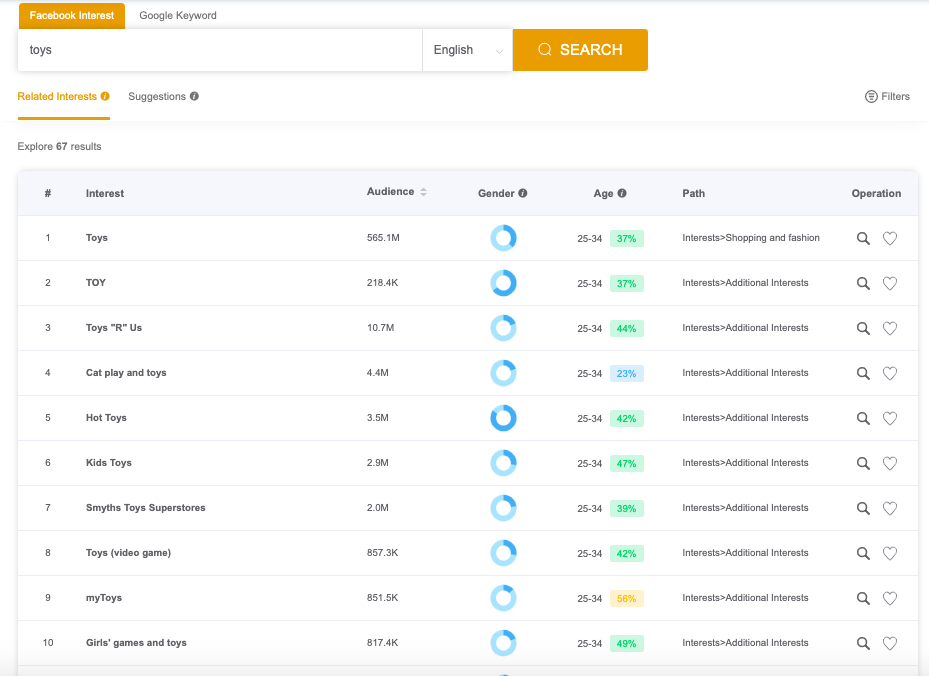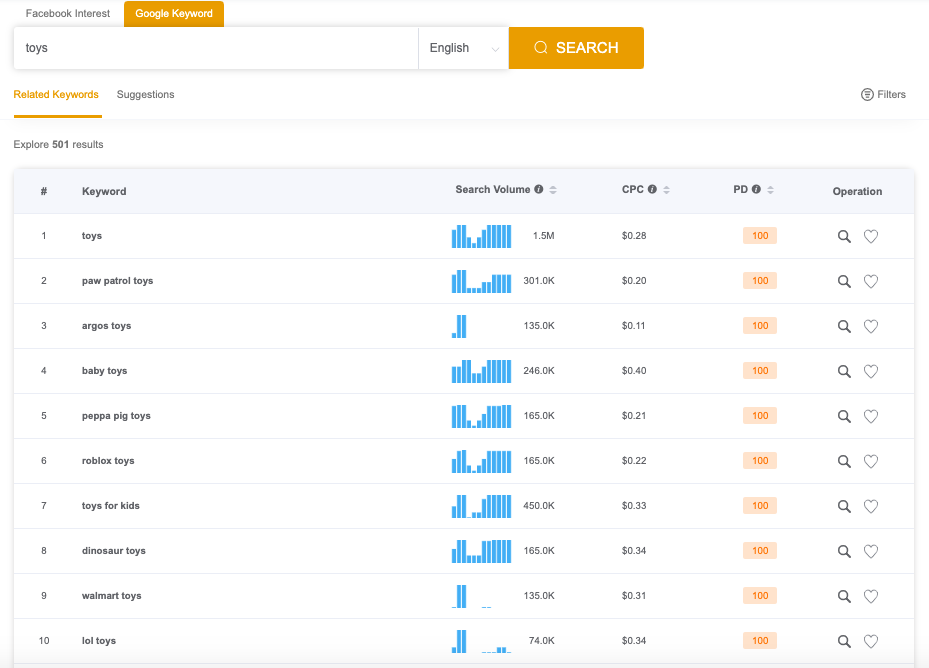 AdTargeting is one of the best free Facebook interests and Google keywords targeting tool. It can help you discover hidden or niche interests or keywords to target massive audiences and help you max the ROI of advertising.
you can search the basic keyword of you product directly in this ad targeting tool.
Get more detailed informations of each keyword to target your shopify's audience
Know more about your targeted audience through interests or keywords can help you better verify the usability of the word.
For example, you can find that the most audience of "Toys" are 25–34 years old, and women accounted for more than 60%. Now the scope of your target audience is narrowed. And of course, you can also click in to view more detailed audience analysis reports in addition to gender and age, such as relationships status, education level, job title, the device they use and the location information of them: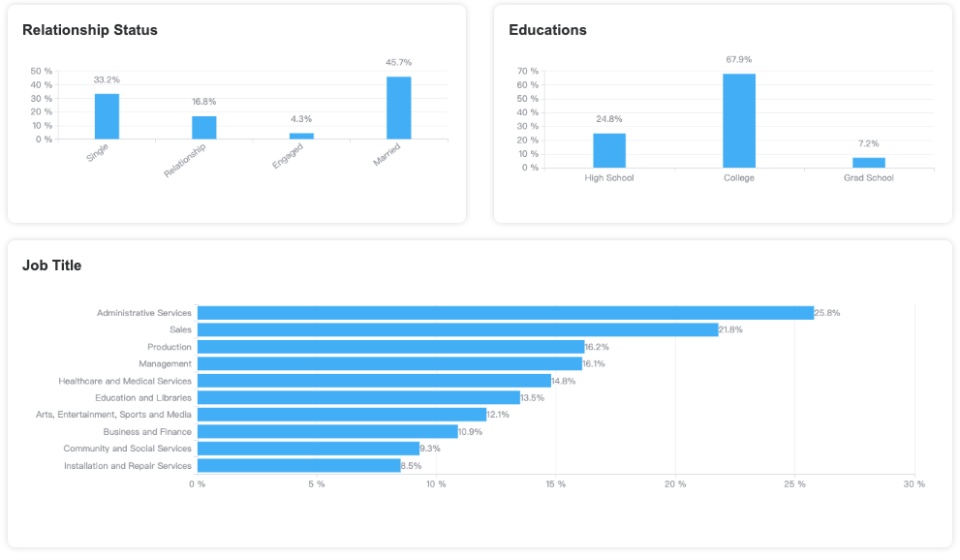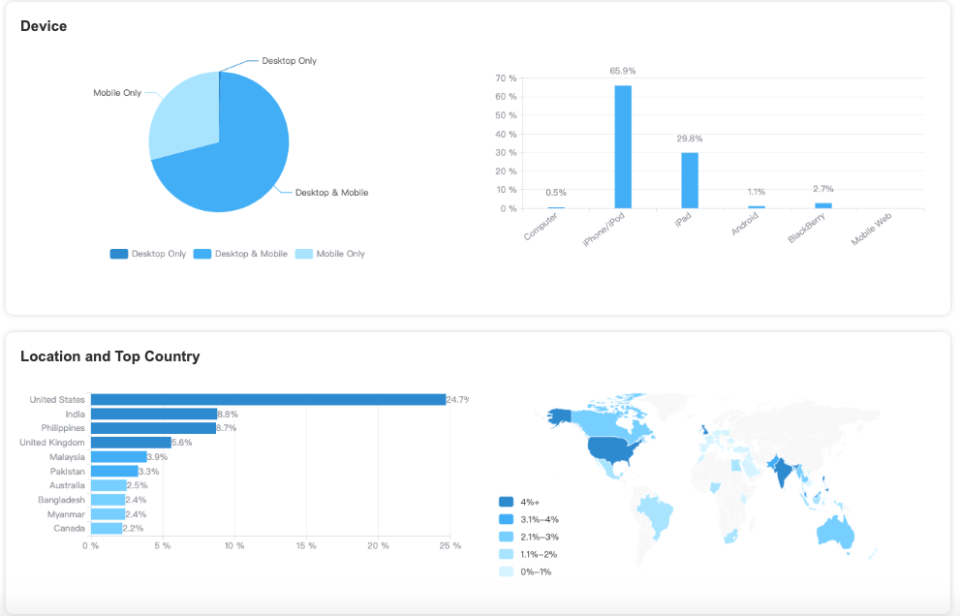 You also can get the paid difficulty, popularity and even regional search popularity of the keywords: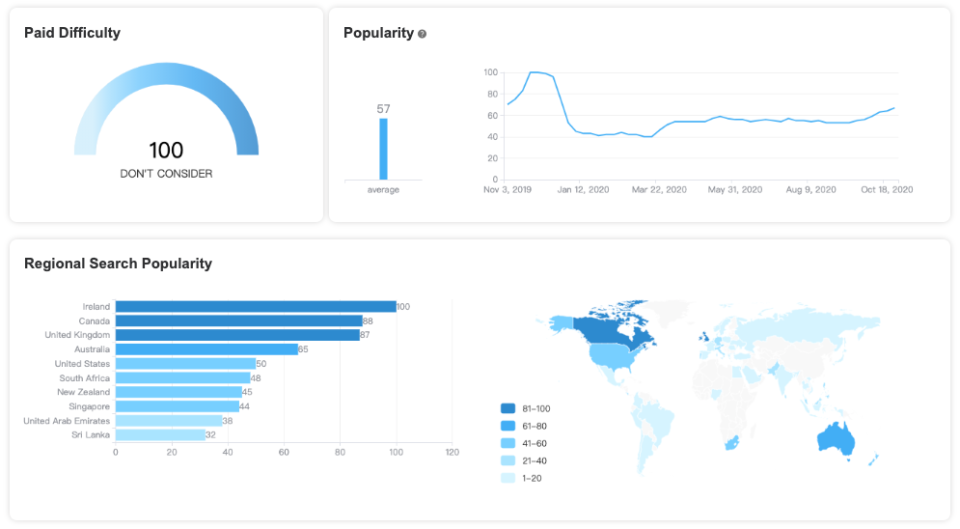 All these informations can hep you verify the usability of the keyword and you can choose the several suitable words to help you target your Shopify's audience.
Unlimited access to Facebook interests or Google keywords
How can you use expanded words to get more relevant interests/keywords of basic keyword?
First you should search for "toys" in the search box, then you can see a number of related words appear below, click on any word that can get more related words. And the same of Google keywords. Besides this, you can also get the interests list or the top keywords list in AdTargeting: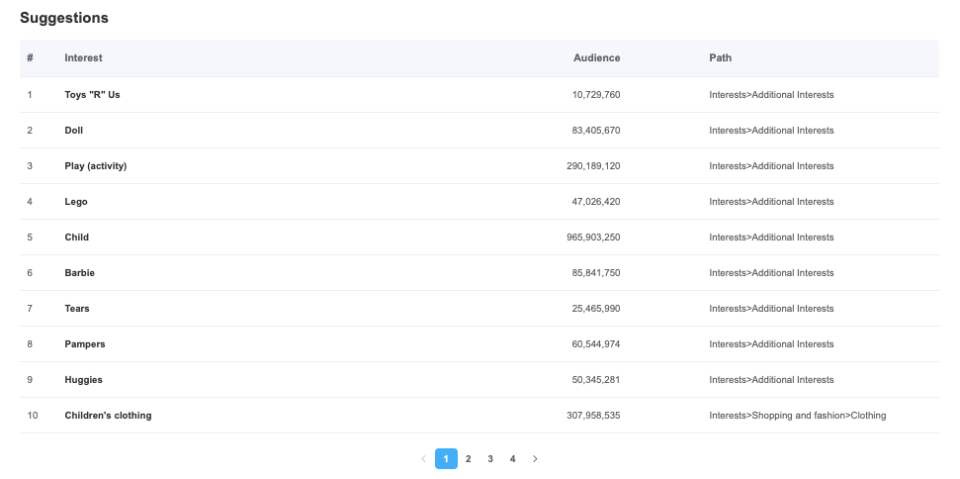 Finally, just discover and define your ideal Shopify's target audience by taking these simple steps!