Facebook Ads for Beginners: A Simple Guide
Facebook is the world's largest social network platform, and its number of active users is beyond the reach of other platforms. This also makes Facebook an advertising and marketing platform that cannot be ignored. Building connections with your audience on Facebook is an important way to attract customers.
The main purpose of Facebook advertising is to target your information to the right people. The right people means those who most likely to want your product or service. If you want the best results of advertising, it's important to understand the different Facebook ad types and targeting options before you delve into it.
If you are just a beginner, it seems a bit complicated. But don't worry. In this Facebook advertising guide, we will guide you thoroughly.
Why choose Facebook for advertising?
With over 2.8 billion active users per month on Facebook, some of your potential customers are definitely using the platform.
Facebook ads offer a wide range of targeting options for e-commerce entrepreneurs. Notably, you can reach people not only by location (country, state, city, and even zip code), gender, and age, but also by interests, behaviors, life events, and many other options.
In addition, you can use Facebook advertising tools to promote almost anything that suits your business: from text posts, photos, and photo albums to videos, events, offers, and of course links to your website.
Types of Facebook ads
There are many types of Facebook ads, which can be roughly divided into Image Ads, Video Ads, Poll Ads, Carousel Ads, Slideshow Ads, Collection Ads, Instant Experience Ads, Lead Ads, Dynamic Ads, Messenger Ads, Stories Ads, Augmented reality ads. Here we only briefly introduce a few common types of advertisements:
Image ads
Simple image ads are a great way to start using Facebook paid ads. You can create an existing post with an image of the Facebook page in just a few clicks. Image ads may be simple, but that doesn't mean they are necessarily boring.
Video ads
Video ads can run in "news feeds" and "story", and can also be displayed as interstitial ads in longer Facebook videos. Video ads can show the dynamics of your team or your product.
Just like image ads, video ads can also take a more creative approach. According to research, the conversion rate of video ads is much higher than other forms of advertising, and people are more likely to be attracted by videos.
Carousel ads
Carousel ads use up to 10 images or videos to showcase your products or services. You can use this format to highlight the different advantages of one product or several different products, and even use all the photos together to create a large panoramic image.
Each image or video can have its own link. It is mostly used to display multiple features of a product or display different products. Carousel ads are usually the preferred type of e-commerce advertising
Lead ads
Lead ads are only available for mobile devices. This is because they are specifically designed so that people can easily provide you with their contact information without having to type a lot. They are great for collecting newsletter subscriptions, registering someone to try your product, or allowing people to ask you for more information. These ads are very suitable for your sales channels.
How to advertise on Facebook?
Step 1: Choose your objective
Log in to Facebook Ads Manager and select the "Campaigns" tab, then click "Create" to start a new Facebook ad campaign.
According to the goals you want your ads to achieve, Facebook provides 11 marketing goals including brand awareness, coverage, traffic, engagement, and so on. This may seem like a one-click decision, but it is very important to your Facebook advertising strategy. One of the reasons is because the goal cannot be changed in the future. Therefore, remember that the goal should describe the main purpose of the advertisement. Based on the campaign goals you choose, Facebook will try to generate the lowest cost results for you.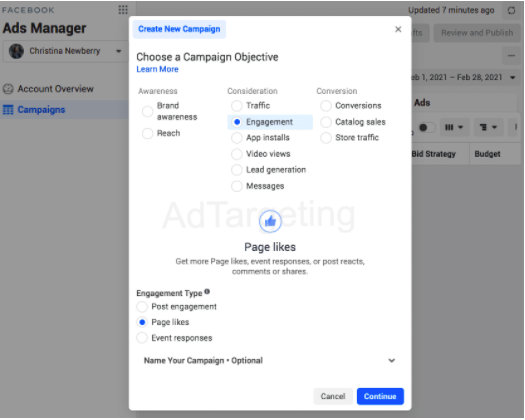 Step 2: Name the campaign
Give your Facebook ad campaign a name and state whether your ad is suitable for any special category such as credit or politics.
Scroll down a bit and choose whether to turn on budget optimization. This option is useful if you are using multiple creative sets, but you can turn it off for now.
The next step in our Facebook advertising guidelines is crucial. In order for your Facebook ads to work effectively, you need to set an audience, budget, and schedule.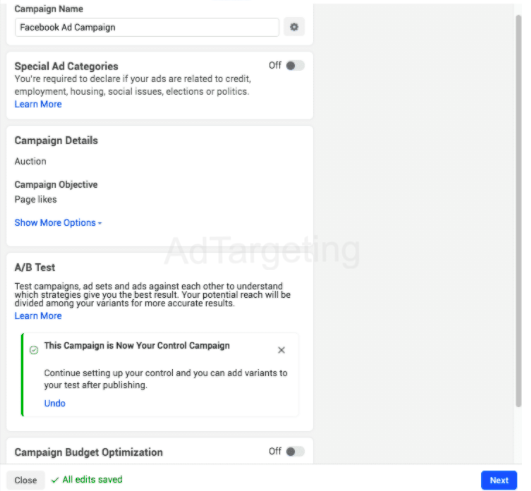 Step 3: Select your audience
One of Facebook's most popular advertising questions is: How to target precise audiences?
The size of your audience depends on the country/region where your audience is located. Therefore, depending on the size and population of the target country/region, the size of your audience will also vary.
When you use interest-based targeting for specific interests, it's best to target a smaller audience, and you can be sure that there is no one else out there that can appeal to your target audience. When targeting a small audience, try using the "engagement" campaign goal.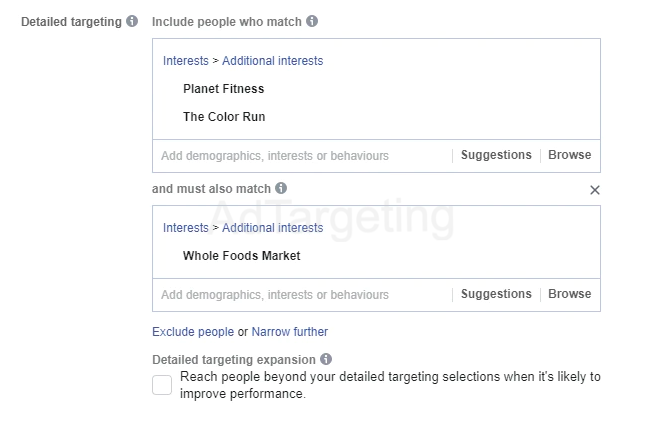 Interest targeting is a good way to narrow the scope of the audience, but how to choose interest to achieve precise targeting? Many people are confused by this. You can use the Facebook interest targeting tool to help you, such as AdTargteing, one of the best Facebook interest targeting tools to discover hidden or niche interests of massive Facebook audiences which can help you max the ROI of Facebook marketing targeting.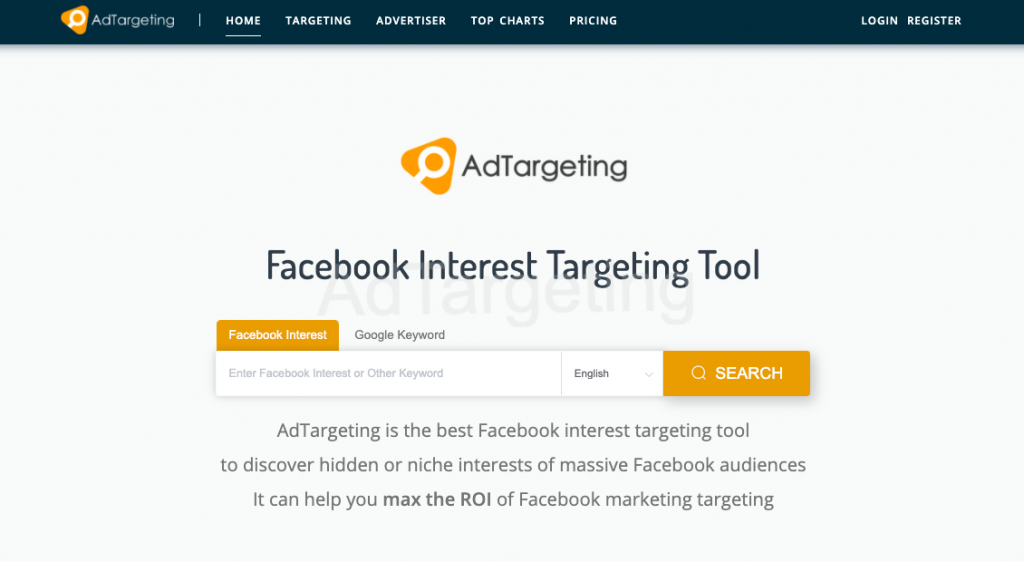 Step 4: Decide on placements
The next step is to decide whether you want to determine the automatic placement of ad sets according to Facebook's algorithm, which is configured to maximize your advertising budget, or manually.
Here, we will recommend the option of automatic placement.
When you select this option, Facebook will automatically place your ads in Facebook, Instagram, Messenger, and Audience Network when it is possible to get the best results.
Step 5: Set Your Budget & Schedule
After you find the most suitable audience and determine how to place your ads, you need to determine your budget and schedule.
Those who are completely new to Facebook advertising may find this step a bit tricky. Different market conditions may require you to set a different budget. So in this step of our Facebook Advertising Beginner's Guide, we will try to clear the confusion you might meet. The main factors affecting the cost of Facebook advertising are:
Time: Months, days, and even hours will affect advertising costs.
Bidding strategy: Choose between a minimum cost or a specific bid limit.
Ad placement: The cost of highly competitive ad placements is higher.
Advertising relevance: The lower the ad's engagement rank, quality rank, or conversion rank score will increase costs.
Target audience: Higher competitive audiences are more costly.
You can use ADCostly, which is one of the best Facebook ads cost analysis tools. ADCostly provides CPC, CPM, CTR, and CPA benchmarks for Facebook advertising to help you better adjust your Facebook ads cost.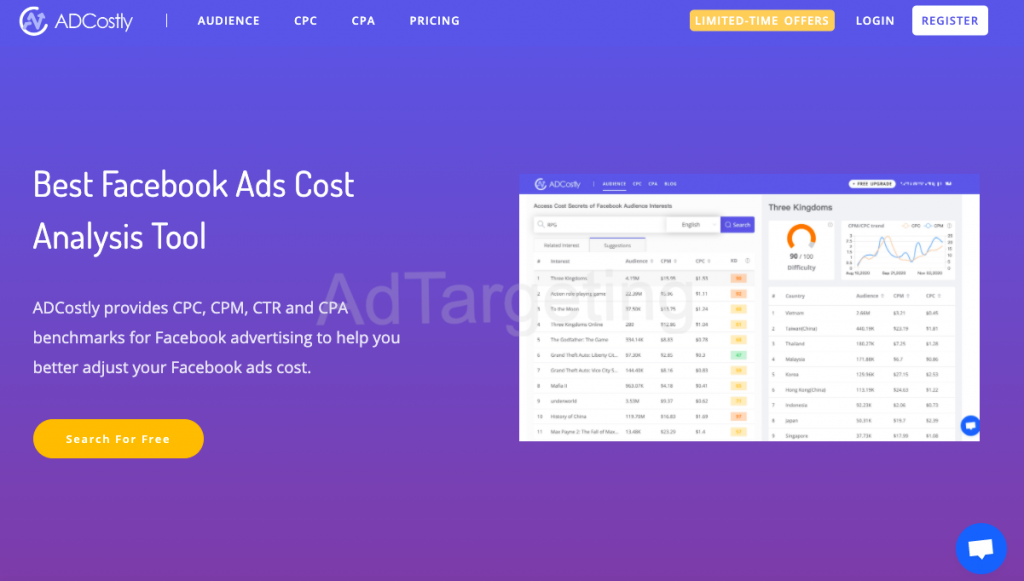 Tips for running Facebook ads
Using Facebook Pixel
A pixel on Facebook is a small piece of code that can have a big impact in your Facebook advertising campaign. After placing the code on your website, you can track conversions, remarket to users who have viewed the product on your site, and build a similar audience.
Even if you are not ready to use more advanced Facebook pixel strategies, you should install them immediately. This way, you can use the tracking and remarketing data when you are ready to start optimizing your Facebook ads.
Ad Creativity
You know your audience. You know your audience. You know the types of effective Facebook ads to choose from. You even have a rough idea of the budget. But that's not all. No matter how precisely you plan your ads, if your ad material is unattractive, then you're wasting valuable ad dollars. So at the very least, make sure that the photos used have the right colors, are properly cropped, not blurred or pixelated.
Testing
Finally, remember to test! First, there are a lot of great tips and best practices, but some of them are better for you than others. In some cases, the video effect will be better, and in other cases, the picture effect will be better. It's important not to make assumptions about what works and what doesn't work in your Facebook ads. Every time you try something new, you should test it against the previous ads to see if you are improving the metrics that are most important to you.
Best practices for Facebook advertising are constantly changing. Only you know what works for your specific audience. The only way to keep up-to-date knowledge is to test.