Perfume Ad Ideas: Best Facebook Advertisement Strategies for You
"Perfume" is derived from the Latin "Parfumare", which means "penetrating smoke". As early as 1500 BC, Cleopatra VII had already bathed with 15 different perfumes. In the 1980s, perfume suddenly changed from a personal item to a necessity to decorate the facade. It is no longer a luxury in the pure sense, but more like a lifestyle with the label of a famous designer. There are more perfume products with master characteristics. In the 1990s, perfumes have matured day by day, and various styles have emerged one after another. People no longer pursue the brand enthusiastically but value the display of individual culture.
With the growth of distribution channels for beauty and personal care products, the perfume market has more potential in the future. Due to the rapid development of retail channels, the channels for consumers to buy perfume have become more diversified. The rise of the Internet has made online perfume sales a channel that cannot be ignored, especially Facebook as a social media giant.
New perfume brands come out every year. How to create a good Facebook perfume ad? Let's take a look at some examples of good perfume advertisements.
Perfume Ad Examples
CHANEL N°5
Baz Luhrmann collaborated with Chanel and Nicole Kidman to create arguably one of the most beautiful perfume advertisements ever. Nicole, who plays "the most famous woman in the world", runs in Times Square to avoid being chased by the paparazzi, and accidentally enters a whirlwind love story. Accompanied by the magical fireworks and the fantastic background music of the symphony orchestra, this iconic romantic story completely captured our hearts.
It's not hard to find that video ads tend to catch people's hearts better!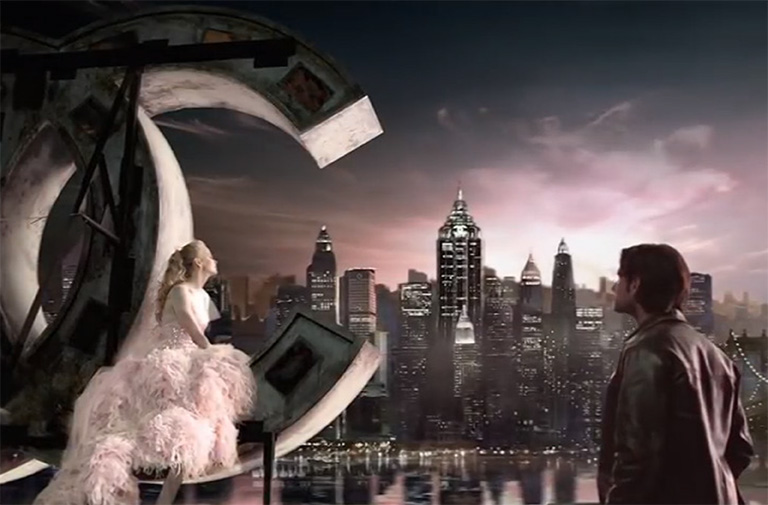 J'ADORE BY DIOR
The first Dior perfume ad I noticed was Tiiu Kuik's J'adore Dior ad. She was covered in golden liquid, wearing beautiful stacked pendants, and she looked really beautiful. We also found that all J'adore ads are iconic at this point. Dior's perfume advertisement emphasizes the characteristics of the product.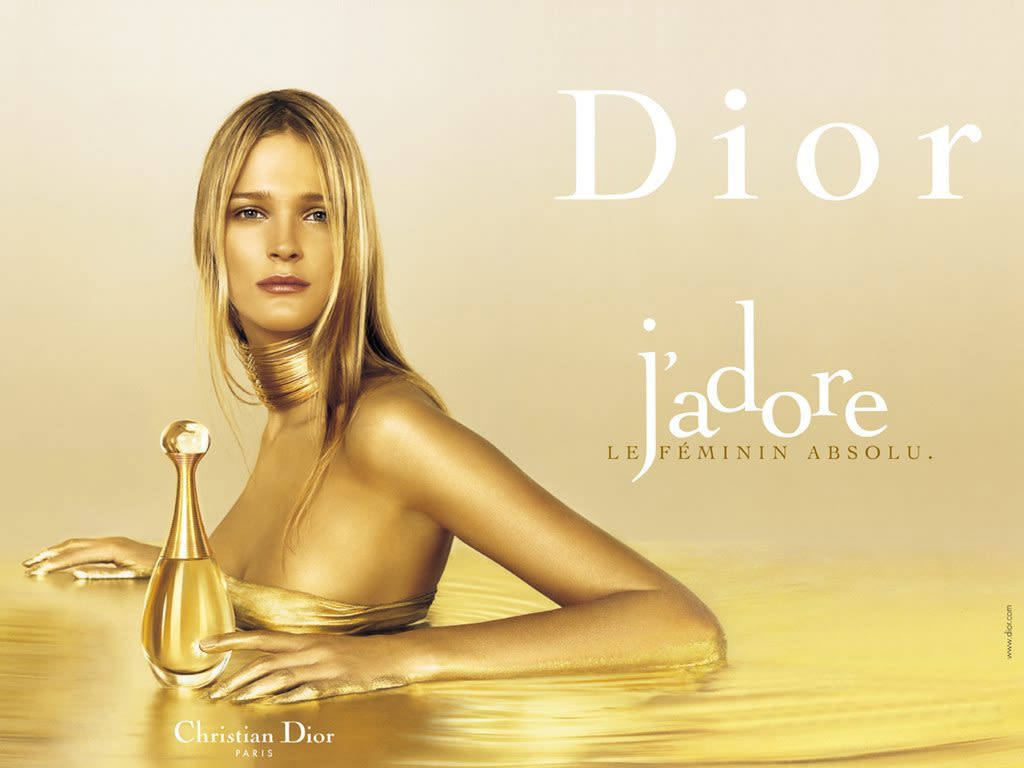 Marc Jacob's Daisy
Marc Jacob's ad for Daisy Perfume is also quite effective. The advertising scene is beautiful, with sunny fields and energetic models on the screen, which all show the brand value well and target the audience.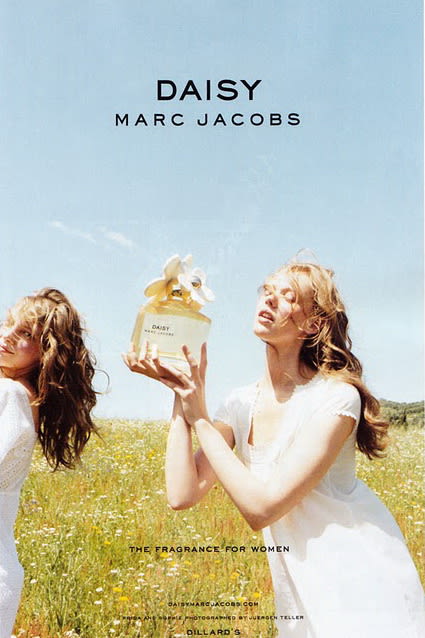 Perfume Facebook Ad Strategies
Target precise audience
Accurately target the audience with interests
Facebook's official interests are not comprehensive and only show about 25 interests per search result, which does not fully meet the needs of advertisers.
You can use the Facebook interest targeting tool for help. AdTargeting is one of Facebook's best interest targeting tools that helps advertisers to get many hidden interests and find the right ones through keyword search and advanced filtering.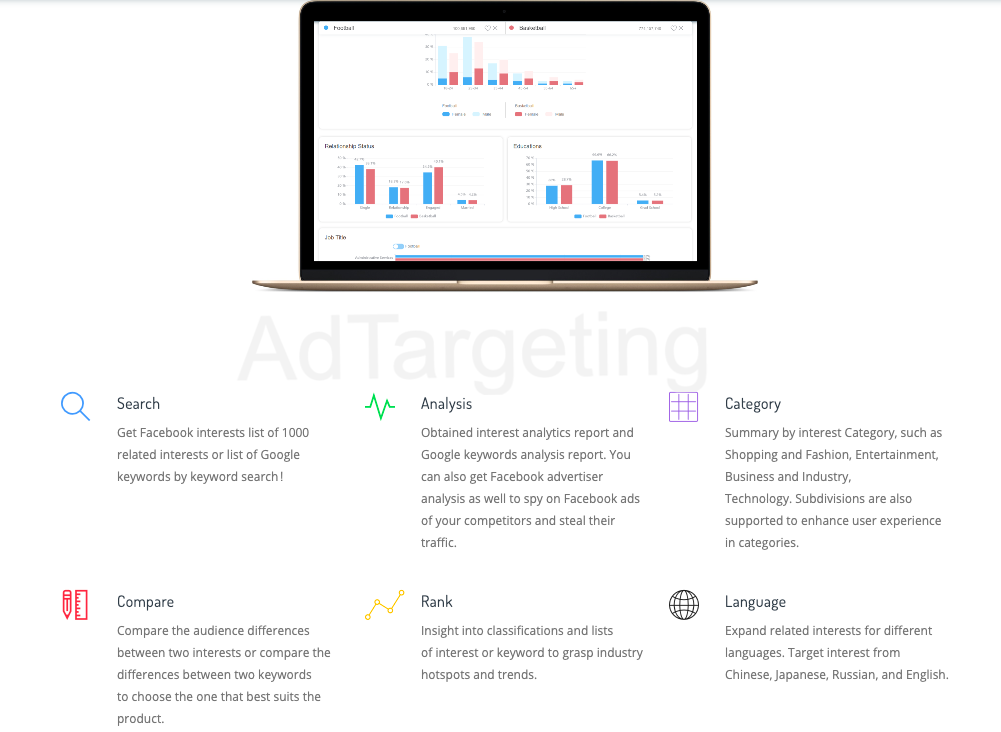 Type "Perfume" in the search box to get relevant interests: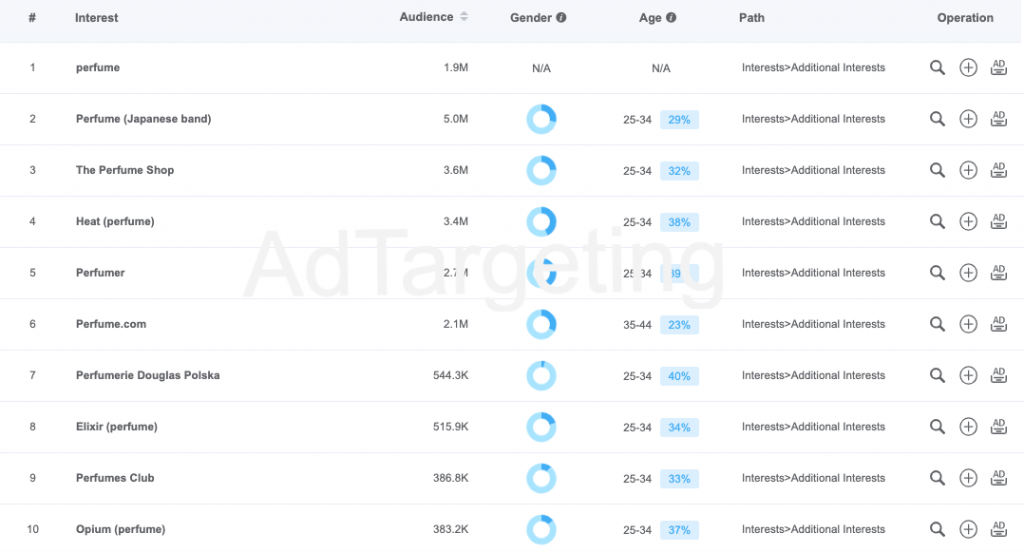 Know more about audience
With detailed age and gender breakdowns, job titles, education levels, relationship statuses, and so on, advertisers can better target their campaigns and make content to their target users' preferences. In a word, knowing more about the audience can help you better set your ad's conditions.
And get the audience analysis report in AdTargeting can help you know the fans deeply. Link Facebook audience insight with AdTargeting's audience analysis report can help you to better target your campaigns and make content to your target users' preferences.
Improving the quality of advertising materials
Focusing on Creativity
Advertisements can be seen everywhere, and some of these advertisements are mediocre, but some are unique and impress people, and some are ignored. There are many reasons for this, besides design and production factors, the level of creativity in advertising is also an extremely important factor.
Creativity is the soul of advertising. Advertising works can directly create market value in the form of market consumption through its creativity. Especially for perfume advertising, creativity is especially important. In my mind, they're the best things the marketing world has yet to come up with. Look at the perfume ads that are so popular: the clothes don't have to look good, the budgets are huge, the bottle doesn't even have to be in the shot. The ads that are presented are alive and well, which is why so many people stop for them.
Use more videos
Video is quickly becoming the preferred method of media consumption. If you haven't started to think about a video strategy, now is definitely the time. Video advertising has been and will continue to be one of the most effective types of advertising. But you not only need to make good videos, but you also must produce compelling videos.
Advertising budget
Different ads are not the same situation. Different market conditions may require you to set a different budget. The main factors affecting the cost of Facebook advertising are: Time, Bidding strategy, Ad placement, Advertising relevance,Target audience
You can use ADCostly, which is one of the best Facebook ads cost analysis tools. ADCostly provides CPC, CPM, CTR, and CPA benchmarks for Facebook advertising to help you better adjust your Facebook ads cost.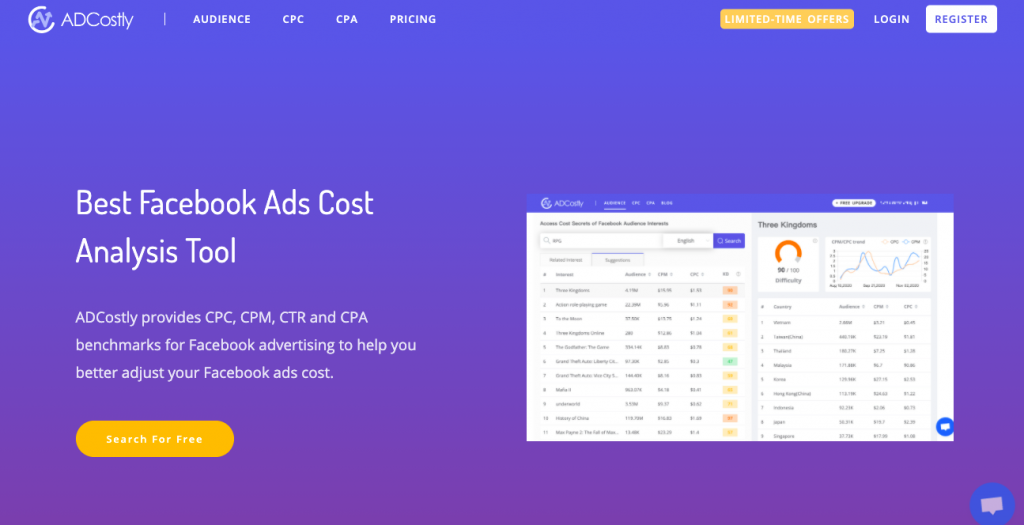 Final Words:
So what's your favorite? The one that made you buy the perfume without ever smelling it. perfume is iconic, very simple and sort of summarizing that whole period of time in the fashion world. They're pretty timeless as well. The same goes for good perfume ads. Hope these strategies for perfume advertising will give you some inspiration! Good luck!