Facebook Ads for Realtors: 7 Killer Ad Tips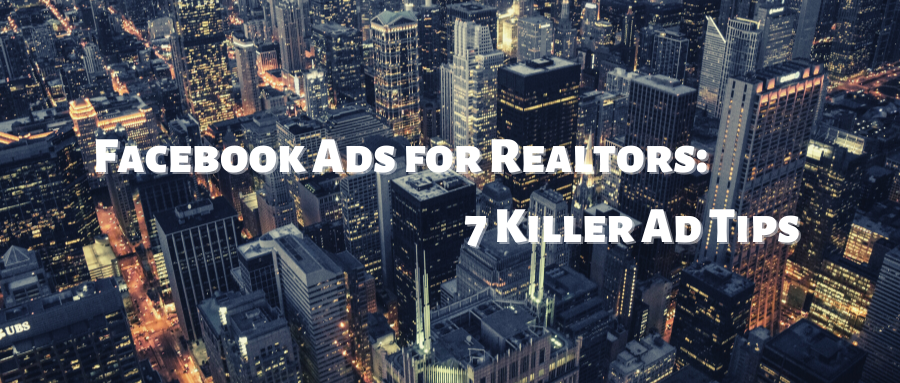 As a realtors, are you still using the old-school ways to let customers know you, such as participating in social activities, sending e-mails, making phone calls and knocking on the door? Are you still trying to advertise your business with traditional ads that are expensive and unable to get feedback data?
Why not try to promote your business on Facebook ?
Nowadays, 80% of Internet users are using Facebook, and the number of monthly active users has reached 2 billion. I believe you are also one of them. The large and active user group is just one of the reasons why you recommend using FaceBook ads for marketing. It also has the advantages of simple delivery process, low delivery cost, accurate delivery, and wide delivery range. Here are 7 tips of Facebook Ads for Realtors to increase your ROI and help you save a lot of time.
1.Build a compelling Facebook Page
Advertising on Facebook, first thing to do is to create a home page for your business. Through the homepage you can let potential customers know about your business and be able to interact with them. In order to create a compelling page, you need to fill in a name for your page, upload a suitable head sculpture and background page, fill in your business profile, and leave your contact information.
You can name the page by combining your name with the company's name, or combining your name with 'Realtors'. Upload your personal formal photos as your head image, and use attractive real estate photos as the background, so that visitors can intuitively understand your work. It is suggested that you clearly fill in the service scope and service area in the introduction, as well as the relevant honors you have won. These introductions not only make you professional, but also improve the communication efficiency between you and potential customers.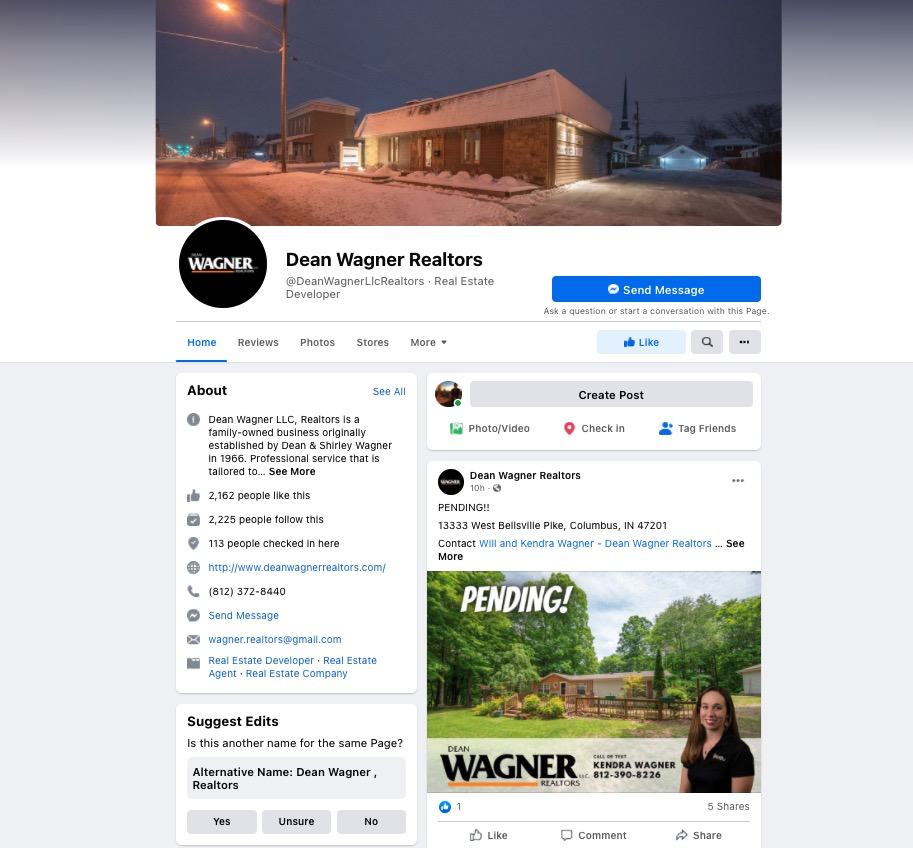 2.Increase page like and following
After having a Facebook Page, you need to improve the quality of the page by increasing the number of likes and followings. When potential customers enter your page, a large number of likes and followings can help you gain their trust.
One way to increase the likes and following of the page is to publish some high-quality content. These contents can be professional real estate knowledge or recent real estate information. If your content gives visitors something to gain, you are most likely to be liked, shared or followed.
Another way is to establish contacts and interact with other realtors. As your interaction with people in the same industry gradually increases, Facebook's algorithm will gradually classify your page as a realtor and push your page to users who wants to buy or sell houses.
3.Clear advertising goals
When you use the Facebook Ads Manager to place ads, you can achieve different delivery effects by selecting different delivery goals, such as Brand awareness, Traffic, Lead Generation, Conversion, and so on.
Because the purchase of real estate occurs offline, users need to consult information and visit the real estate on the spot after seeing advertisements. Lead Generation is not suitable as the target of real estate advertising, and Traffic is not the best choice. In the early stage of creating a Page, it is recommended that you focus on Brand awareness in your advertising campaigns. With the goal of increasing brand awareness, you can advertise to a wider audience and interact with people who have never been in contact with your brand before. In the later stage, you can use Facebook Pixel and run redirect ads. For details, see the sixth tips.
4.Determine the advertising Audience
Select the interest is one of Facebook advertising during the most important part. If you choose too vague interest terms, you will not be able to accurately target the audience, while choosing interest terms that are too uncommon and professional will also lead to problems such as too small audience groups and repeated coverage.
Facebook interest targeting tool can be a good choice to help you solve the problem of interest. AdTargeting is one of them. It not only allows you to visually see the Audiences information , such as the number of people, gender and age, relationship status and other detailed information, but also recommends relevant words of interest for your reference.
Take the interest Buying a house as an example. After searching on the AdTargeting, I get the general information of the audience of the interest word. You can see the number of audiences, gender ratio, proportion of each age group, and interest path.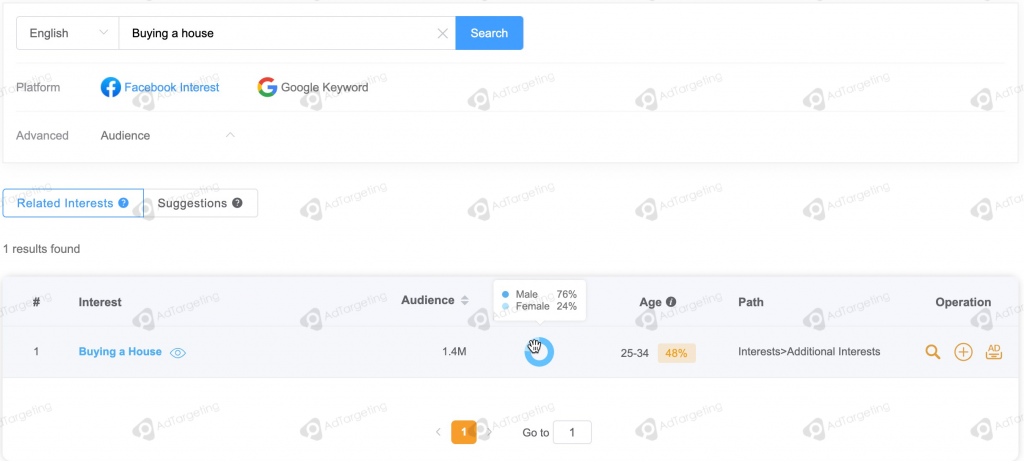 After a detailed analysis of the audience of Buying a house, we can know that the total number of audiences is 1,418,543, mainly men, and the main population is concentrated in the 25-34 age group.

In the relationship status, we can analyze that the largest proportion of people is the single population, followed by the married population, and the smallest proportion of engaged people. Among the education status, College degree accounted for the highest proportion, accounting for three-quarters.

Job Title from the audience, we can analyze the personnel engaged in administrative services, sales or management of the largest proportion.

From the rankings of audience distribution countries and regions, it can be analyzed that Bangladesh has the largest number of people, followed by the United States, India, Pakistan, South Africa and the United Kingdom. If your country happens to be among them, this interest is worth considering.
5.Prepare creatives relevant to your audience
We recommend that you use video advertising, because video is currently the most popular content format on Facebook, and it is also one of the most conversion-rate advertising formats. According to the data, the conversion rate of video ads is 80% higher than that of image ads.
After clarifying the detailed information of the interested audience, you can prepare more targeted advertising content based on the information. If the interest you use is Buying a house, then based on the information analyzed by the audience, you can prepare marriage and family-themed video advertisements to make the audience more empathetic and improve the conversion effect of the advertisement. If you need to refer to creative advertising materials of other realtors, you can use BigSpy, a free FB advertising spy tool.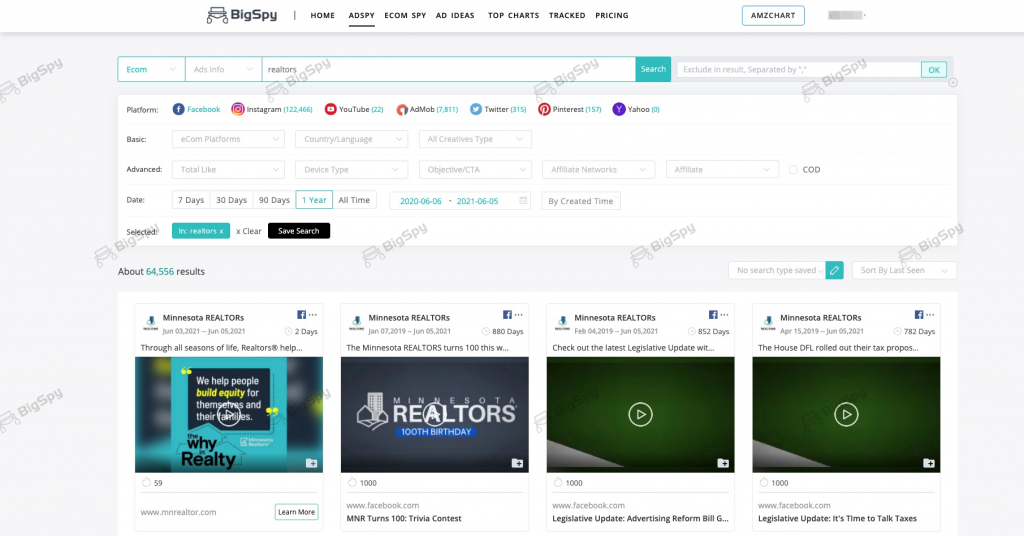 6.Install Facebook Pixel and run redirect ads
In addition to promoting to new customers, you can also target audiences who have previously visited your website with retargeting ads. The purpose of retargeting ads is to advertise to users who have communicated with your page or company in order to obtain higher conversions.
You can track existing customers through the Facebook Pixel tool to achieve retargeting advertising. Every time someone visits your website through Facebook ads and generates registrations, purchases, etc., Pixel will track them, and create custom audiences based on the people it tracks to ensure that they will be targeted again.
7.Create lookalike audience
One of the more advanced targeting options on Facebook is lookalike audiences. Over time, the custom audience list created through Facebook Pixel will continue to change, and the data collected in this process can help you target groups that are highly similar to custom audiences. When you advertise again, you will be able to let more audiences see your information.
---
Finally, if you keep reading this blog from beginning to end, then you already have a comprehensive understanding of how to improve the Facebook ads for realtors. By the way, if you don't understand CPC, CPA and other advertising cost benchmarks in the process of Facebook advertising, you can refer to this blog: Facebook Advertising Cost Benchmarks.
If you are interested, you can join the advertising Facebook group to participate in the discussion. Hurry up and implement these methods to increase your advertising conversion rate and increase your return on investment immediately !