What Is The Most Important Element Of A Facebook Ad
Facebook has a large number of users and continues to grow. It has become the undisputed leader in social media, so it is a vital resource for digital marketers who want to expand their customer base. Nevertheless, the huge scale of social networks also means that there is a lot of competition.
Now, most companies use Facebook ads to interact with their customer base and use Facebook ads to attract new customers. But anyone can write a Facebook ad, but not every ad will have an effect. So, how do you ensure that you create a successful Facebook ad? It is essential that you are familiar with the core elements of a successful Facebook paid advertising campaign.
Here are the most important elements of a facebook ad, keep reading this blog and let your Facebook ad become the focus of attention and attract the right audience.
Facebook Advertising material
Advertising creative of a Facebook ad
Although successful Facebook advertising contains many elements, creativity is still one of the most important factors. A good idea can make people refreshing and deepen the impression of advertising. If a Facebook user is browsing Facebook, and your creative does not attract his attention, he will not read the copy or click on the ad. And In the end, advertising will not complete the transformation.
Advertising copy of a Facebook ad
What you need to know is that users usually skip the content displayed on the screen, so try to use concise text as much as possible, say what you want to say straight away, and go straight to the subject, such as "Welcome to the New Year, all 20% off " Or "Sunday benefits, don't miss it!"
New forms of Facebook advertising
To some extent, new forms of advertising that can enhance visual effects are very important advertising elements, such as pictures, videos, or GIFs. For example, eye-catching photos or wonderful videos that should not be missed can convey important business or product information and let people know your brand. High-quality pictures can attract people to stop and watch your ad. You should choose the right image to have the greatest impact. Choosing the best size of 19 different ad types within Facebook's limits and it is essential to maximize the impact on news sources and avoid downgrading to thumbnail size.
Most consumers on the Internet (especially young consumers) are inspired by visual aesthetics. in the Facebook algorithm, visual ads are also treated more favorably, so you are more likely to get successful Facebook ads. Consider using creative images, image carousels or videos for your ads.
Target the advertising audience accurately
Targeting an accurate audience is a very important element of a Facebook ad. Although this is more related in the advertising setting process. Imagine if you are able to create an advertisement, in which creatives and copies can be clear and effective express this. If you put all of this in front of the wrong person, it will be useless.
Remember, when using Facebook ads to target audiences, if you can target based on specific interests, it will have a clear definition of your audience, which will be very helpful.
Choose the most appropriate interest to target the audience
You should choose the most appropriate interest to target the audience. The problem is Facebook Ads Manager shows just 25 suggestions for interests that cannot satisfy the advertisers. But there are Facebook interest targeting tools that can help you get more interests for Facebook ads such as AdTargeting.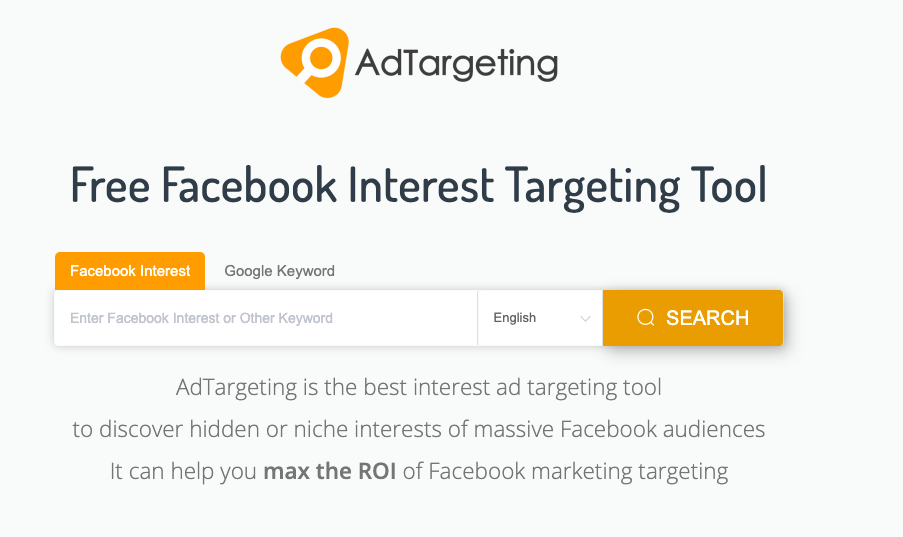 Get audience analysis report
Get audience analysis report is also very important for targeting right audience. You can obtain audience analysis reports for accurate targeting by using AdTargeting.
AdTargeting uses the big data analysis capabilities of Facebook to analyze the demographic characteristics of each interest, such as audience gender, age, relationship status, job title and so on which can combine with Facebook Audience Insights to set more suitable conditions in Facebook ads.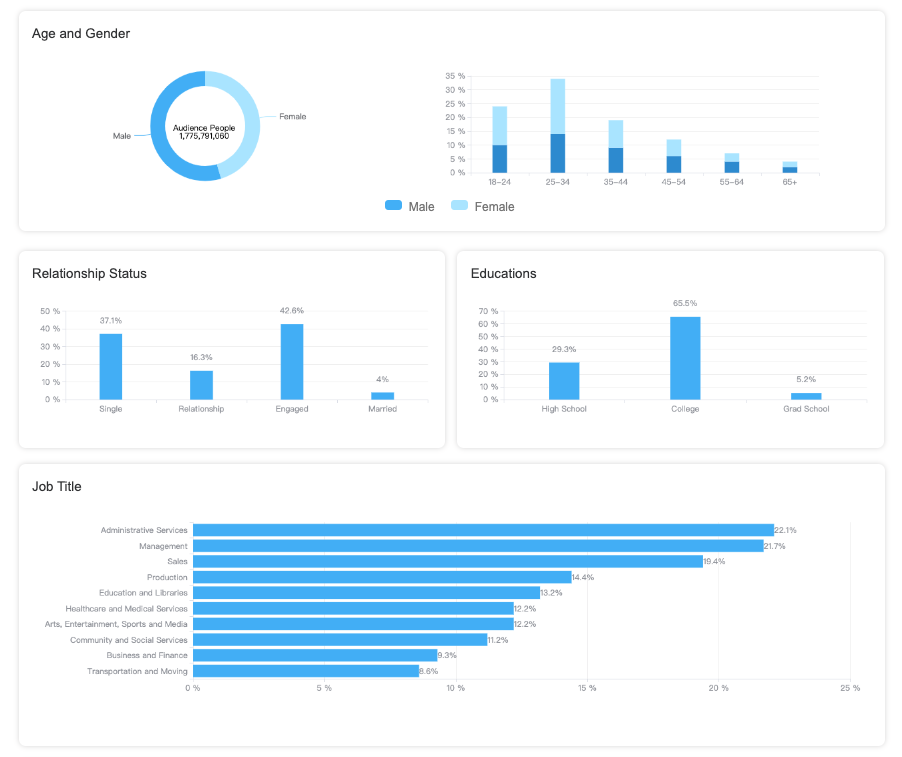 Target your competitors' audience
One of the most effective targeting strategies is to use the information to understand your competitors on Facebook, and then target existing fans of your competitors.
You can use Facebook pages to target competitor's audience. Facebook pages in AdTargeting is a list of pages that are ranked by affinity. Affinity means how likely your audience is to like a given page compared to everyone on Facebook. So we can use it to find the pages which fans of competitors might like and then target fans of competitors.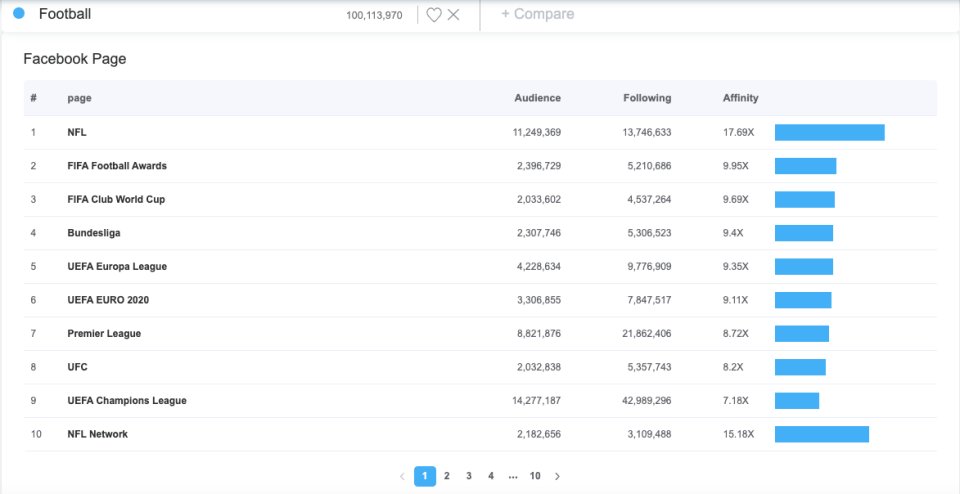 Provide value proposition
Why do consumers click on your ad? Beautiful images and well-written copies are valuable components of Facebook advertising. But if you really want to generate clicks and conversions, you need to provide users with a convincing argument. This means providing your unique value proposition. After attracting their attention, you must also give them a good reason to click on your Facebook ad. You can provide a value proposition and explain what makes your ad appealing.
On Facebook, the most tempting proposition is to use social evidence and special promotions to generate a persuasive call to action.
Promotional information
Coupons and limited-time offers provide a sense of urgency. You can pay attention to these elements of promotional information to attract viewers to click.
Valid social proof
Provide statistics clearly can convey your value and providing social proof information can enhance persuasiveness. Both of these can be used for valid social proof.
Show call to action
But in the end, the most important element of a facebook ad is the call to action. If you target the aight audience and they like your ads materials, they are most likely to take measures. At this time, you can add a "call-to-action" button at the bottom of the ad to tell people what to do next. Facebook will provide you with call-to-action suggestions, such as "learn more" or "register" or others.
It's important to note that not all ads have a call to action button. If your ad does not, you can skip this step. For Jasper's Market, the effect of the call to action is really good. They used the call to action to recommend a new series of dips and they chose the "Learn More" button. After the user clicks or taps the button, they will be redirected to their website where there is a more detailed product introduction.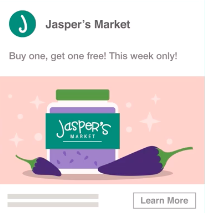 A/B Test
You never really know whether a particular ad will resonate with your audience unless you put it on the web. So the last most important element of a Facebook ad is A/B Test in my opinion.
To help brands achieve better results, Facebook have launched its own "split testing" program, and this feature aims to help advertisers improve ads by showing different ads to similar audiences. It's very useful, I think you can have a try!
In the end, all you need to do is to identify these 5 important elements of a facebook ad and handle each element well. Focusing on each ad, you should not only create good campaigns but also profitable campaigns!