InterestExplorer Review – AdTargeting
Have you ever heard about InterestExplorer before? You probably have or have not. Today this InterestExplorer review will help you understand the tool in-depth. And you must know everything very clear about InterestExplorer include the pros and cons and then make a better decision of buying the software after reading this blog.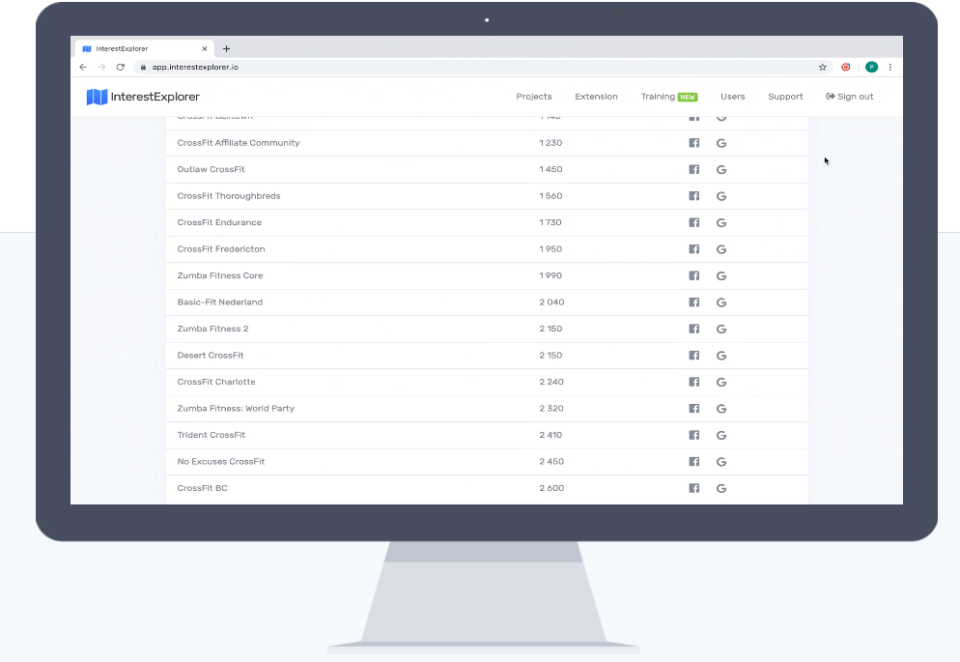 With more and more marketers are turning to Facebook for searching for new sources of customers these days,Facebook Ads has grown into one of the biggest online advertising platforms in the world. Facebook remains the Goliath of advertising on social media which means Facebook Ads become more and more expensive.
As a marketer of online advertising, I am interested in Facebook interest targeting tool, I'm always paying attention to the products in the realm of Facebook advertising. AdTargeting is one of the best Facebook interest targeting tool that helps advertisers explore thousands of related interests and find suitable interests through keyword search and advanced filtering.
Recently I have found InterestExplorer which is a Facebook marketing tool and searching for more interests is also the core function of InterestExplorer. I am wondering what the differences are between them and which one is the best Facebook interest targeting tool. In this review, I'm going to show you exactly what InterestExplorer is, how the InterestExplorer works.
What is InterestExplorer?
InterestExplorer is a Facebook interest targeting tool reveals many hidden Facebook interests you can target and can help advertisers of all sizes to lower their costs and reach more relevant audiences just like AdTargeting and other Facebook interest targeting tool.
Why Facebook interest targeting tools are developed?
Before knowing the features of InterestExplorer, we must know why these Facebook interest targeting tools are developed at first.
Because of the ever-increasing competition on Facebook marketing, the ad costs increased too. And because Facebook supplies highly details targeting capabilities combined with the large reach to be able to scale winning campaigns, it can't be replaced. The shortcoming of the expanding popularity as a marketing system is that Facebook had to make sure the interface can not be imitated. That's why they've concealed a lot of the specific rate of interests that you can target when establishing new campaigns.
Facebook Ads Manager only shows just 25 interest suggestions at present. Then they reveal the exact same 25 ideas to every person and every single one among a large number of marketers gets the exact same interest recommendations. Although these 25 interests still have large target markets which implies much more ad profits. But with even more advertisers bidding and also increasing the cost. Can you imagine targeting these 25 interests will provide you the very best results for your campaigns? Or do you consider that by targeting them you'll get in the fierce competition?
So here comes AdTargeting, InterestExplorer and other Facebook interest targeting tool which can be used to target hidden Facebook interests far more than 25.
Which problem does InterestExplorer solve?
After knowing Facebook interest targeting tool, we can see the problem that InterestExplorer solves is using Facebook's API to reveal interests that are hidden from most advertisers.
InterestExplorer Features
1.Find hidden interests
Facebook ads manager shows just 25 interest suggestions and Facebook audience insights show you interests that most often can't be targeted with ads. InterestExplorer shows you more hidden interests that can be targeted.
Search for a hidden interest in a broad topic. You can use the search bar in exploring this topic. This tool will use the Facebook marketing API and reveal to you the related interest that you can target with ads.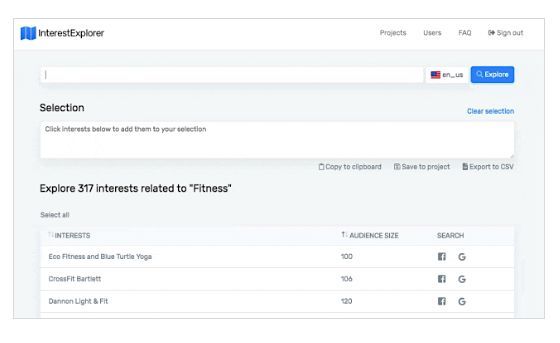 2.Speed up your research
You can discover the super-relevant interest in terms of the size of the audience. Then you can use the search button to open another tab with a search on FB or Google. You can save time of manual research and pick interests you haven't found before.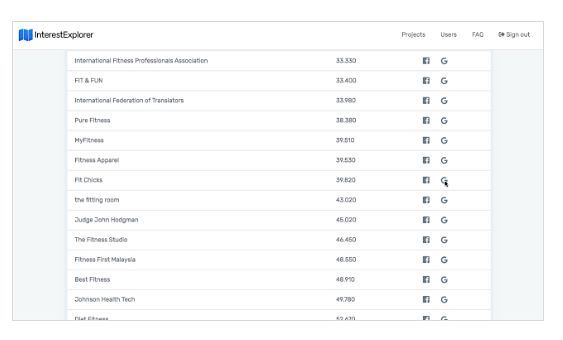 3.Optimize your workflow
When you have found some interests, you can copy-paste these straight into your Facebook campaigns. You can also save interests to re-usable projects or export the interests to a downloadable CSV file.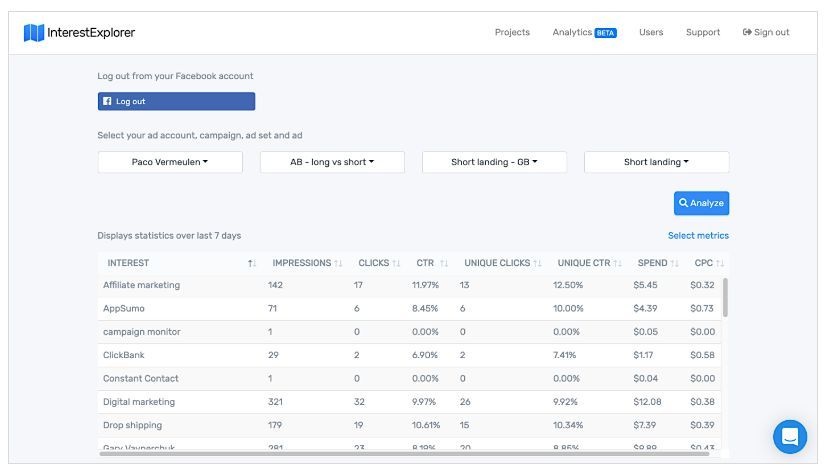 4.Convenient localization
Although English is the primary language and there may be more interests in English, you can also pick the language that you want to localize.
5.View statistical information
You can analyze statistical levels. With Facebook Ads Manager of Interestexplorer, you can view campaign statistics including clicks, ctr, cpc, etc. which is very useful.
What the advantages of using InterestExplorer?
1.InterestExplorer is integrated with Facebook Marketing API.
InterestExplorer is integrated with Facebook Marketing API that connects with every request. This tool does not store interest data on its database, they make a real-time application and that means you will only have access to the hidden interests that you can target at a time. Since Facebook changes over time, InterestExplorer adjusts in real-time.
2. Internet Explorer chrome extension
InternetExplorer Chrome extension is a tool that highlights the targetable interests. You can use it to avoid manual copy-pasting.
3.Lifetime deal available
It costs $97 for individuals and it's a lifetime deal. With this cost, you will be able to get internet search, saved projects, CSV data exports, and chrome extension. In this plan, all future updates are included. The price is $ 197 for the team. Once you pay, you can use it for the rest of your life, which is great news for users who often use it.
What the disadvantages of using Interest Explorer?
1.No category of interest list
InterestExplorer can get related interest lists by searching keywords but this tool does not provide interest lists alone. This may trouble the customer who wants to target the audience by industries or other categories. AdTargeting is also a Facebook interest targeting tool that summarizes interests by categories, such as Shopping and Fashion, Entertainment, Business, Industry, and Technology. Subdivisions are also supported to enhance user experience in AdTargeting.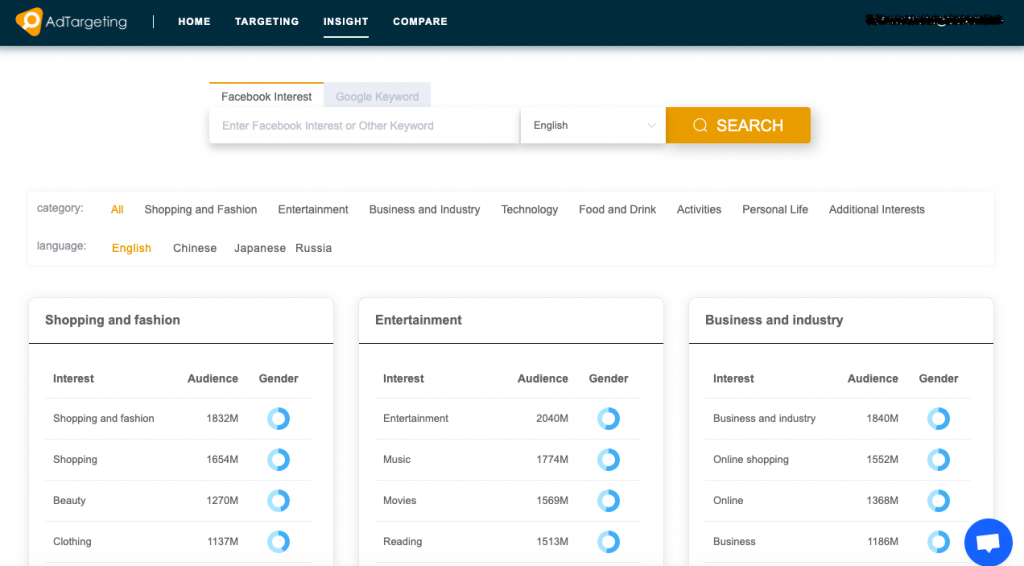 2.No audience analysis function
InterestExplorer does not have a separate audience analysis function. After advertisers get search results in search interest, InterestExplorer only shows the number of audiences for each interest which can not help advertisers to analyze the audience better and choose the most appropriate interest. While in AdTargeting, you can get an audience analysis report of each interest.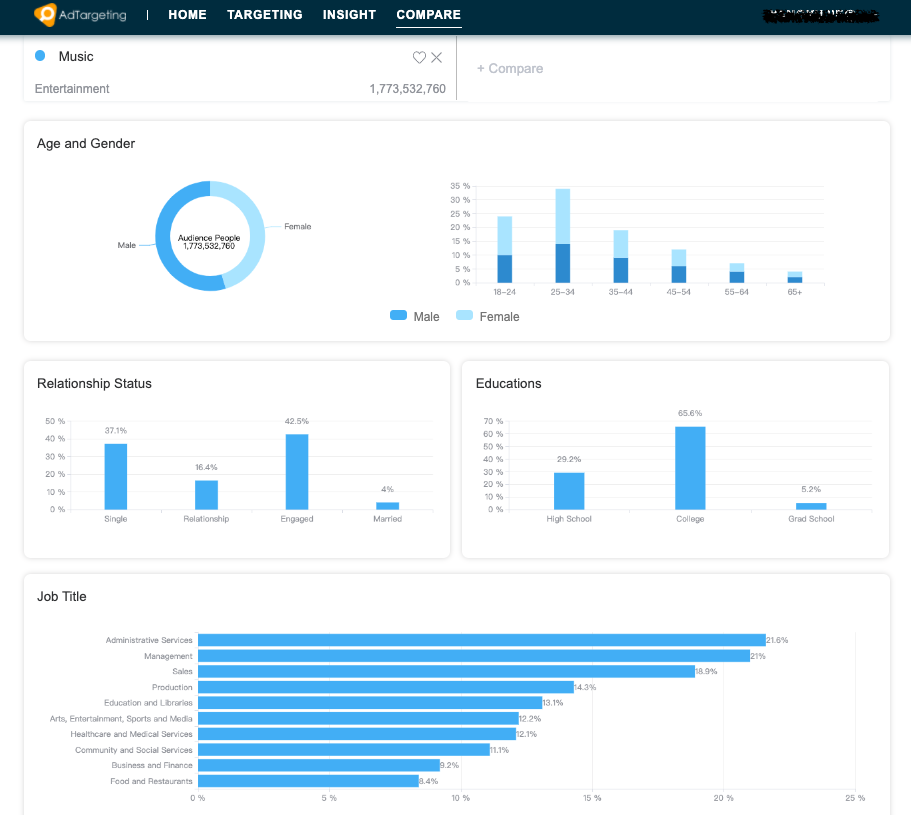 3.No interest compare function
InterestExplorer does not have a separate comparison function of interest. And it will be trouble if advertisers are hesitant about choosing interests among several options. This problem also is resolved in AdTargeting. Advertisers only need to enter another interest keyword when they hesitate, and they will see an audience comparison of the two interests.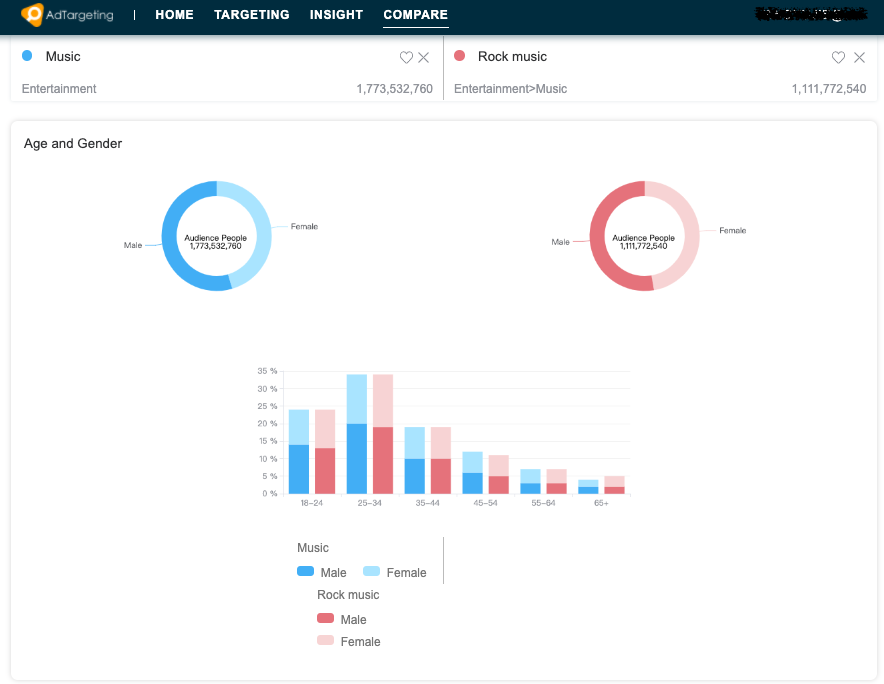 4. Not cost-effective
It's not cost-effective for those who don't need to use it very often and the price is also a little bit expensive for some users.
Conclusion
In this in-depth InterestExplorer review I've written down almost everything I know about the software. I think it's an honest review highlighting the advantages and disadvantages of this software. You should have the information now of which tool is more appropriate for you and make your own decision.
Anyway, just transform the ad campaigns and stop wasting both your time and money conducting research and finding ineffective interest targets. Just using Facebook interest targeting tools to help you reduce the ad cost and improve ROI!