The Complete Guide to Facebook Ads Cost India [2022]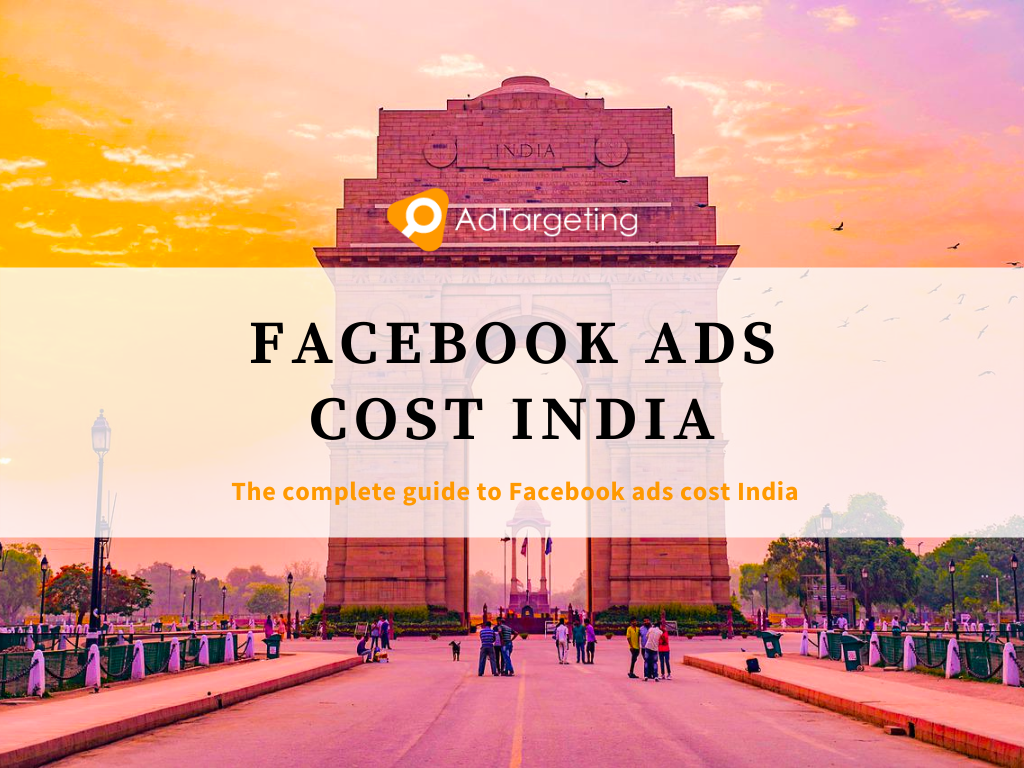 If you want to promote your business online in India, advertising on Facebook is a natural fit. But before starting Facebook ads, a big question is: how much do Facebook ads cost in India?
The only correct answer is: it depends.
Because the costs vary based on industry, time, audience, etc. However, with the Facebook ads cost in India from previous years, we can come up some Facebook ads cost benchmarks, so you can use these benchmarks to set your Facebook ad budget for 2022 and beyond. We also list the important factors that affect the Facebook ads cost and 5 shortcuts to lower the cost, hope you find it helpful.
Facebook Ads Cost India: The Average Cost You Need To Know
With this table, you can get an overview of the cost of Facebook ads in India under different bidding models. If you want to learn more details about these metrics, please see the following.
| | |
| --- | --- |
| Campaign Type | Facebook Ads Cost India |
| Facebook CPM | Rs. 8 to Rs. 12 |
| Facebook CPC | Rs. 0.48 to Rs. 2.8 |
| Facebook CPL | Rs. 4 to Rs. 1500 |
| Facebook CPA | Rs. 45 to Rs. 2000 |
| Facebook CPV | Rs. 0.3 to Rs. 2 |
CPC for Facebook Ads in India
CPC stands for Cost Per Click, and it is the price you pay for each click on a Facebook ad. If you want to get more customers to your website, you can choose CPC. When you choose this bidding strategy, Facebook will try to provide you with as many clicks as possible within your budget. And if you have a low budget, choosing CPC is the best option because you only need to pay when the ad is clicked.
The average CPC for Facebook ads in India 2022 is Rs. 0.48 to Rs. 2.8. And this table below shows the average CPC of Facebook ads in India by industry, I think these benchmarks will be helpful for you. In addition, the table also includes the average CTR (Click-through rate) and average conversion rate for each industry. With this information, you could analyze and optimize your ad campaigns.
| | | | |
| --- | --- | --- | --- |
| Industry | Average CPC | Average CTR | Average Conversion Rate |
| Apparels | Rs. 0.12 | 1.24% | 4.15% |
| Consumer Services | Rs. 0.23 | 0.75% | 9.85% |
| B2B | Rs. 0.18 | 0.75% | 10.75% |
| Automative | Rs. 0.15 | 0.85% | 5.25% |
| Beauty | Rs. 0.17 | 1.23% | 6.97% |
| Job Training & Employment | Rs. 0.20 | 0.50% | 12.25% |
| Education | Rs. 0.14 | 0.75% | 14.14% |
| Legal | Rs. 0.18 | 1.75% | 5.80% |
| Finance and Insurance | Rs. 1.23 | 0.63% | 9.85% |
| Fitness | Rs. 0.67 | 1.23% | 14.56% |
| Healthcare | Rs. 0.26 | 0.95% | 11.26% |
| Home Decor | Rs. 0.83 | 0.69% | 6.25% |
| Industrial Services | Rs. 0.59 | 0.79% | 0.81% |
| Travel and Tourism | Rs. 0.14 | 0.89% | 2.95% |
| Technology | Rs. 0.28 | 1.15% | 2.25% |
| Retail | Rs. 0.69 | 1.73% | 3.50% |
Source: Digital Uncovered
CPM for Facebook Ads in India
CPM stands for Cost Per Thousand, and it is the price you pay for 1,000 views of a Facebook ad. CPM can reach a large audience, so it can increase your Facebook exposure and visibility in a short time. If you need to promote new products or campaigns, CPM is a good choice.
CPL for Facebook Ads in Inda
CPL stands for Cost Per Like, and it is the price you pay for each like from a Facebook ad.
When you select this option, Facebook will track interactions with your ads and help you get more likes. If you want to get more fans on Facebook and increase fan stickiness, CPL will be good for you.
CPA for Facebook Ads in India
CPA stands for Cost Per Action. This is the price you pay for each action that a user takes on your website as a result of your Facebook ads. The action can be a newsletter subscription, an app download, or a purchase, depending on the purpose of your ad.
CPV for Facebook Ads
CPV stands for Cost Per View. This is the price you pay for a view on Facebook video ad. If you want to convey rich informative messages to your customers in Facebook video ads, you can choose CPV. Facebook will generate the most views for the ad within your budget.
5 Important Factors that Influence Facebook Ads Cost India
Factor #1 for Facebook Ads Cost India: Target Audience
If you want to reach a larger audience, you may face competition with other advertisers, and this could raise the cost of your Facebook ads.
Factor #2 for Facebook Ads Cost India: Bidding strategy
Your bidding strategy can influence the cost of advertising greatly. High bids can lead to high advertising costs, while low bids are not conducive to user conversion. So it's important to know the Facebook ads cost in India, so you can bid in a reasonable price.
Factor #3 for Facebook Ads Cost India: Facebook Ads Placement
Here are 4 platforms on which you can place Facebook ads - Facebook, Instagram, Messenger and Audience Network. You could find various placements under each platform:
Feeds
Instant articles
In-stream videos
Right column
Suggested videos
Marketplace
Generally speaking, the more popular your ad placement is, the higher your Facebook ads cost will be. Studies show that Instagram costs are the highest, with a CPC of $0.20-$2.
Factor #4 for Facebook Ads Cost India: Advertising Period
The cost of advertising changes over time. For example, every summer, the cost of fitness advertising goes up. And during the festive season in India, the cost of advertising Festival products increases.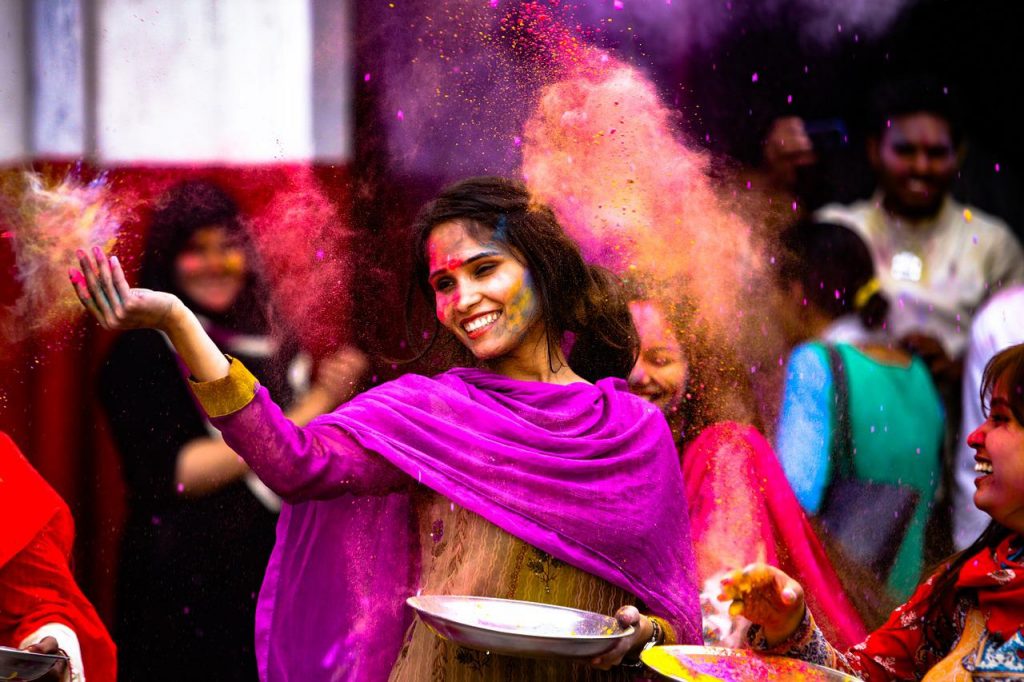 Factor #5 for Facebook Ads Cost India: Advertising relevance
The relevance score (almost identical to Google's Quality Score) indicates the degree your Facebook ad was received by your target audience, and it is on a scale of 1-10. The higher your relevance score, the higher your Facebook ads ROI. If your relevance score is below 4, it means that your Facebook ads are less effective and you should improve your advertising strategy.
5 Shortcuts to Lower Your Facebook Ads Cost
1. Target A More Precise Audience
When your target audience is very precise, you can get high profits with low advertising cost. You can target an audience by location, age and interests. Using multiple Faceook interests is a powerful targeting strategy that allows you to precisely target your audience.
However, Facebook only offers 25 keywords and if you use these interests, you will face fierce competition from other advertisers. Therefore, you can use AdTargeting to find more hidden words of interest. For example, for the interest "beauty", AdTargeting can provide you with 94 interests, with these interests, you can reach a larger audience at a lower advertising cost.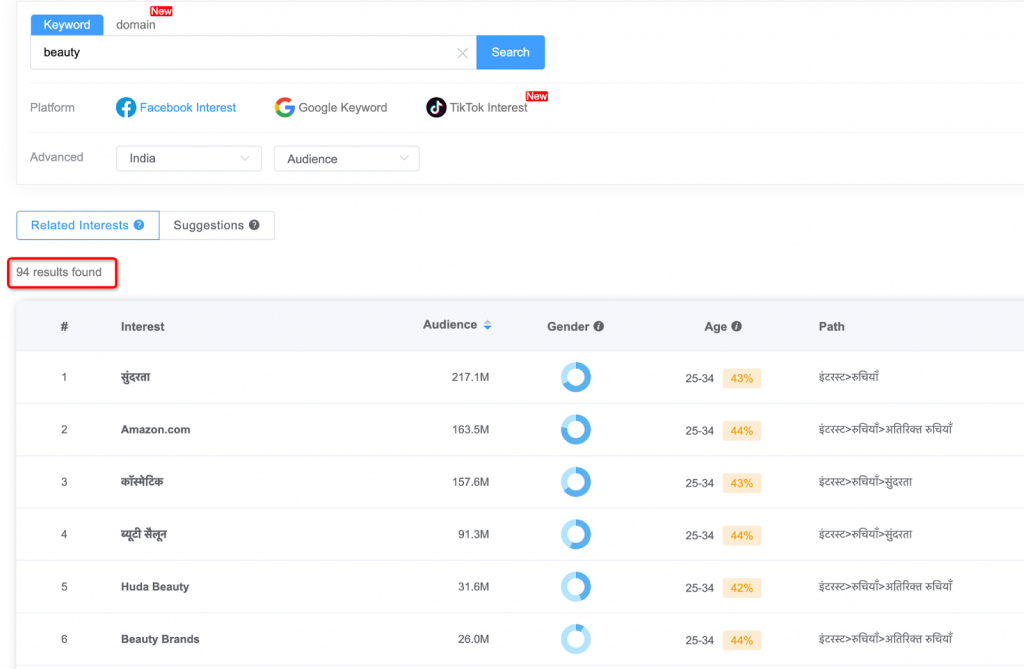 2. Remove audience overlap
Audience overlap means that when you create multiple ad sets, the audience for each ad set may overlap, and this can result in your ad being shown to the same audience many times. You might spend a lot of money on Facebook ads but not get good results.
If you find yourself with a high percentage of overlapping advertising audiences, there are two approaches you can take.
1. Reassemble the overlapping ads into an ad group to prevent them from competing with each other.
2. Optimize your targeting. You can get plenty of segmented audience analysis reports in AdTargeting that can help you know the audience and avoid audience overlap.
3. Test Facebook Ads
Many advertisers may not get good results with their first ad, so that's why it's important to test ads. Testing can help you adjust your strategy and find what works best for your ads. If you find that your ads are not working well, you may have not done enough testing to find what's working and what to optimize.
Here are good tips on how to test your ads:
Spend 10-20% of your ad budget on ad testing. This spending is an investment that could increase your ad conversions in the long-term.
Use the Facebook split testing feature. You can test 5 different variables: Creative, audience, delivery optimization, placements, product set or multiple variables. For example, you can test different audiences, find the ones that convert the most, and stop advertising to the low converting ones.
4. Use Facebook Ad Scheduling
If you know the most likely time of action for your target audience, you can use an advertising schedule to limit the times and days that your ads are shown. So you can save money getting your ads placed at the right time.
What's the best time to place Facebook ads?
It depends on seasons, trends and your industry. For example, if you are e-commerce, then Monday is probably the best for you to run Facebook ads, because people shop most on Mondays.
However, as the seasons change, people's habits may change. You need to check the effectiveness of your ad sets broken down by time, so you can see when your audience acts most often and update your advertising schedule in time.
5. Use Video Ads
If you want to increase the CTR, you should make your ads more attention-grabbing. In terms of attracting audiences, video is a better choice than image. But video ads on Facebook are less than images because some advertisers think it difficult to create high-quality video ads.
With low competition, it's easier for advertisers who run video ads to get a good result. In addition, there are many free video tutorials and video editing tools online that make it easy to make videos. You can create good video ads by just learning some basic filming and editing knowledge. So, try video advertising, it's full of opportunities!
FAQ about Facebook Ads Cost India
What Is the Minimum Advertising Budget in India 2022?
The minimum daily budget allowed by Facebook is approximately Rs. 40 per day (i.e., the minimum daily budget).
This minimum daily budget depends on the ad objectives you choose for your ad:
If you choose to pay for the number of times your ad is displayed, the required daily minimum budget for India is about Rs. 34.
If you choose to pay for engagement (e.g. clicks, video views, likes, etc.), the required daily minimum budget for India is about Rs. 167.
If you choose more difficult goals, such as users joining campaigns, or installs of apps, then the minimum daily budget for is about Rs. 1329.
How Can I Pay for Facebook Ads in India?
You can pay for Facebook ads with following methods:
Credit/debit card
Netbanking
PayTM
PayPal.
How Much Do Instagram Ads Cost India?
According to WebFX, the average cost per click for Instagram ads is between 0.2$ and 2$, which is a bit higher than the cost of Facebook ads. Instagram is popular with young people, so if your target audience is under the age of 34, Instagram would be a good choice.
What Is Facebook Ads Cost Calculator?
Facebook ads cost calculator can help you calculate Facebook ads cost and ROI, and set a reasonable ad budget.
Here are some recommended free Facebook ads cost calculators: