3 Proven Methods – How To Download Leads From Facebook [2022]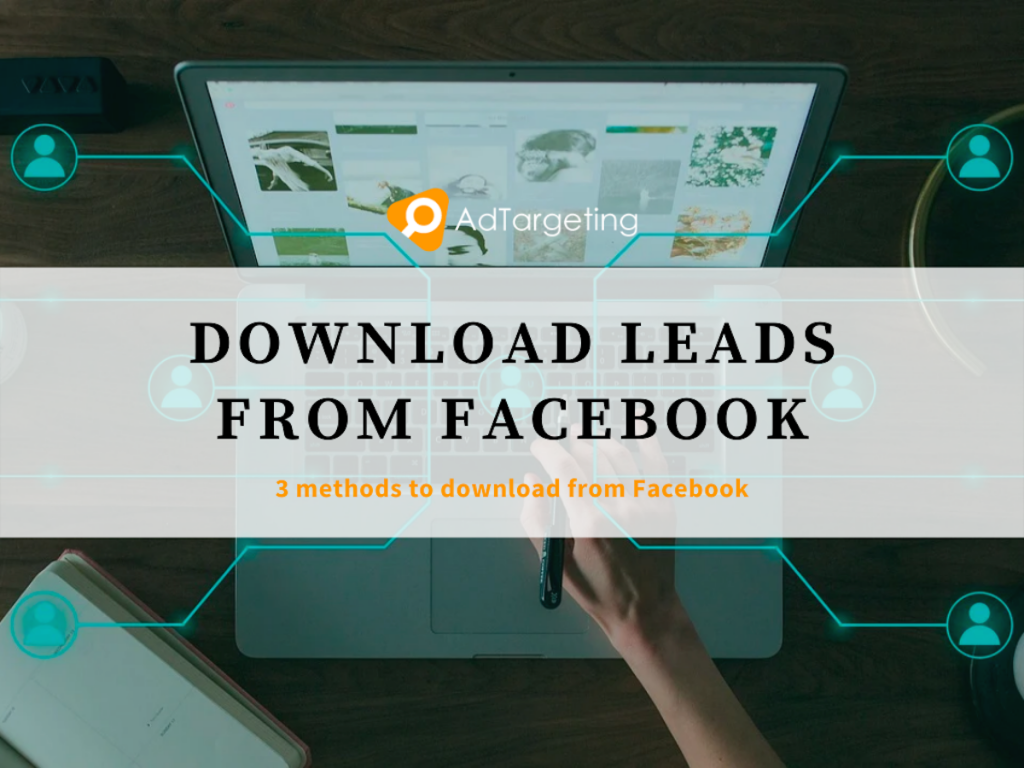 Facebook is one of the best resources to generate leads for your business. Regardless of what kind of business you are in, you will find leads through successful Facebook Leads Ad campaigns. Moreover, after running a successful Leads Ad campaign, you are allowed to download leads from Facebook. In this article, you will learn how to download leads from Facebook ads manager. There's not much of a learning curve here. However, if you choose to download Facebook leads using CRM or API, that requires coding knowledge.
How to download leads from Facebook?
Method 1: How to download leads from Facebook ads manager
Step 1 – Go to your Facebook page and click on the Publishing tools button appearing at the top bar of the page or on the left side panel.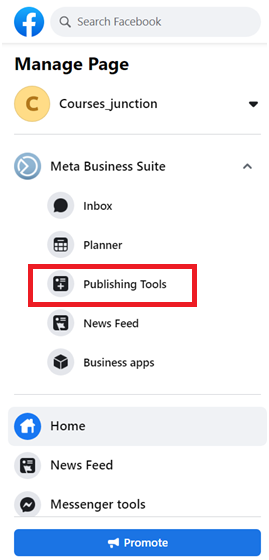 Step 2 – On the next page, you will find lead ads from the tab section on the left-hand side. From there, click on the form Library button. You will see a leads column; under that, there is an option of download. Click on it, and your leads will be downloaded in a CSV file.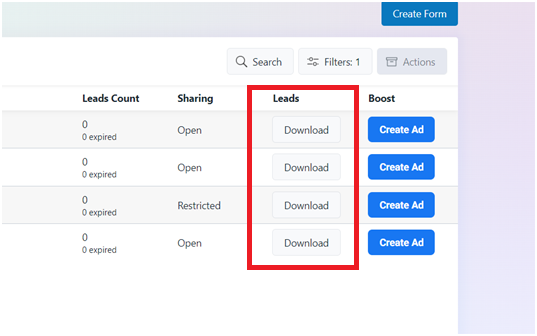 And, that's how to download leads from Facebook using Facebook Ads manager.
Method 2: Connect Your CRM System to Facebook using API
Integrating your CRM and Meta's Conversion API using the Lead Ads to download leads from Facebook gives you an additional benefit of automating your leads campaign process. Automation can provide higher results and efficient forms generated from Facebook.
Setup Conversion API to Download Facebook Leads
Go to Events Manager, and choose the Pixel related to your business from the data sources tab.
Go to Settings and click on Conversion API
Scroll down and click on 'Choose a Partner' to set up partner integration such as Zapier, WordPress, Google Tag Manager, etc.
On the next screen, enter the domain and subdomain of your website. The subdomain acts as the web address of the server.
Whichever partner you choose, the next instructions will be according to that.
Note: Although simple, you can always take the help of a developer or a marketer to do the above steps.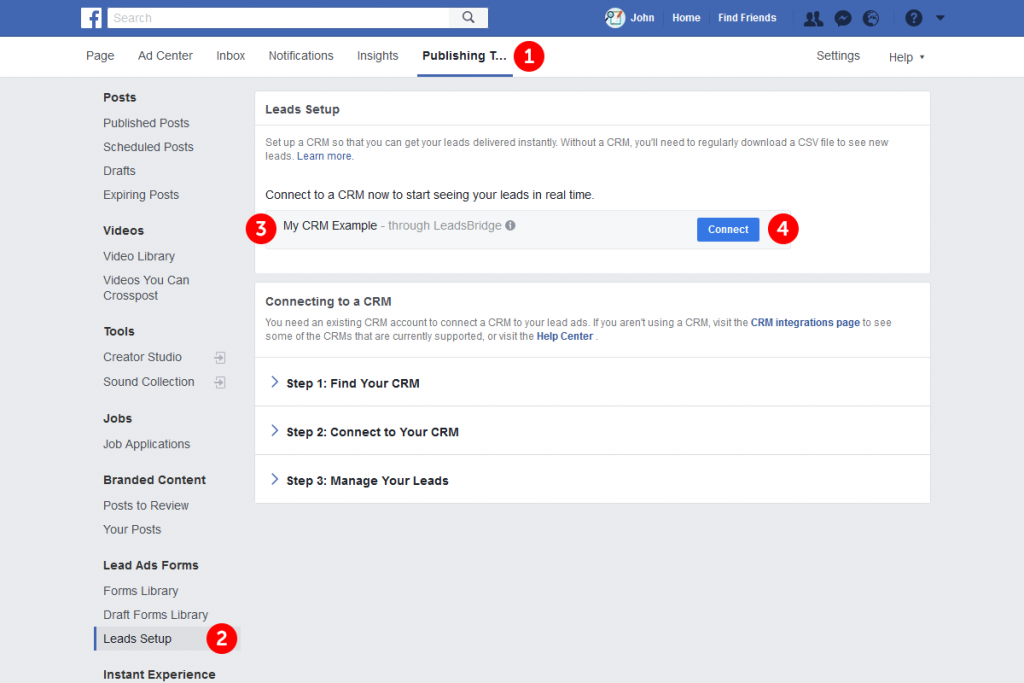 Manually Setup Conversion API
Go to Events Manager, and select the Pixel you want to set up the conversion API.
Go to Add Events and choose 'Using the Conversion API.'
Choose to 'Install Code Manually,' and click on continue.
Choose the events you wish to track or pick from Facebook's recommendations.
Choose each event's parameters.
Click on Confirm Setup and Send instructions to an email. Here, you can enter your web developer's email. You can even send a copy of the email to yourself. We recommend you do that.
These are the basic steps you need to follow. Now, let's see some prerequisites you need and understand the Facebook Jargon.
Understand the requirements to Download Facebook leads
Pixel ID
You need a Pixel ID to use the conversions API. If you are using any pixel ID already for the website, it is recommended to use the same for the server events.
Business Manager
You need a Business Manager to use an API. This lets advertisers easily integrate Facebook marketing across businesses. If you don't have a business manager yet, you should create one.
Access Token
To use conversions API, you need the access token. There are two ways of getting the same:
Using Event Manager (Generally recommended)
In this method, you get an access token generated which is passed in each API call. The steps must be:
Choose the Pixel you want to use
Selecting the Settings
Find the conversations API by clicking on generate access token under the set up manually.
Using your application
To use your personal application:
Go to your business settings.
Assign a pixel to your system user.
Select the assigned systems and click Generate a Token.
There is no need for your application to go through an application review.
Set Up Redundant Events
It is recommended to use the conversions API in addition to the Meta pixel and share the events using multiple tools. For example, suppose you share Initiate Checkout, and Purchase, and Contact events using the Meta Pixel. In that case, the same must be configured in the server you are using through the conversions API.
The conversion API lets you share website events that Pixel may lose due to network issues and loading errors. The conversions API can be used to share the types of important events occurring offline or later.
Baseline requirements for matching
Following the release of the Graph API 13.0 version, the baseline requirements are updated from time to time with different combinations of customer information parameters to be considered valid. These changes in the long term are going to help in the feedback when an event is unique customer information.
And, that's how to download leads from Facebook using API
Method 3: Use Connectors Connect Your CRM to download Facebook leads
Step 1: Go to your Facebook page. Click on the Publishing tools option.
Step 2: Click on Leads setup.
Step 3: Type the name of the CRM you feel comfortable using. When you see the CRM name, there are two possible causes that you might face-
Connect from the website: If the CRM system you have selected has a connect button website link, you can simply paste the link and then follow the instructions of the CRM module to complete the integration. Once you have completed this, you will be able to view and download Facebook leads in your CRM.
Simple Connect: If you have selected the connectors such as Zapier, there will be a blue button. Hit this, and you'll be able to connect to the CRM system and understand further conditions.
Step 4: After connecting the CRM with Facebook, go to the CRM website or the application to view or modify your leads. Now, the leads will be sent to CRM automatically whenever a form is completed, unless you have made some changes to the Leads manager page. Every CRM has different options to download leads from Facebook.
Why Should You Choose and Download Facebook Leads?
Facebook ads are powerful marketing tools that can help businesses reach their peak when used effectively. It is the biggest social networking site available in marketing; millions of users and businesses connect. It provides multiple functionalities to easily keep track of your target audience and can easily apply multiple filters to narrow down the list. These things make it imperative to learn how to generate leads on Facebook.
Learning how to download leads from Facebook will eradicate the loophole in your business process and show you the effectiveness of your campaign in the form of number of leads generated through the campaign.
Benefits of Facebook Leads Ad
Cheaper – The cost of Facebook ads is much lower when used effectively. It allows you multiple options, such as deciding on a dedicated budget for a week or a single day. The cost varies on the number of users you are targeting.
Forms – Facebook ad forms allow you to get details from leads. The type of data can be anything such as name, email, contact number, etc. The leads fill out this form while looking for services. When you download leads from Facebook, marketers can target them with the newsletter and emails and nurture them further.
Integration with CRM – By integrating Facebook ads with CRM, you can automate downloading and uploading leads and other data parameters related to them. Automation removes the tedious task of uploading data manually into your CRM.
CTA buttons – In Facebook ads, whenever a user clicks on CTA (Call To Action) button, he/she is redirected to another webpage where the user performs the specified task or action. The CTA can be a signup form, sending a message, contact now, etc. This button establishes the first connection of your business with the target audience.
Better optimization – Once you start posting ads, Facebook's system understands the users you are targeting and the frequency of posting campaigns. That's how after a while, it automatically starts optimizing your campaign, and you get better results.
How to get leads on Facebook Lead Ads for Better Results?
With time, several strategies are involved in optimizing Facebook Lead Ads for Better Results. Using some of the Facebook Ad hacks won't hurt you when you see the new Facebook ads improve your ROI. The free tool AdTargeting can help you target audience precisely, collect more and higher quality Leads. Experience it to believe it.
Create a Good Lead Form
Facebook lead forms have this simple and creative way of attracting people to sign up as a lead. Facebook regulates the entire process. There is no option of redirecting to a website, and no complex navigation is there.
Lead forms are popular because sometimes it can be problematic to redirect users if the lead collection funnel is not optimized. Also, since small businesses don't have that many efficient teams, factors like loading time and the sign-up process can make a user abandon the process.
To create a Facebook form, you must go to the front-end console through the business manager and hit the publishing tools button at the top of the page. If you cannot see the publish tools button directly, then choose more options, and a drop-down menu will appear.
Choose Form Fields Carefully
The basic thumb rule about choosing the form fields is: The lesser the better. See which data set your company will use and remove all the other fields that unnecessary take up users' time and screen space.
Use A/B Facebook Leads Testing Tool
If you are using not optimizing ads, you are directly wasting money and not unleashing the power of Facebook Ads. Using the A/B testing methodology, you can easily unleash the best settings for your Ad.
1) Use Existing Posts as Social Ads to download leads from Facebook: To set up a Social Ad, publish a post. After a few minutes, understand the response and boost for more engagement. Before boosting, make sure organic users are engaged with the post. Now go to ads manager, create a new ad, and select an existing post. Now perform an A/B test. If things look good, perform an A/B test.
2) Budget Setup: Set up your budget a bit higher than your lifetime budget. Once 10,000 impressions are there, start analyzing if things are working correctly. Make changes to the things not working, adjust your spending as per the results, and then see your data set becoming more and more relevant to your business requirements. After that, when you download Facebook leads, you will have the data that has maximum chances of getting converted into your customers.
3) Product Targeting: Product Targeting lets you use specific keywords, categories, brands, and product features. For example, choosing the correct set of keywords while posting an ad is very important. Accordingly, the reach increases, and leads are generated. Facebook Interest Targeting Tools can also make things easy for you in optimizing your ad campaigns.
Summing it up
With Facebook Leads Ad, you can build up your authentic data for your marketing department to use later.
Choose the ad text, visuals, form and keywords carefully for better targeting
Tweak the budget toward the area/interest/demographic from where you are getting the maximum impressions.
Choose one of the above-mentioned ways to download leads from facebook
Save 50% on Advertising Costs!
Maximize your ad ROI with little cost! Come join us!
Get Started for Free