Do you want to get a vocabulary of Facebook audience interests?
The Facebook interest vocabulary has always been a mysterious existence. If we have a vocabulary like this, wouldn't advertising be a lot easier? Success is easy. However, Facebook won't give it to you easily. Even, he put a veil on the vocabulary again.
For example, a bakery teaching store wants to promote on FB. He enters the word 'Baking'-the word baking in the place set by the audience in the advertising background, and the system shows that there are only two words containing 'Baking'. 'Baking' and 'My Baking Addiction'.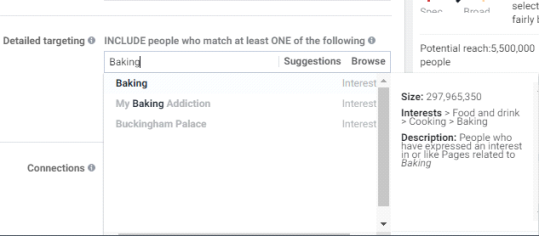 But in fact, there are a lot of interest words in Facebook system containing 'Baking', such as 'I Love Baking', 'Baking powder', and 'Baking mix'. These words didn't show up when searching for 'Baking', but when we typed it in, the system did.
So how do you uncover the veil of Facebook 's interest vocabulary and pick more interest words? Here are three gadgets recommended for everyone.
Interest vocabulary tool:
AdTargeting – Free Ad Targeting Analytics Tool
We can see in the AdTargeting tool that there are multiple Facebook interest lexicons containing 'Baking' in it! ! 'Carlo's Bakery', 'Baking powder', 'Bake sale' … The results are very complete, and some brand words of competing products will also be displayed. Website: https://adtargeting.io/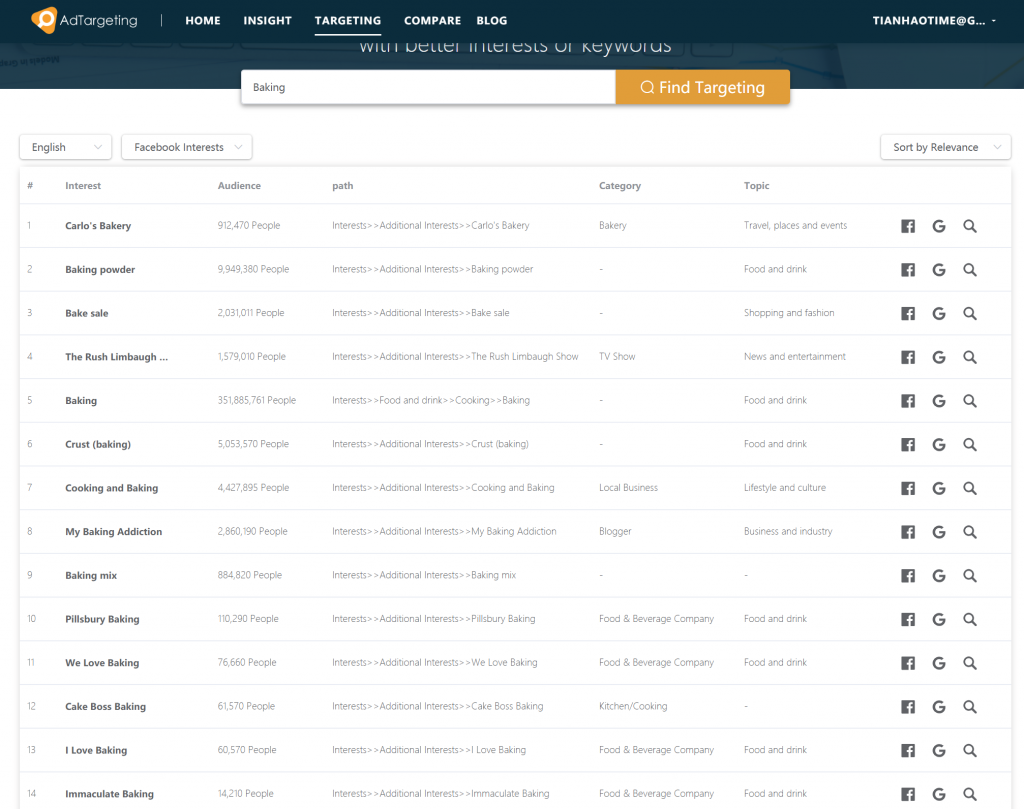 Suggested function of Facebook interest words.
In Facebook's delivery system, when we enter the 'Baking' interest word, the suggestions function will recommend words such as 'Cake', 'Cooking', and 'Desserts' that are similar to the original word. Generally, about 20 will be displayed.
How to use: Ad management too–create ad–ad group level–enter interest words to display.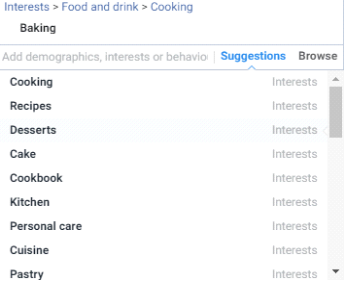 Audience overlay display tool of Facebook
When we have more interest words, the people corresponding to the interest words will inevitably overlap. Audience overlap feature allows us to put 2 and up to 5 audiences together to find the overlapping parts. For example, the audience rate of the two interest words of 'Baking' and 'I Love Baking' is 8%, and there are 5,920 people who coincide.
How to use: In the advertising management tool–audience–check the audience to be compared–display overlap.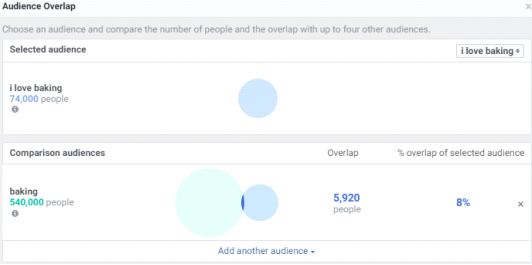 With these gadgets, interest word positioning is no longer a problem. Win new customers, increase conversion rates, and by the way alleviate the problem of hair loss due to unimaginable interest words. Therefore, we must be able to make good use of these interest words, these gadgets can definitely bring you some help.